You might be selling for a blue-chip Fortune 500 company (like I once did), a shiny new startup (I've done that too), or somewhere in between…
Regardless of what you sell, to succeed in winning new business, you need to incorporate entrepreneur sales approaches into your existing sales toolkit.
What do I mean by that?
Keep reading and I'll introduce a uniquely modern concept of selling success…
How a small mental shift can make a huge difference in your selling success
How you and your team can start consistently meeting or beating quota
3 steps to make this shift today
Table of Contents
The Modern Sales Profession: Entrepreneur Sales
I'm going to tell you about a simple concept that's radically impacting sales results across the board. And no, it's not a tool, a tactic, or a script.
It's a simple mindset shift that anyone can make — and see instant success.
Basically, instead of viewing yourself as "just" a salesperson, you take ownership of your territory or book. Instead of thinking like an employee, advocate, or evangelist, you think of yourself as an entrepreneur — a go-getter who sets audacious goals and will do whatever it takes to reach them.
The entrepreneurial mindset is about looking beyond what's immediately in your view and placing your focus on a bigger picture vision.
This shift positions you as more than an individual selling a product or service.
You're the founder, CEO, and chief boot-strapper of your sales territory. Your ability to create a vision for your territory or book of business determines how quickly and profitably it grows, and your ultimate success.
And if you're a sales leader, your ability to create a sales vision for your business segment, division, or the entire company has even greater impact.
What is Entrepreneurial Selling?
In entrepreneurial sales, you need to persuade a prospect to buy the product or service you are selling. Entrepreneurial selling works by focusing on problem-solving. Because potential buyers will be looking for products that solve their problem, sales reps must be able to convince the prospect that the product or service will benefit the prospect.
The concept of entrepreneur sales
I first came across the concept of entrepreneurial selling through Waverly Deutsch and Craig Wortmann of the Polsky Center for Entrepreneurship at the University of Chicago Booth School of Business.
In their model, Deutsch and Wortmann share that professional sellers tend to have more structure and resources to support them — think defined territories and verticals, operations teams, product development teams, customer service, and enterprise administrative resources.
Entrepreneurial sellers, by contrast, are dealing with a completely different type of selling environment. Their resources more constrained, and their choices have much greater impact. The sale rests on the entrepreneur's shoulders.
Entrepreneurial sellers need to sell themselves as much as their solution.
I agree with Deutsch and Wortmann, but recently, I've realized that anyone can be an entrepreneurial seller. Even if you're part of a big team with lots of support, you can still own your results.
It's the mindset that matters, not the resources available to you.
The entrepreneurial sales mindset
Develop strategies that help persuade a prospect to become a client and buy whatever you are selling.
It doesn't matter whether it is a service or a product — you must have convincing sales strategies.
Approaching an entrepreneurial opportunity doesn't need you to have a support team. All you need is a workable plan and confidence in your skills.
Why Does Entrepreneurial Selling Matter?
We're living in a new entrepreneur sales economy. It's an ever-fluid mix of business dynamics, technology trends, and cultural change.
This new sales economy is influencing the way our prospects and clients are buying from us, and it's changing their expectations of us as sellers.
Here are a few of the trends affecting sellers today:
1. Your competitors aren't who you think they are
Today, your competition is fuzzier and more loosely defined than ever.
For example, I interviewed a technology sales executive who routinely works with global Fortune 20 customers. Her customer set is dealing with an unlikely competitor, Uber. Not because they're in the transportation or logistics industries, but because Uber is successfully competing for and draining their access to talent.
That talent drain affects projects and priorities at her client. That's left-field competition. Want to build a strong competitive advantage? Read this article.
While I still believe inertia will always be your top competitor, your greatest competitor five years from now may currently be a tiny startup in an incubator somewhere, led by someone who is a passionate entrepreneurial seller.
2. Customers expect more
Your customers want more creativity, better insights, and stronger business value than ever before — and sadly, that's just table stakes.
The customer journey is a concept that has gained a lot of traction in recent years. Research firm Forrester describes it as a "variety of touch points by which the customer moves from awareness to engagement and purchase."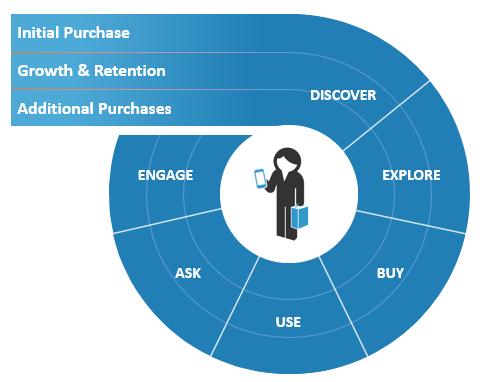 I see the customer journey as the sum of my company's and my interactions with potential and current customers.
Those interactions help them decide if we should work together. It's a continuum that starts with a first impression, ultimately going beyond the initial purchase and into building a long-term relationship.
It's important to understand, though, that a great many of those interactions take place before you ever know they've started their journey with your company.
In fact, there's a growing body of research telling us that customers are more than halfway into their buying journey before they contact a service provider.
57% of the purchase decision is done before a prospect reaches out to a supplier (CEB).
67% of the buyer's journey is done digitally (SiriusDecisions)
Whether or not you buy into this data, the important message is this: Your customers are far more researched than ever before.
No matter where you find yourself in their journey, it's up to you to connect with them as early as possible. If you're going to stay on their journey, you must bring more creativity, insights, and business value in early interactions. You must avoid painful mistakes that drive them off before you've even started.
You can't come in with "canned" anything because it will give you away in a heartbeat.
Creativity becomes even more important as the relationship matures. It will help you stay relevant, so the customer doesn't see diminishing value from your insights over time.
But that takes a shift in your thinking. You can't retro-fit your prospects into a one-size-fits-all selling process. You need to customize the experience for them, adding value at every stage.
3. An ownership stance changes the game
Professional sellers who think like owners of their territories take more accountability for their outcomes and success, no matter what's going on around them.
They find a way, every time, to make their number. In doing so, they usually create higher value for their clients, higher margins for their organization, and maximize their commission checks.
If you're a sales leader, think about your team for a moment.
What if your entire team ran their territories as owners? You'd likely have a team where every person is making or exceeding their quota.
And it all boils down to this one mental shift — taking ownership and becoming an entrepreneurial seller.
3 Steps to Become an Entrepreneurial Seller
Ready to get started? Here's how to apply an entrepreneurial mindset to your selling.
Step 1: Create your vision
It doesn't matter if you're brand new to your territory, it's been redefined, or you've had the same territory for years…
Now is the time to create a vision for what you want it to be in the next year, three years, and five years.
One technology seller I know covers a statewide territory that had no outside sales representative until he arrived. There were exactly two customers doing small levels of run-rate business. The rest — all several thousand accounts of the territory — were dominated by competitors. The company he represented was a virtual nobody.
His vision was simple: He wanted his company to become the most well-known and respected brand in the territory within three years — to be the clear choice for every customer and prospect.
In short, he wanted to dominate the territory.
That vision translated into the strategies he needed to make it happen. This included strategies like:
But imagine if he hadn't first established his vision. He would likely have ended up moving from one opportunity to the next without clarity. And when things got tough, other entrepreneurial traits like work ethic, resilience, positivity, and passion would have become harder to harness.
Start with vision. It is the fuel that powers entrepreneurial sales efforts.
Step 2: Create your territory roadmap
How well do you know your territory or book of business? The most successful entrepreneurs analyze their business from multiple angles.
Your territory is a business in much the same way, and a territory roadmap can be your strategic guide.
Successful entrepreneurs know and keep tabs on:
Key wins and losses, and the why behind them
The anchor clients they must win to elevate their brand
Financial projections
Customer churn rate, including which customers are of the highest value and which are time wasters
Product mix and profitability
The major trends, overall goals, strategies, and challenges facing their customer sets
Who their best collaborators and business partners are, and they support those relationships accordingly
If your territory is fairly homogeneous, you can likely work with one roadmap. If you have distinct industries within your territory, separate territory roadmaps will be the most helpful.
At the top of your roadmap goes your vision. This will steer your decision making as you grow the territory.
Step 3:  Look for the diamonds in the rough
Entrepreneurs always look for the gap where they can stand out.
Where are there pockets of opportunity that your competitors aren't pursuing? There are likely untouched segments that haven't been uncovered, or new ways of approaching existing segments that no one is thinking about.
In my selling days at IBM and Lenovo, I struggled early on with establishing myself as a leader in my territory — until I uncovered my prospects' and clients' needs for better mobile computing programs.
I decided to become an expert in that space. That strategy was my springboard to modern selling and to elevating my company's brand.
It was something my competitors were doing in piecemeal, but not as a cohesive end-to-end program.
Analyzing other successful ventures might be the spark of an idea needed to uncover the diamonds in your own territory. Looking at the unaddressed need it solved. Looking at how demand was created. Looking at the go-to-market strategies that worked and didn't work.
The 5 P's of Entrepreneurship
The five P's are easy to master and apply in entrepreneurial selling. The following are the P's you need to increase your entrepreneurial sales:
Passion
Passion for entrepreneurship is the first step in realizing more profits. If you are passionate about making entrepreneurial sales, you will be motivated to take all the steps necessary in closing a deal. Deals need to be closed by every ethical means possible.
Patience
At times, you will prospect without getting any leads. All lead generation strategies you apply may seem to fail if you don't get clients coming your way. For this reason, entrepreneurs give up when they don't get promising results from their efforts.
This is where patience comes in. To make entrepreneurial sales, you have to wait for your campaigns and strategies to bring results.
Planning
Successful entrepreneurial selling requires a well-crafted plan. You are making entrepreneurial sales in a competitive field. If you walk into the field without a plan, you will be out of business in no time. Here's a few tips:
Put your passion for entrepreneurship into designing a workable business plan.
Dive into thorough market research where you analyze business trends.
Go through social media to identify what potential buyers are looking for and what their pain points are.
Then develop a strategy that addresses their pain points in the most convincing way possible.
Perseverance
If you don't land a client today, look for another tomorrow. Entrepreneurial selling requires persistence. Treat the obstacles that come your way as lessons. Learn from your mistakes and the mistakes of your competitors as you get tougher in solving problems.
Purpose
Have a purpose as you set your entrepreneur sales targets. Ask yourself:
Why am I using this lead generation strategy?
Will it help me achieve my goals?
What is the target, and how will it be achieved?
The modern generation of entrepreneurs is focused on achieving their goals. The question is, are you a purpose-driven entrepreneur?
How To Sell Yourself as an Entrepreneur In 4 Easy Steps
Once you have identified a gap that you can comfortably fill and make entrepreneurial sales, you need to let people know you are in business.
Getting yourself known is easy if you do audience research, position yourself as an expert, know your target audience, and deliver problem-solving content.
1. Do in-depth research of your target audience
Learn what information they are searching for and come up with solutions that address their pain points. This research process involves entrepreneurs going through different websites and platforms such as LinkedIn.
2. Create a profile that shows you are an expert
Remember, prospects will not be looking for an entrepreneur who is not confident about their capabilities. They want a confident individual who is sure of what they are doing.
So, when you are prospecting, eliminate the following phrases:
I think I can help you…
I might be able to offer you this service…
We can sort of…
The goal here is to build trust so that you can be successful. The prospect needs to trust that you will be capable of delivering on your promise once they become your client.
3. Target your pitch
Here, you must polish your pitch accordingly depending on the nature of the meeting you have, whether with a prospect or a client. Deliver your pitch in the shortest time possible as you address all the pain points.
4. Create content that solves their problems
This is one of the easiest ways to make entrepreneurial sales.
You have taken all the steps from research to targeting your pitch, so this should be straightforward.
Come up with content that shows your expertise in the field, and people will trust you even more.
If you can successfully run a blog or YouTube channel sharing entrepreneurial ideas, people will know more about you and consequently approach you.
Want Entrepreneurial Selling Success? Be an Owner
Modern sellers are business owners. They run their territory or book of business like a business.
They own their outcomes and make it a priority to know every facet of their business.
Adopt an entrepreneurial mindset, and you'll reap the rewards not just today but well into the future.
Do you feel comfortable with entrepreneurial selling? What's the biggest challenge you face in treating your territory/book as a business?