A sales CRM is a foundational tool for modern sales organizations. Here's a closer a look at the evolution of customer relationship management and where it's headed.
Let's face it—most B2B tech brands are unsexy. It's not a bad thing, but you won't see hundreds of customers lining up outside at 4:00 am to wait for the next big product release from some IT cloud storage company.
Buyers may chase a product once in a while (maybe if you are Apple or Nike). But for the most part, reality tends to move the other way: sellers need to chase after buyers to keep their business afloat.
That is why keeping track of customers could spell the difference between a closed sale and a lost opportunity. Neglecting your customers and ignoring their journey could easily sink your brand.
As explored in CMO's 2018 Highlights & Insights Report, today's buyers feel that customer service is the most important factor that impacts their purchasing decision.
This only means that customer relationship management (CRM) can no longer be relegated to the sidelines.
Any sales-dependent company without a decent CRM platform to support its sales team is entering the battlefield unarmed. As a cornerstone principle of sales enablement, you're falling behind if you haven't upgraded your sales stack to track the buyer journey.
What we'll cover:
What Do The Best Customer Relationship Management Systems Offer?
In the past, such tools were limited to notepads, business cards, newspaper clippings, leather-bound organizers, a pen, and the closest rotary phone.
The somewhat outmoded Rolodex is the analog precursor to the CRMs of today.
Contemporary CRMs are much more powerful than the finest Rolodex you can find. They are cloud-based, AI-driven, and accessible from mobile phones.
Modern CRMs are capable of storing and analyzing large amounts of data and can be integrated with other omnichannel tools.
CRMs are handy when it comes to spotting those hidden sales triggers
More than this basic function, however, the best CRMs offer a lot more:
Drive strategic advantage and help achieve long-term growth.
Monitor, grade, and provide full visibility into teams' and individuals' sales activities and performance.
Generate data-driven insight and reports about customers.
Streamline workflows with sales automation and leave more time for sellers to actually sell.
Assist lead generation, qualification, and nurturing campaigns.
Remind sales professionals about important tasks such as setting appointments and making follow-up calls.
Provide a universal and always synced and updated knowledge base for the sales organization.
Show a detailed account history for every customer in the database.
Eliminate wasteful duplication of sales and marketing efforts by tracking every activity and engagement.
Promote collaboration among all stakeholders by providing a centralized environment.
How Has CRM Evolved Over the Years?
The technologies that drive customer relationship management may differ radically but they all aim for the same goal. Know more about customers to consistently provide experiences that delight them.
Here's a rundown of how that evolution panned out in the last few decades: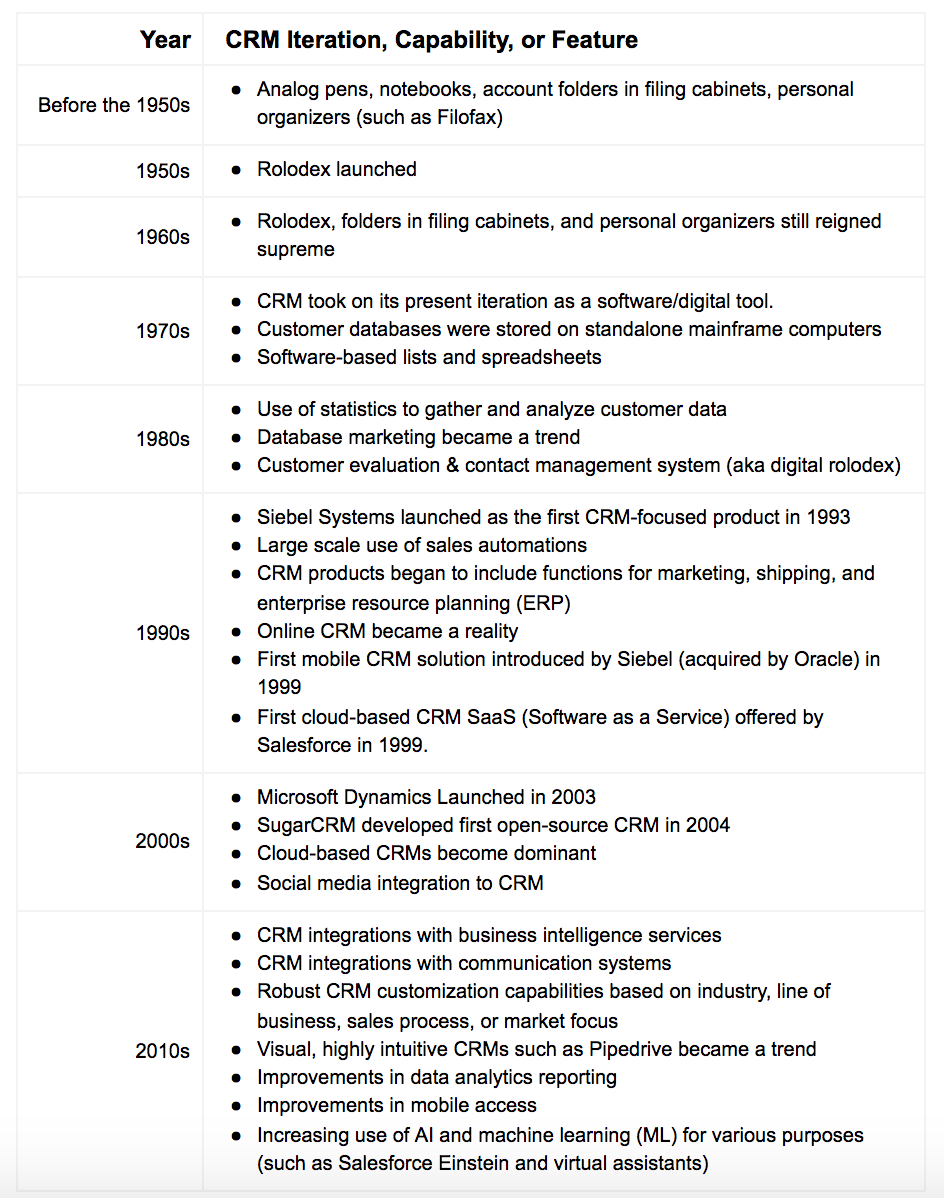 CRM Trends and Wish List
Given the shifting demands of business, CRM platforms need to continuously improve their capabilities to keep the businesses that use them, profitable.
Having a mere semblance of artificial intelligence or machine learning is no longer enough, nor will it fool tech-savvy users. In fact, the clamor for AI integration already peaked a few years ago. Advanced users now want more powerful AI and machine learning to tackle hyper-specific CRM functions.
CRMs are evolving to optimize the customer journey
Kate Leggett, Vice President and Principal Analyst at Forrester, predicts that chatbots and virtual voice assistants will find widespread adoption.
Oracle already introduced its Voice virtual assistant in 2014 but it was more of an outlier during that time. Recently, Zoho launched its Zia voice-driven assistant to help sellers perform their tasks better.
Given the advances in voice recognition and NLP, more CRM vendors will follow suit. Many of these virtual assistants will help perform a long list of tedious tasks. This includes data entry and lookup to content recommendations and lead queueing.
CRMs and workflow automation
Leggett also cited an almost feverish rush to automate as much of the workflow as possible using robotic process automation (RPA).
This will effectively give more time for sellers to perform more valuable tasks. Powerful AI can also be used to do the heavy lifting when it comes to data analysis — from lead scoring to product bundling.
Meanwhile, author and CRM analyst Paul Greenberg listed 10 CRM Trends for 2018 in an article he wrote for ZDNet.
Most notable among these trends are the adoption of blockchain technology, the Internet of Things, and digital transformation. For Greenberg, the highly empowered and socially connected customer has forever changed the landscape of business. Hence, the need for the next generation of CRMs to prioritize customer engagement and experience.

This infographic was generously provided by Chetu Custom CRM Development Services.
8 Top Trends Reshaping the Functionalities, Scope, and Impact of CRMs
1) Customer centricity is the key
CRMs will play a lead role in creating engagement and experiences that delight customers.
2) Give customers — and sellers — a voice
Smarter voice assistants will see widespread use. This will not only be for back office support but also to help reps handle tedious tasks.
3) AI and ML will become the norm
In the move to provide better customer success, CRMs will increasingly turn to smart algorithms and neural networks. These can help humans make better decisions at every junction of the sales process.
4) Blockchain technology will mint value beyond cryptocurrency
The security-related capabilities of Blockchain may yet find application in protecting customer data. This, however, in compliance with more strident data protection and regulatory environment.  
5) Data everywhere will improve Customer Success
The Internet of Things serves as another wellspring of customer data. Connected CRMs that can access these data will help users significantly improve customer service/success efforts.
6) Mobile is a must
People across the globe access the internet more frequently using their phones compared to other devices. Sales engagement via mobile can be empowering.
7) Personalization will streamline processes and boost profit
Vendors that sell a one-size-fits-all CRM will find it more difficult to close a deal. Tech-savvy sales teams will demand an even higher degree of CRM customizations to fit their sales process.
8) Social still sizzles
CRMs without a social network component are headed towards extinction. Customers are social beings and they spend time on networks with people and products that matter to them.
My CRM: Where To Go From Here
Quantum leaps in CRM feature sets are fine, and they will likely disrupt the market in some fundamental way.
However, basic capabilities done right are the most sought-after features, according to Software Advice. As listed in the company's CRM Buyer Report, the top 10 most requested CRM features are:
Contact Management
Interaction Tracking
Scheduling/Reminders
Email Marketing
Pipeline Monitoring
Integration with other Platforms
Analytics and Reporting
Lead Generation and Management
Sales Automation
Central Database
This wish list is a good reference if you are looking to adopt a new CRM for your team. Check out SelectHub's Features and Functionality List for more must-have features.
For companies doing business in the digital economy, a CRM is a must-have tool. It drives both that customer success and sales performance.
---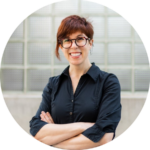 Edited by Kendra Fortmeyer @ Sales Hacker 2022, updated 2023