Salesforce dashboards and reports are powerful and essential to Sales Development Managers tasked with reporting on team productivity. However, Salesforce's out-of-the-box reports and dashboards are unhelpful for SDR purposes, especially for those working from "Lead View".
To help SDR managers configure useful reports, sales operations leaders from some of the savviest sales teams joined forces in a webinar. You can see the full presentations including back-end screenshots, but below are four of the most helpful dashboards they shared.
SDR "Last Month" Dashboard
Chris Flores, Head of Inside Sales at Namely, uses the SDR "Last Month" Dashboard as a monthly snapshot of sales performance.
Refreshed once a month, the dashboard is automatically emailed to SDR Managers and the CEO to keep everyone on the same page. Moreover, anyone with a Salesforce license can view the report.
Chris also leverages its metrics in weekly one-on-ones with reps where they discuss how the metrics relate to performance against targets.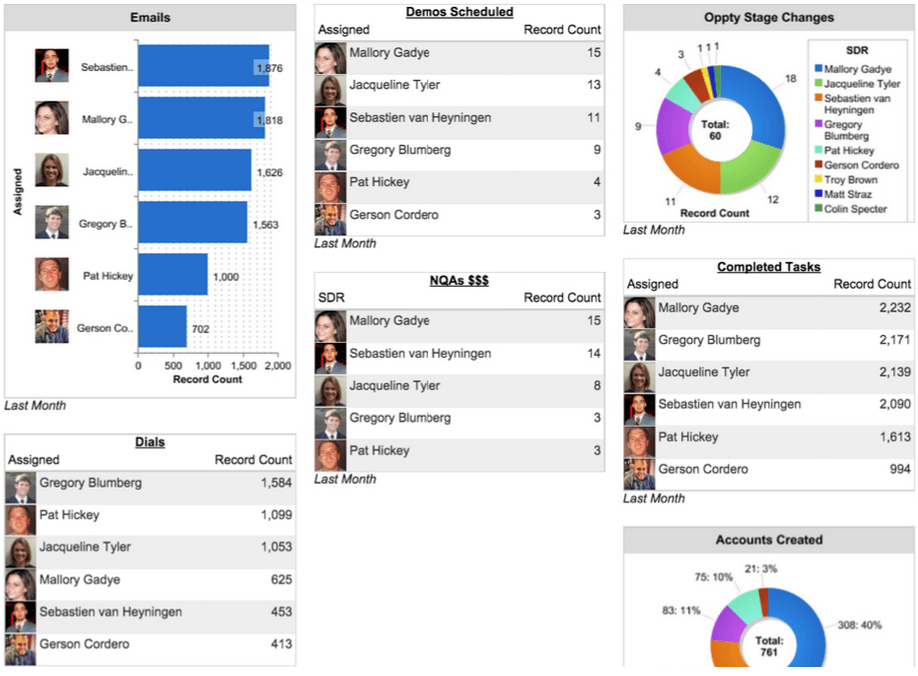 Rivalry Dashboard
Chris also uses dashboards from Rivalry (third party software integrated to Salesforce)  to increase transparency and motivation at Namely. Namely displays the rotating Rivalry dashboards on screens in open areas of the office so that colleagues from all departments can see what key metrics the sales team tracks.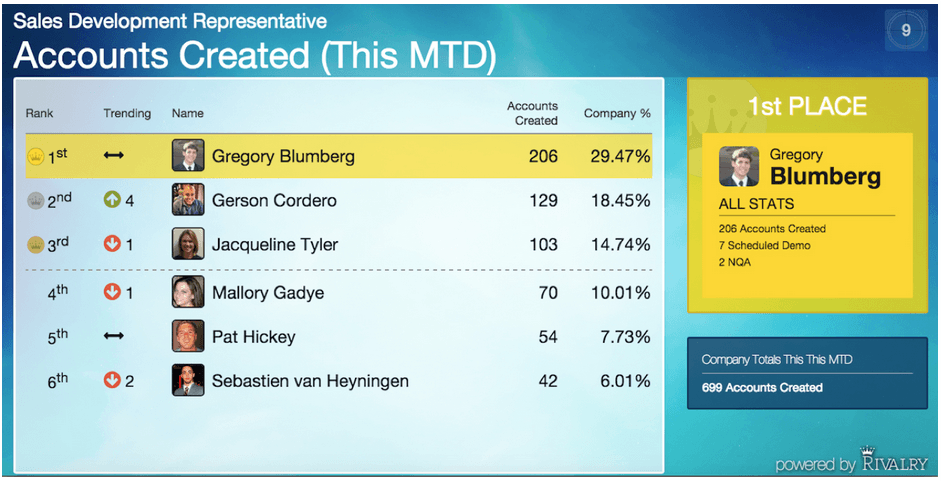 Customer Reference Dashboard
Daniel Barber, Director of Sales Development and Operations at ToutApp, leverages Salesforce for a Customer Reference Dashboard to help sales development reps be more productive and give their prospects highly relevant customer examples.
Whereas ToutApp reps previously asked colleagues of Managers for relevant customer examples, the Salesforce Customer Reference Dashboard empowers reps to quickly filter ToutApp's customer list for comparable companies based on:
Industry and Vertical – Bowling Pin Strategy (Geoffrey Moore)

Funding and Market Cap

Geography (reduce degrees of separation and support Events Marketing)

Role (Personal-Based)

# of Employees

Competitive Takeaways
For companies that have 100+ customers, leveraging Salesforce for this purpose can be low hanging fruit to increase SDR productivity.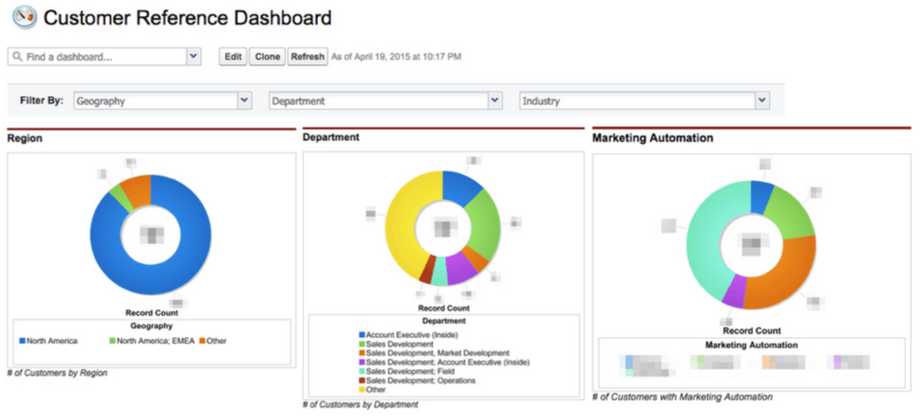 Sales Leaderboard
Daniel Barber's Sales Leaderboard helps ToutApp measure sales activity at a rep level and a team level.  
Rep level metrics can be helpful for guiding discussions and coaching to increase rep performance and gauging the quantity and quality of reps' outreach. At a rep level, the ToutApp Sales Leaderboard tracks:
Open %

Click Through %

Replied %

Qual Call %

LinkedIn Activity
Team level metrics help the ToutApp team understand which inputs (ex: templates, content, social channels) are driving sales activity and which account are at risk or hot.
At a team level the ToutApp Sales Leaderboard tracks:
Template Click Through %

Top-10 Accounts (engagement data)

$ Value of Pipeline