A successful close is the end goal that every sales team guns for.
Whether prospecting, making cold calls, negotiating, or even researching, every small step a sales rep takes is tied to this goal.
But despite a focus on closing sales, it remains one of the biggest issues for teams. In fact, 36% of sales teams regard it as the most challenging part of the sales process, and 28% say it's their top priority.
Why is that?
Some businesses fall victim to misaligned processes. Others don't invest in nurturing relationships. And some don't get much of anything right!
A report published by CSO Insights shows a steady decline in the percentage of sales reps attaining quota — from 63% to 53% over a 5-year period.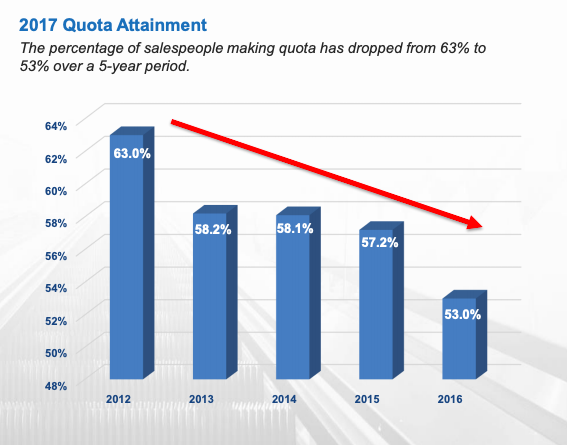 Closing sales is critical for driving growth. We all know this. But clearly there's room for improvement.
So how are SaaS companies improving their close rate now?
To answer that question, we looked to a few SaaS companies who are mastering this challenge. Let's see what they're doing right.
5 Proven Ways to Improve Your Close Rates Today
Providing Sales Team With Highly Qualified Leads Through Highly Relevant Content Assets
Sure, we're talking about closing sales, but those sales have to start somewhere. The better your leads, the better your chances of closing.
When it comes to leads, SaaS sales teams face two major challenges:
The first challenge is not having access to highly qualified leads. As a result, sales reps often end up wasting time on prospecting, data cleanup, and other tasks instead of closing sales.
Another problem is the lack of clarity on the value associated with each MQL. This lack of clarity can cause sales reps to waste time following up with prospects who haven't yet reached the conversion stage of the sales funnel.
An example of this in action: when marketing teams share ebook downloads as highly qualified leads.
Mark Roberge, senior lecturer at Harvard Business School and author of The Sales Acceleration Formula, explains why this is a wrong way to look at leads.
Here's the framework he uses to explain his point: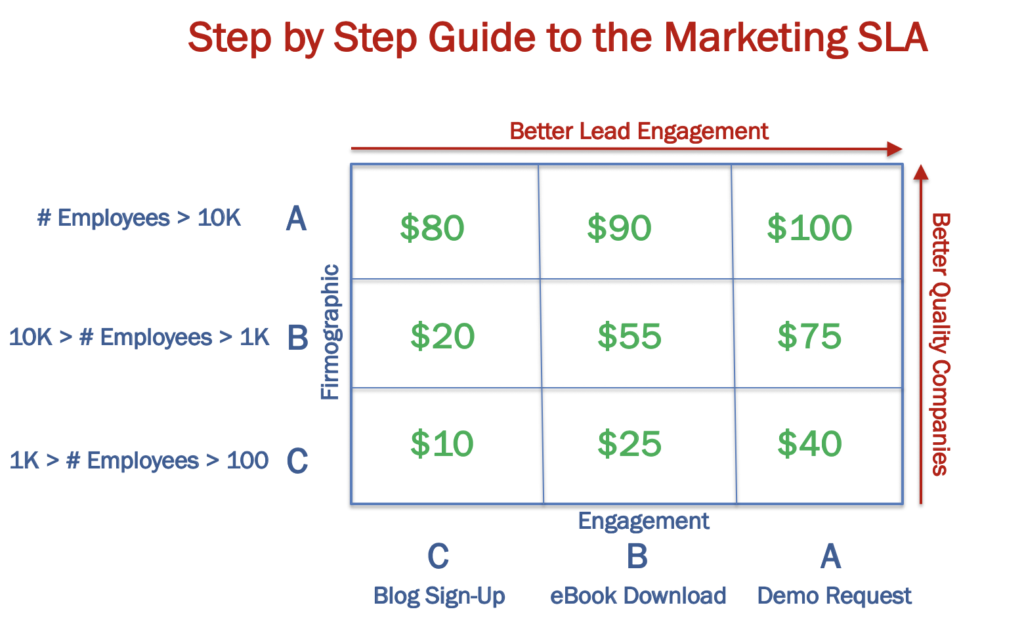 Roberge explains that a demo request is different than an ebook download, and he isn't wrong. An ebook download may be easier for the marketing team to generate, but demo request leads are far more valuable to the sales team!
The solution Roberge proposes is tying the marketing team to a revenue quota as opposed to the number of leads that it transfers to the sales team. Instead of giving them a target of X number of leads to generate, they should be tasked with X amount of revenue, thus qualifying the value of each lead.
RELATED: 7 Problems with Sales & Marketing Alignment (And How to Fix Them)
How can marketing teams create assets that drive highly relevant (and revenue-oriented) leads? Here are a few ideas:
Review Sites: Encourage existing customers to leave a review on sites such as G2 (formerly known as G2 Crowd) and Capterra.
Case Studies: Develop insightful case studies that help a prospect move toward conversion faster.
Product Documentation: Develop on-point product documentation that offers clarity to customers who still aren't hands-on with your product.
BOFU Content: Produce other content formats such as webinars, interactive product tours, and tactical videos that address bottom-of-the-funnel challenges.
LeadGenius is an excellent example of a SaaS company using video as a key component of their marketing strategy to attract more leads and conversions. William Wickey, Ex-Senior Manager of content and media strategy at LeadGenius, now VP of Growth at Crowdbotics  said:
"We're able to see that a high percentage of visitors who watch the video (6.9%) go directly to requesting a demo."
Equipping the sales team with highly qualified leads has its benefits, but a lot of it depends on the value that can be tied to those leads. SaaS marketing teams should experiment with new content formats that help prospects and push them to engage with a solution provider — you.
RELATED: The Complete Guide To Auditing Your Sales Content Library
Making The Sales Pitch About The Customer
Most sales reps engage with a prospect using a scripted pitch.
This tactic may have worked in the past, but not anymore. People want a human conversation, not one that sounds robotic and spammy. That's why using a scripted pitch tends to backfire after a few early wins.
Here's some proof:
A client of contactSPACE (a call center software) noticed a 50% increase in contacts per hour after moving away from static scripts. Another client found a 30% reduction in call-handling time after ditching the script.
These scripted sales pitches are usually focused on "selling" — but prospects don't like it when salespeople keep rambling about the product and its features without listening to their pain points.
The truth is, if prospects don't find value in the conversation, they are going to turn you down and turn to a competitor.
Juliana Crispo and conversation intelligence tool Gong.io conducted a comprehensive study that analyzed over 70,000 B2B SaaS sales calls. The purpose of the study was to equip the reps with better tactics to get prospects to close.

Here are the top three findings from the study, according to Juliana Crispo:
 1. Let your customer go on a "talking streak" for at least 4 minutes.
If you're able to get your potential customer to talk for at least 4 minutes, the probability of advancing your deal increases.
2. Don't talk about your company for more than 2 minutes.
If you pitch your company for more than 2 minutes, you're basically walking your close rate off a cliff.
3. Competitor mentions before a demo is a GOOD sign.
There's actually a 49% increase in the probability that your opportunity will advance if the competition is mentioned at least once in the early stages of the sales process.
Remember these findings when developing SaaS sales scripts. Make your pitches all about the customer, not your product.
RELATED: 4 Data-Driven Hacks to Find Your Real Ideal Customer Profile
Arming Sales Teams With the Right Tools & Data
Sales reps need to offer a good experience to their prospects. Not only does it push the buyer to look at the product, but a good experience also ensures they recommend it to others in the future.
You see, even when a prospect isn't not be fully sold on your product, by giving them a good experience, you can sway the deal in your favor.
But here's the thing: Sales teams can do this only if they are equipped with both the right tools and insightful data. The right tools and data enables them to qualify leads and, as a result, increase their close rate.
Unfortunately, these two factors are often missing from the equation. Either the teams don't have enough data or they lack the right tools to elevate the sale. Still worse, in some cases, both factors are absent.
According to Salesforce's third annual State of Sales report, high-performing sales teams (the top 24% of more than 2,900 sales professionals surveyed) are 1.5 times more likely to base forecasts on data-driven insights — but only 46% of sales reps have data on customers' propensity to buy.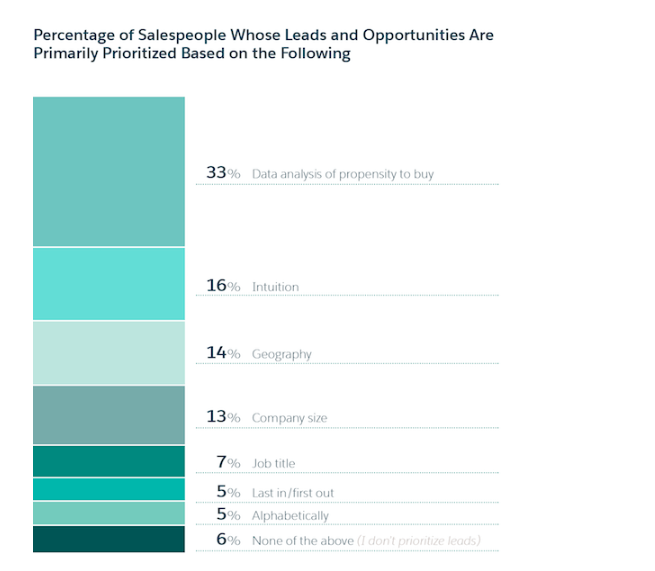 To help, you need a tool like SalesRight that can facilitate the sales team at both levels –– elevating the prospect's experience while providing the sales team with in-depth analytics to help close the deal.
With this type of tool, a sales rep who is on the phone with the prospect can easily see which features and price points the prospect is interested in, so they can tailor the pitch to the prospect's needs and directly address their concerns.
Sales reps can also get real-time notifications on lead activity, so they can provide effective and timely follow-up.
The goal: to empower the sales rep to make the entire process a pleasant one for the prospect.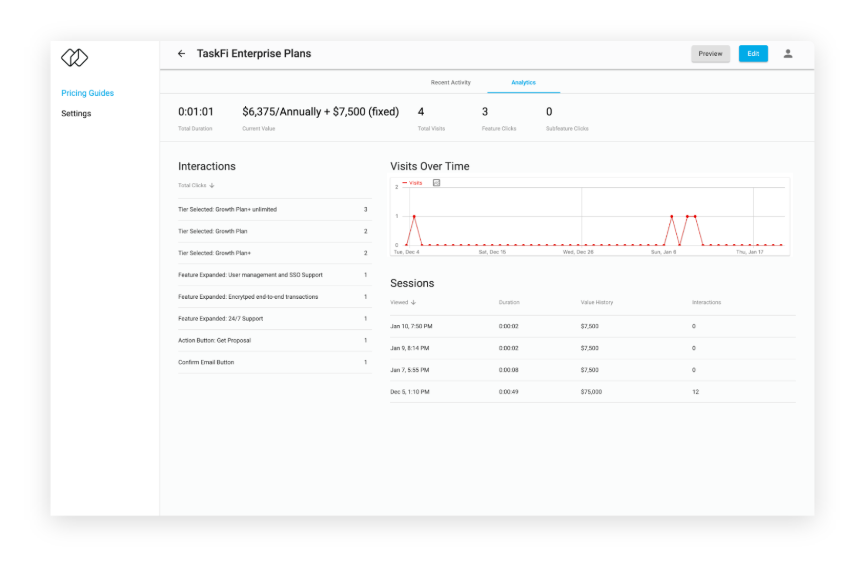 All of this data can help a sales pro make better decisions when they are on a call with a prospect because it helps the rep address things the buyer has hesitations about.
Communicating in a Medium Preferred by the Customer
For B2B SaaS companies, it's best to communicate in a medium preferred by your customers. It's the fastest way to close sales.
Sure, you have to invest a bit of time and resources learning how your customers like to communicate, but really, this is low-hanging fruit for improving your close rate.
Housecall Pro used this strategy by choosing to communicate with their customers via SMS. Roland Ligtenberg, the company's Co-founder and SVP of growth, shared his insights on using this offbeat channel for closing sales.
"We use SMS to do everything from initial outreach and contact to confirming demo times, to post-demo follow-up and onboarding. Often it's less committal and takes less time, on both the Sales Rep & Customer side, to send a simple SMS, and is a great tool to add into a sequence."
The results were amazing: The company was able to connect better with their customers and increase their close rates by 15%.
Proactively Analyzing Sales Team's Demos
Demos are central to any sales process, and poorly executed demos slow down the close rate.
A good way to improve your close rate is listening to demo recordings and sharing your feedback with sales reps.
This enables sales reps to perfect their messaging and say the right things to ensure a faster close. Analyzing sales calls will also help sales reps understand their win rates, forecast accuracy, sales cycle length, and revenue produced. Sales managers can coach the reps by sharing feedback consistently.
Drew Hamilton, chief sales officer at Kareo (a medical technology company), used this tactic to improve their close rate. After successfully recording, transcribing and analyzing his sales team's demos, Hamilton was able to get a better understanding of what was working and what was not, and how he needed to course-correct.
The end result for the company was a 30% increase in their close rate AND a 50% decrease in the length of their sales cycle.
Wrapping it up
There you have it.
Our tips on how sales teams can improve their sales rate in 2019. Before you start to revamp your strategy for the next quarter remember…
> Selling is hard… and that's why companies need to adopt better strategies to ensure that they are closing more sales month on month.
> Selling is hard… that's why marketing teams need to develop compelling lead magnets that draw in highly qualified leads for their sales teams.
> Selling is hard… that's why sales reps need to focus on the customer, and arm themselves with tools and data to make informed decisions.
Nothing is going to change overnight, but as a SaaS business, you need to ensure you're doing everything you can to improve your close rate.
Your competitors are implementing better strategies every day. If you don't do the same, you're losing ground.
Which tactic resonated the most with you? Which one will you try the first? Let me know in the comments section.