Inbound vs Outbound sales – the epic debate continues. In this article, we'll break down which path is right for your startup, and how to implement each one.
Building early traction in the B2B software world is hard. In the modern day, many startups are founded by just a few guys. With one, two, or three founders working full time, resources are tight. To survive, you must focus clearly on a narrow strategy and execute it well.
One of the early choices all founders make is to choose between inbound or outbound sales models. I made one of these choices a few years ago: a choice that turned out to be the wrong one.
Here is my story about choosing inbound sales, but switching to outbound a few years later and learning a lot throughout the journey.
Quick Growth Isn't Always the Best Strategy
Nearly four years ago we built Quote Roller: a software as a service application that helps to build and deliver sales proposals. Both my co-founder and I were engineers, and at that time we ran a web development company. The product was built out of internal need, and was designed for small web development studios, just like the one we were running at the time.
As engineers, we weren't really excited about building a company with a bunch of salespeople. We planned to create an intuitive product that clients would be able to discover on the Internet, and figure it out on their own. So the choice of going inbound was natural.
The product was launched in the middle of 2011. We focused on all kinds of online marketing: software marketplaces, content, ads, etc. As a startup, SEO was the most important traffic source for us. From there, we started to generate a decent amount of traffic, some of which was converting into signups.
By mid-2012 we were getting thousands of signups on a monthly basis. It was all self-service, as we were not trying to be pro-active and some customers converted themselves. We started to build revenue. In early 2013 we raised money to invest in growth.
By the middle of 2013 we had thousands of paying customers, but were nonetheless quite discouraged.
Here is why:
1. Maxed Out Inbound
Our inbound lead channels started to reach full capacity and some channels were already maxed out. For example, we weren't able to buy more traffic for keywords like "proposal software" on AdWords because there just weren't enough searches. These conditions significantly limited our ability to scale quickly because the types of leads being funneled into our business were not an ideal fit.
2. High Churn Rate
An unfortunate result of having an inbound-only sales engine was higher churn rates. We were not attracting the customers who needed our product the most and who were willing to pay more for it. Most of our clients were small agencies, freelancers, and companies with less than 20 employees. These target segments were very unpredictable because they frequently traded tools or went out of business.
3. Market Spread Was Too Broad
Another lesson we learned was that our inbound stream of leads was too broad which caused the quality of our leads to be highly variable. We had too many different industries and vertical markets that demanded different things in the product. It started to become very clear to us that we needed to establish a sales/marketing strategy that would attract, convert, and retain loyal customers.
4. Needed A Better Product/Market Fit
Another problem we encountered was our product/market fit started to deteriorate. Over the course of two years, our development strategy followed feedback given by the broad spectrum of customers we acquired through inbound marketing. Because all of these customers were small, we were building a product that was not suitable for larger companies. If we wanted to scale our business and serve a broader unmet need in the marketplace, we had to re-evaluate our ideal customer profile and product/market fit to ensure we were developing technology that would provide value to customers for a very long time.
5. Not A Scalable Revenue Model
As a SaaS startup, there comes a time when growth hacking must transition into meaningful and sustainable growth. In the early stages, we learned how to attract visitors, now we needed to attract the right kind of visitors that would convert into loyal long term paying customers. To achieve this, we needed to build a sound product/sales process to ensure we were chasing highly qualified customers. This is what ultimately creates a stable foundation for predictable revenue and fast growth.
After two years of solely relying on inbound we realized that we had to rebuild our product. We rebranded and launched PandaDoc, which we designed based on everything we had learned with Quote Roller.
All In on Outbound
With this new company we decided to do things differently and started to sell the product before it was built to ensure there was a strong product/market fit. I was the outbound rep, providing demonstrations of clickable prototypes, and gathering feedback from potential clients. During this time I even closed a deal or two with a promise to deliver the software in a few months.
After establishing a successful sales process that was focused on a particular buyer, we established an outbound strategy to optimize customer acquisition.
Here is the structure we ended up with: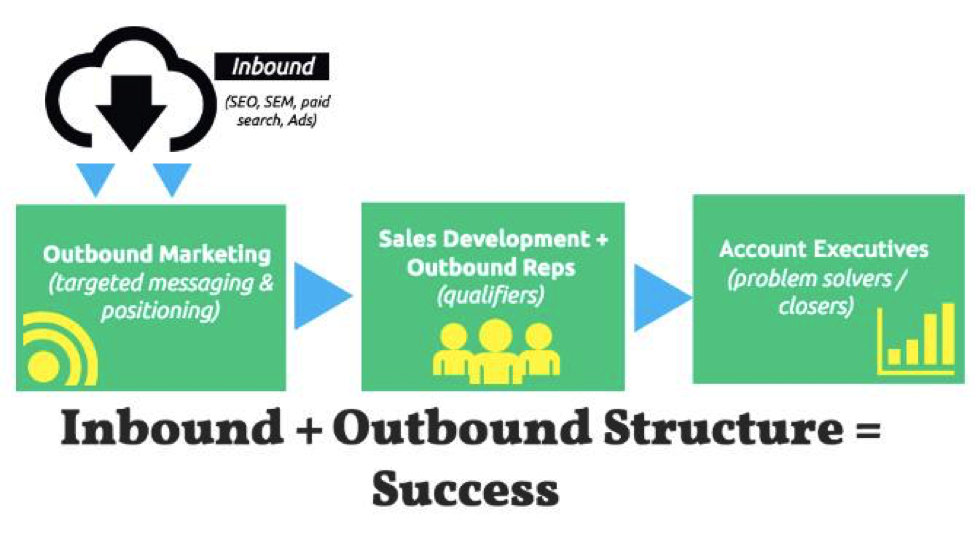 The result of this new structure combining both inbound and outbound leads enabled us to do a better job of filtering our leads by asking qualifying questions — we did this by doing more targeted calls, attending more events, and creating more educational material. This opened up a broader range of lead sources and eventually began attracting more relevant traffic and prospects who needed our product. This model also allowed us to focus our product development pipeline because we only built things that fit the needs of our target market.
Within 6 months of adding a more meaningful, targeted outbound strategy, we were able to see real results:

By the end of 2015 I expect us to make 200% of Quote Roller's revenue. But the best part is that our revenue growth has become increasingly predictable and not dependent on being featured in software marketplaces or Google search algorithm updates.
Outbound was definitely the way to go for us because quick wins in unstable markets did not help us build the loyal, long term customer base we desired. Too bad I didn't realize this 4 years ago!