I'm always impressed by the degree of ingenuity that leading sales teams put into their selling strategy.
But every time someone from sales says they're taking an omnichannel route to drive sales without incorporating live chat or messaging in their sales funnel, I think, "Huh?"
Don't get me wrong…
I am all for well-thought-out email blasts and industry events. They're great for generating leads, pitching your product, and converting first-time buyers into repeat customers.
But here's the thing…
If you're not using messaging, you're missing a huge opportunity — especially today, when customer engagement is driven by instant gratification and personalization at scale.
Most sales teams I know see messaging mostly as a support asset. They believe it's a reactive platform for handling service tickets.
A few sales team think messaging has some marketing use-cases, but they're oblivious about using it in their sales funnel.
The truth is messaging has taken over the traditional live chat space. It's now a powerful medium for businesses to scale their inbound sales, marketing, and support efforts.
In the era where your traditional marketing mix fails because of stringent data policies (think GDPR and now CCPA), messaging offers a huge lead and sales generating opportunity.
Let's look at three specific live chat campaign examples that you can incorporate in your sales strategy to generate more leads and boost revenue.
3 Live Chat Campaigns That Are Perfect for Sales
Before we dive in, you may be wondering whether live chat is right for your sales methodology. The short answer is "yes," and here's why…
B2B sales are usually one of 5 methods:
DIY Self Service
Transactional selling
Solution selling
Consultative selling
Provocative selling
Live chats can help you manage the front end of all of these. With DIY, it's even possible it could drive more leads into your existing funnel, giving you a completely automated sales process.
The key is to develop a strategy for automating your efforts, so as much lead gen and qualification as possible are done by your live chat solution, and not by your human sales reps. But we'll talk more about how to do that in a minute.
Now, let's look at the 3 types of campaigns that make live chat so useful for busy sales teams.
1. "Lead Bot" Campaigns
A lot of business use live chat on their websites to respond to customer queries — and that's about it.
That's probably because of the limitations in early live chat applications. You see, when live chat was first implemented, it was session-based.
Session-based chats offer isolated, broken experiences because they don't record the chat history or allow you to chat across devices. Worse, if somehow the chat gets disconnected due to a snag, you have to start the chat all over again from the beginning. There's no way to provide a continuous, contextual experience.
On the contrary, modern messaging apps are taking over the business world because they offer a great chatbot experience to both customers and businesses. They are customizable, easy to deploy, and low-cost.
Here's just a taste of what's possible when you use chatbots for lead gen…
At their most basic, you can automate chatbots to interact with prospects and qualify them as leads.
Today's chatbots can integrate with your CRM software, so you can essentially configure it to be a "leadbot." With that setup, you can automate the customer data to your CRM dashboard and make your sales prospecting process a lot less manual.
You can also program the chatbot to follow smart workflows so they can interact with your prospects in different scenarios, including your offline business hours.
Here's how it works…
The chatbot serves as a proxy human live chat agent.
It qualifies leads based on their interest level.
It then hands off the conversations to their human counterparts
Talk about creating a leak-proof funnel despite having a limited team bandwidth! And it doesn't stop there. For more advanced use cases, use chatbots to encourage prospects to:
Schedule a demo
Register for an upcoming webinar
Enroll for a course from right within the chat widget.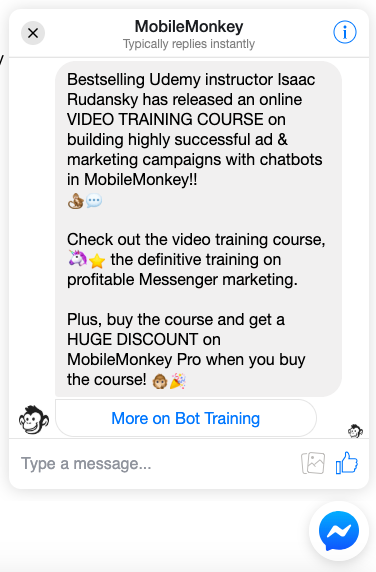 To avoid making the chatbot sound robotic, be sure to personalize your bot to use your brand voice. Customize it to have whatever personality fits your brand: funny, friendly, sassy, or whatever else you want it to be like.
2. Contextual Triggered Message Campaigns
Chatbots can serve as robot concierges to your website's front desk, meeting and greeting visitors and answering their questions. You can also run bot-less automated campaigns — something like self-service kiosks in your front desk lobby.
To do this, you only need to automate triggered messages based on user behavior.
What types of behavior can launch triggered messages?
Visiting specific pages
Clicking a button
Staying on a page for a specified number of seconds or minutes
This really is the best example of contextual selling in the virtual world. With triggered messaging set up on your website, you can trigger ultra-specific messages to hot leads who might be evaluating a purchase.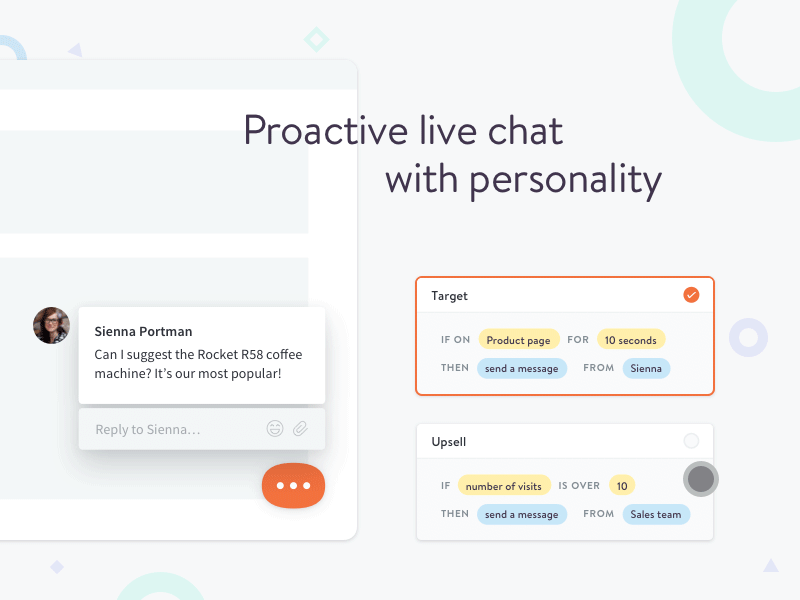 Best of all, it offers a better user experience than many other sales and marketing apps.
Unlike the annoying pop-ups that hinder a customer's experience to the point they turn them off, triggered messages appear quietly within the chat widget. They don't demand attention, and they give visitors full control of navigation.
Like chatbots, you can employ triggered campaigns to work for you 24*7 and reap the benefits of automation.
For instance, if analytics suggest that a significant number of prospects belonging to different time zones visit your website during your offline business hours, you can employ triggered messages to engage with them based on their behavior.
With triggered messages, you can run high-impact campaigns such as:
Event sign-ups
Product upsells and cross-sells
Discounts and giveaways
Demo sign-ups
To plan yours, start with the triggering behavior, then plan the messaging you'll follow it up with. For instance:
The visitor clicks a link.
The chat box opens and offers a message about an upcoming sale.
Or:
Your visitor spends 10 seconds on a page.
The chat box opens and asks if they'd like to sign up for a demo.
When done right, triggered messages are personal and targeted, which helps you keep your sales pipeline full.
3. Chat + Email Campaigns
Email continues to be the favorite tool in the arsenal sales team. Email is personal, low-pressure, and has a great return on investment (ROI).
As a report from Campaign Monitor puts it, email
Yields a profit of $44 for every $1 spent in marketing
Has a mobile open rate of 68%
Starts 174% more conversations than social media
But consumer messaging apps go a step further — live chat interactions can increase your conversation rate by as much as 45%.
Instead of looking at live chat as an either/or option to emails, you can get a synergetic effect on your sales process by getting them to work together.
For example…
Use live chat to get your foot in the door of your prospects — gather intel on their email address, names, and interests. Use that information to nurture prospects through personalized emails. Follow up with an offer to answer their questions on a call, get a free trial, or sign up for a personalized demo.
If you want to make this campaign more effective, choose a messaging app that provides live chat + email automation as part of its feature offerings. This feature lets you select ready-to-use email templates, customize them, and schedule them at an appropriate time.
Industries with high customer churn can benefit immensely from this collaboration: When customers initiate a chat about canceling their free trial or subscription, you can automate targeted emails (with incentives) to convince them to stay with you.
A Good Fit for Today's Sales Environment
Live chat campaigns can prompt your prospects to take action when they are at the peak of engagement with your brand.
But you need to be strategic about how you use it. The 3 kickass campaigns I've shared in this article can help you build in automation without losing your personal touch.
The results? More leads and more time to follow up with each of them. Sounds like a win-win to me!