Do you have the best people to make focused decisions for your Outreach instance?
After working with thousands of teams, we've identified five key roles that significantly impact your sales engagement efforts. Filling these roles will optimize your Outreach value, save time and ensure that subject matter experts are in place and fully engaged.
You'll also avoid common pain points such as:
Rep confusion
Redundant messaging that doesn't align with the broader vision
Ineffective use of automation and reporting
Enabling Outreach owners and subject matter experts ensure you're getting maximum value from the Outreach platform, including:
Defined workflows to ensure reps know what to do and how to do it
Content that's aligned and improved regularly
Automation that adds efficiency and data-driven decisions
Whether one person holds multiple roles or the responsibilities are shared with various team members, we see the same results — the most successful teams have someone taking ownership in these five areas.
Below are the key roles we've identified and the value each provides. With these as your guide, you'll achieve maximum Outreach success in no time!
Outreach role 1: Executive sponsor
Meet your executive sponsor, aka "the head honcho." This person is responsible for the overall health and success of engagement initiatives.
The executive sponsor will often have the title of VP of Sales, VP of Sales Operations, VP of Marketing, or Director of Sales Enablement. They make major decisions for the tech stack — they own the budget and can sign contracts.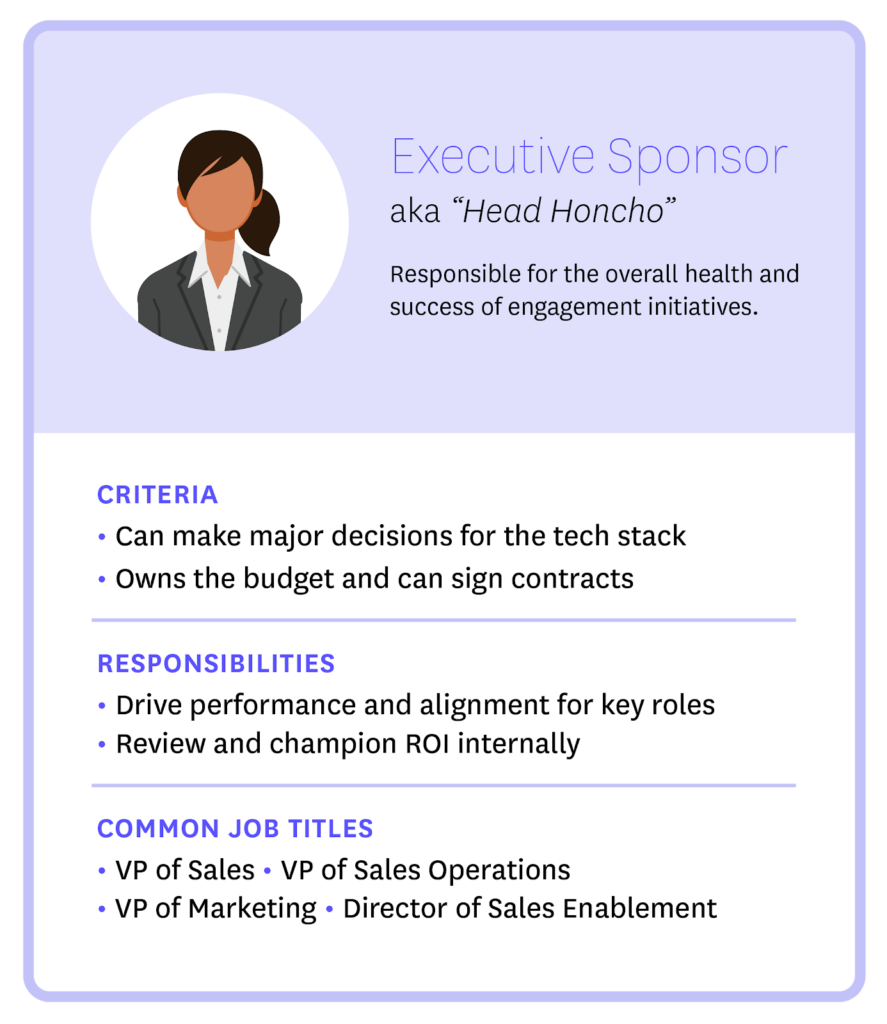 The executive sponsor will drive performance and alignment for key roles. They'll also review and champion ROI internally.
Outreach role 2: Outreach admin
The admin is your tech wizard, responsible for user access and permissions, data cleanliness and syncing, and automations.
The person in this role will likely have a title like Operations Manager, or fall somewhere in Sales Enablement, Marketing Operations, or Sales Operations.
Whatever their title, your admin is someone with a foot in both the technical and people worlds: They have a comprehensive understanding of CRM data syncing and hygiene, and also the ability to work with internal stakeholders on business needs.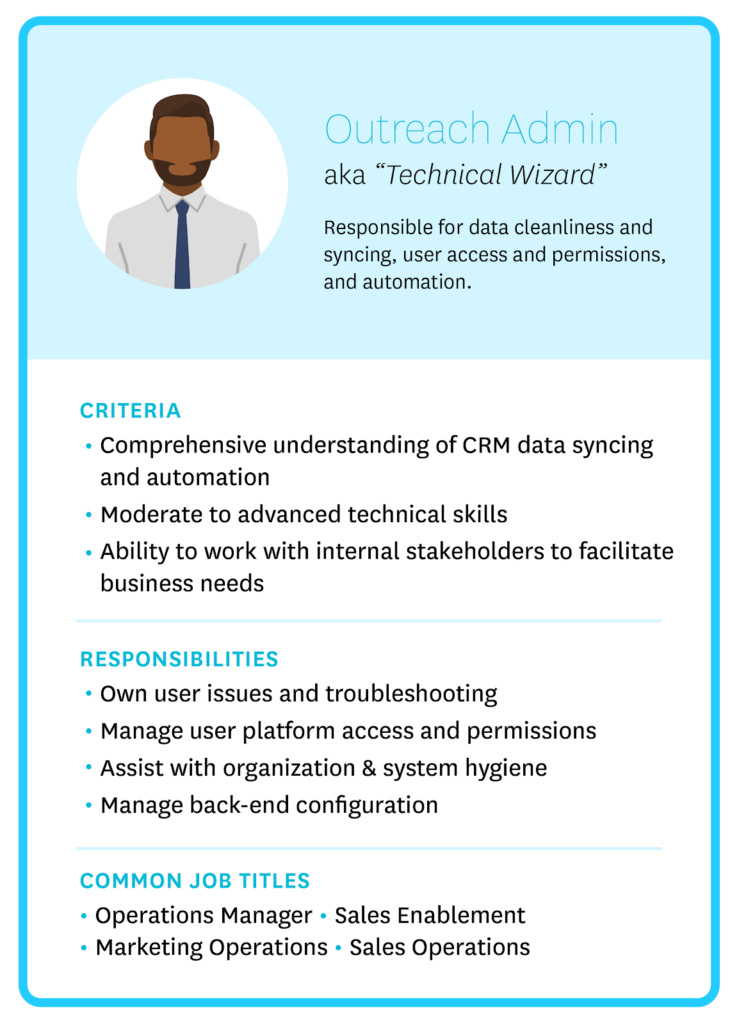 Your Outreach admin manages all the technical aspects of the Outreach platform: user access and permissions, backend configuration, system hygiene, and user issues.
Outreach role 3: Engagement strategist
Meet your go-to-market guru. The person in this role is responsible for the overall health and success of engagement initiatives.
Titles you're likely to see for this role include Sales Manager, Enablement Manager, and GTM Specialist. They have a firm grasp of GTM strategies, value propositions, and positioning, as well as familiarity with your company's KPIs and workflows.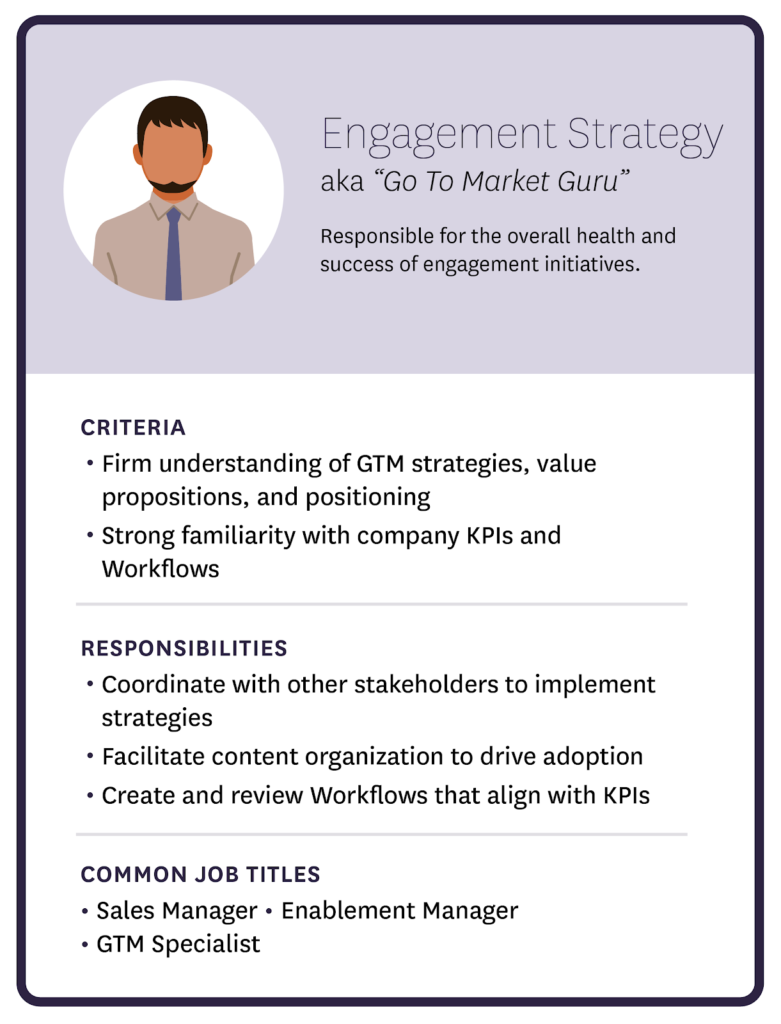 The Engagement Specialist works with other stakeholders to implement strategies, organizes content to drive adoption, and creates and reviews workflows that align with KPIs.
Outreach role 4: Content curator
We like to call this person our "engagement wordsmith." They're responsible for messaging, and can sit in either Marketing or Sales as a manager, content specialist, marketing specialist, or team lead.
Your content curator has a clear understanding of sales vs. marketing content, stellar writing skills, and an unwavering grasp of your company's positioning and value prop.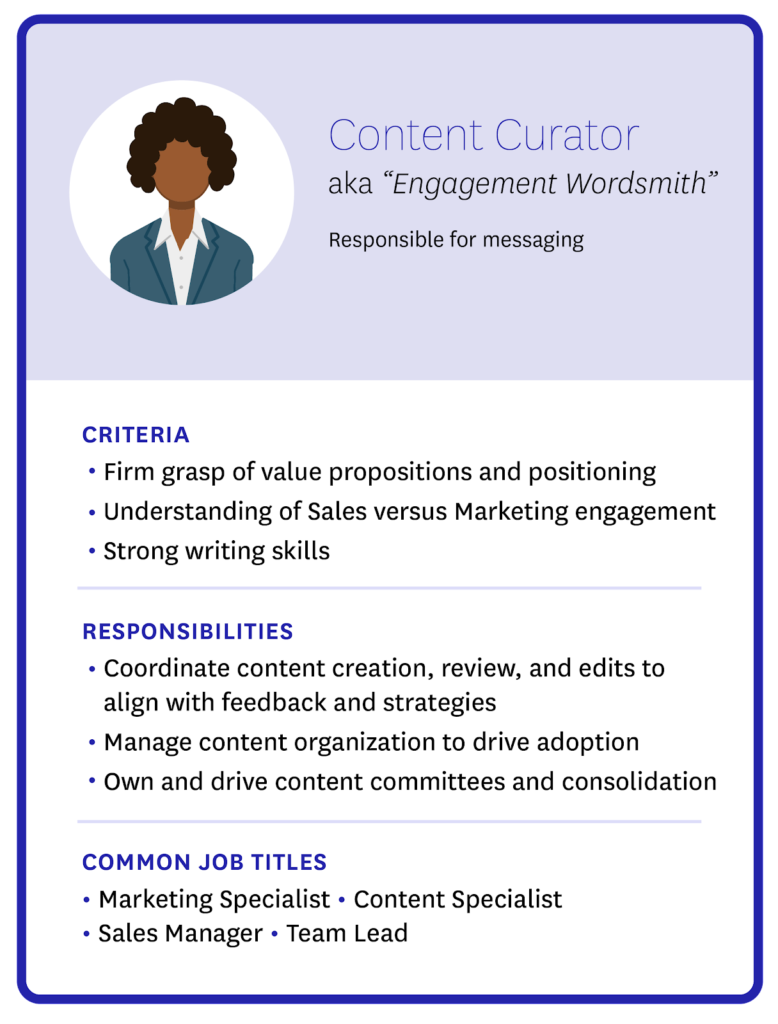 The content curator is responsible for content strategy and creation, including organizing that content to drive adoption. They'll work closely with your engagement strategist, above.
Outreach role 5: Power user
These are our sales engagement experts: your senior SDRs, BDRs, team leads, AEs and CSMs who embody the rep experience and know how to use the heck out of Outreach.
These folks use Outreach frequently, comprehensively, and effectively. They know Outreach workflows like the back of their hand, and understand what usage looks like in both a current and ideal state.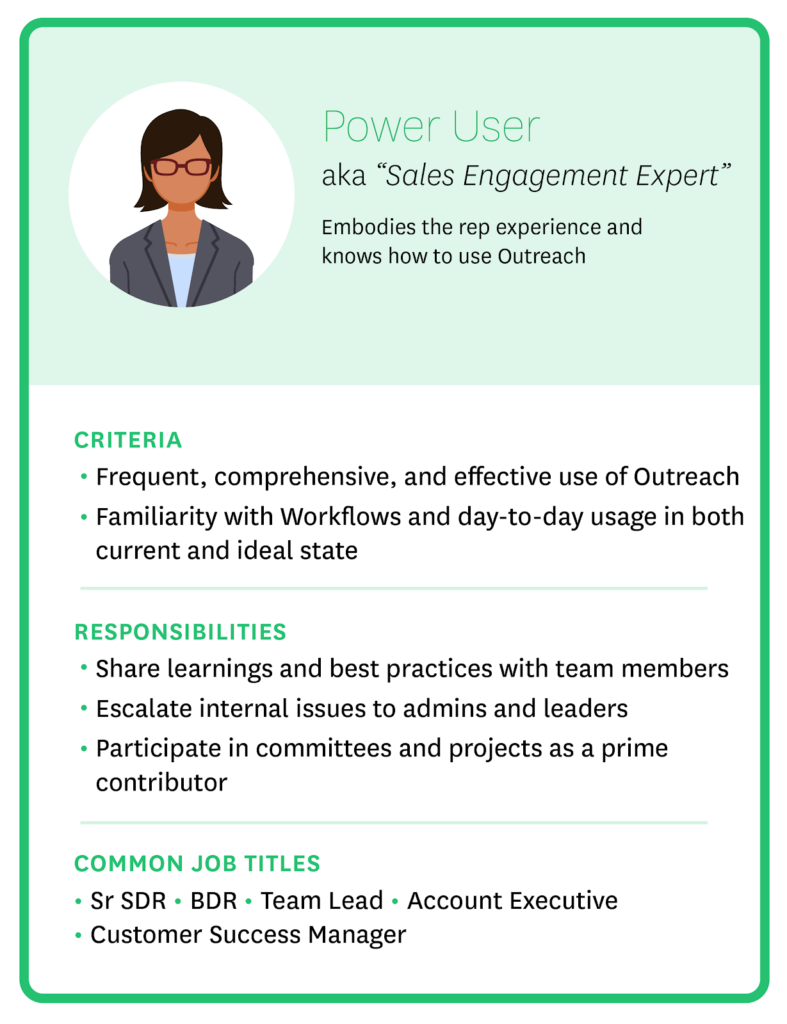 The power user takes a de facto leadership role for other users, sharing learnings and best practices with team members. They escalate internal issues to admins, and participate in committees and projects as prime contributors.
Got your five? Go perform!
Are you an Outreach user? Check out the other articles in this series:
---
The following writers contributed to this article:
Myles Bradwell, Senior Manager of Customer Success
Myles is a former Outreach senior manager who joined the team in 2017 and departed in 2021. He used his passion for success plan partnerships and escalation resolution to build successful customer success programs across multiple segments.
Chris Asmar, Customer Success Manager
Chris Asmar is a former customer success manager who departed Outreach in 2020. In previous roles, Chris led sales ops teams at small to mid-size tech startups where he saw Outreach in action. He brought his experience and understanding of Outreach to our headquarters in 2019, where he helped customers learn how to generate their own value.