Sales leaders and trainers (and their marketing counterparts) spent 2020 trying to figure out how to translate in-person conferences into compelling, engaging virtual events.
And because COVID-19 still hasn't gone away, sales conferences are still taking on a virtual format. Now that we're well into 2021, we're starting to get more value out of those 2×2 Zoom boxes. We've taken the liberty of rounding up the nine most promising sales conferences for this year.
These are the sales events you'll want to attend this year. (Or not – we're not here to tell you what to do.) The point is: there's something for everyone on this list!
Note: We will add more conferences as companies announce their plans for 2021, be they virtual or in-person conferences.
10+ sales conferences and events to attend in 2021
We've rounded up nine conferences that are at the top of our list. While most are virtual, some will still be happening at a conference center in person! Check out the full list to see which are happening virtually, in person, or hybrid.
---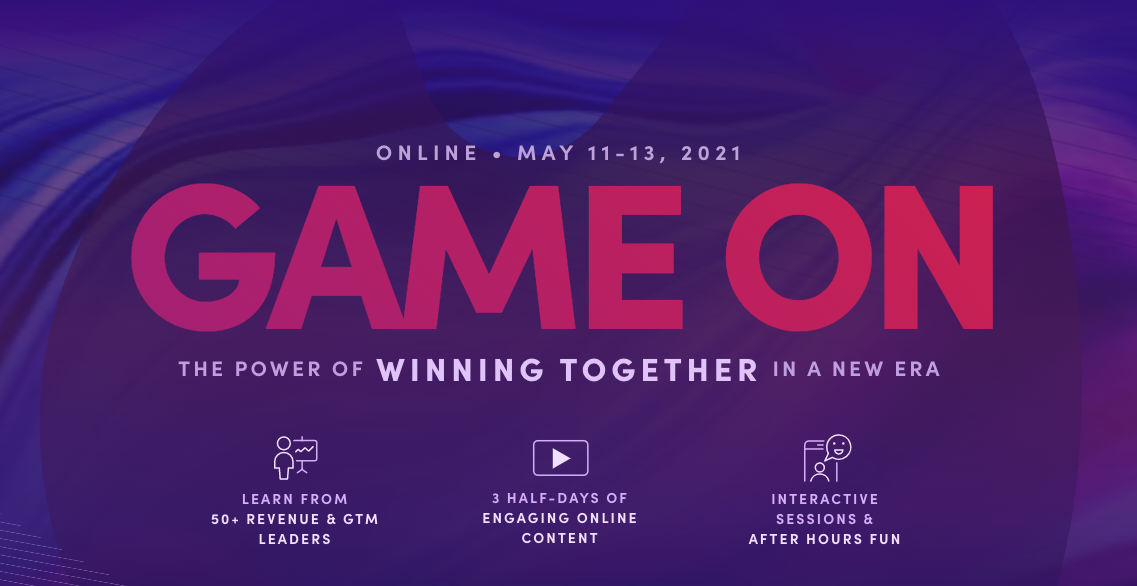 Unleash, Outreach's 5th annual conference, is back and better than ever!
The number one sales engagement industry conference every year, Outreach promises to bring a wealth of valuable information for sales pros at every level to their three-day conference. The conference will have it all: training sessions, workshops, smaller breakout sessions, keynote speakers, networking opportunities, and virtual parties – yes, really, they have it all.
If you're wondering who should attend, Unleash is geared for:
Sales leaders
Sales managers
Sales hunters
Sales ops
Marketing professionals who help develop sales enablement content
Another thing to look forward to? CEO and Co-Founder Manny Medina will be speaking about Outreach's unprecedented success as a unicorn startup! Plus, for Outreach customers, Unleash will have sessions based on getting the most value out of using Outreach, as well as some new product announcements you do not want to miss.
---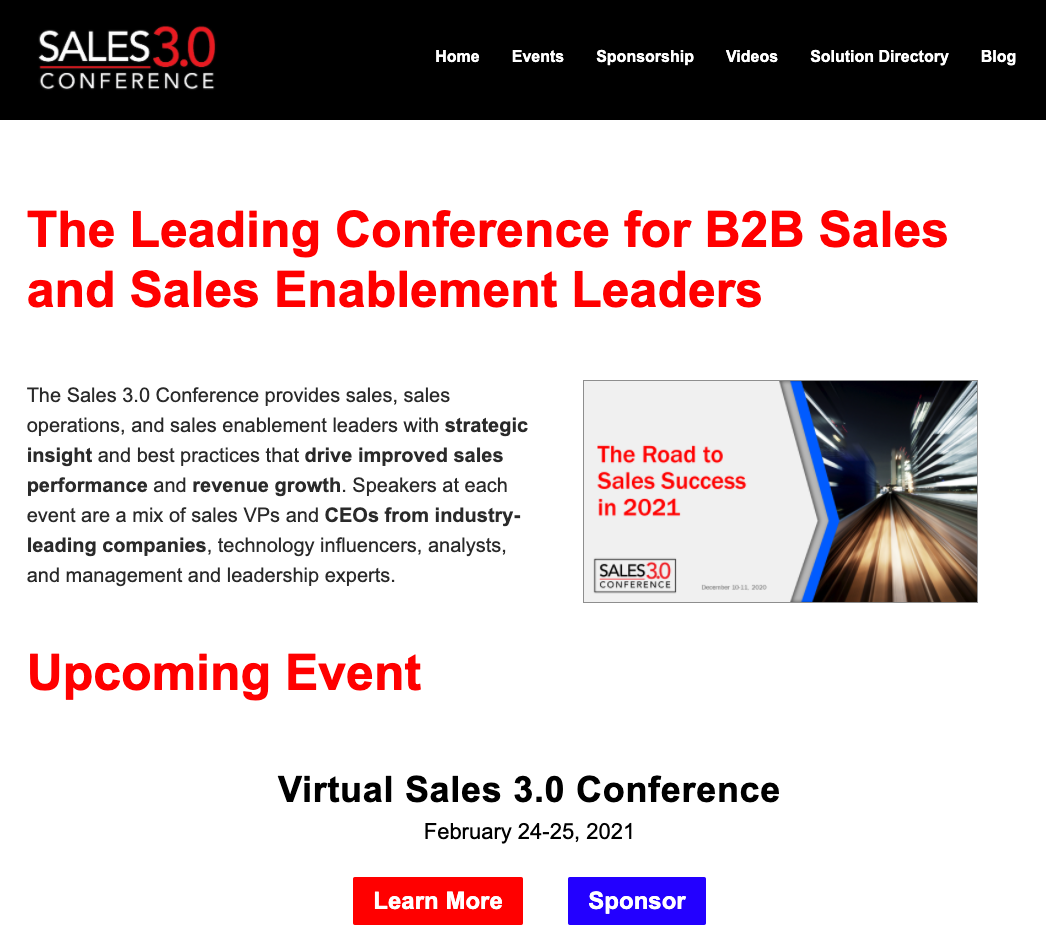 As the longest-running sales tech conference around (since 2008), the annual Sales 3.0 event is something seasoned sales professionals look forward to. This year, like many other conferences, it's taken on a virtual format for safety and ease of access to all interested attendees.
This year's two-day event will host insights from over two dozen industry experts and sales leaders on the following topics (and more):
Virtual selling tips and tricks
Best practices for onboarding and enabling sales reps virtually
How to recognize your employees
Better customer and prospect engagement practices
And more!
For just $49, you'll get access to all virtual content on both days, including virtual networking events powered by AI to help suggest the right people for you to meet based on your shared interests.
---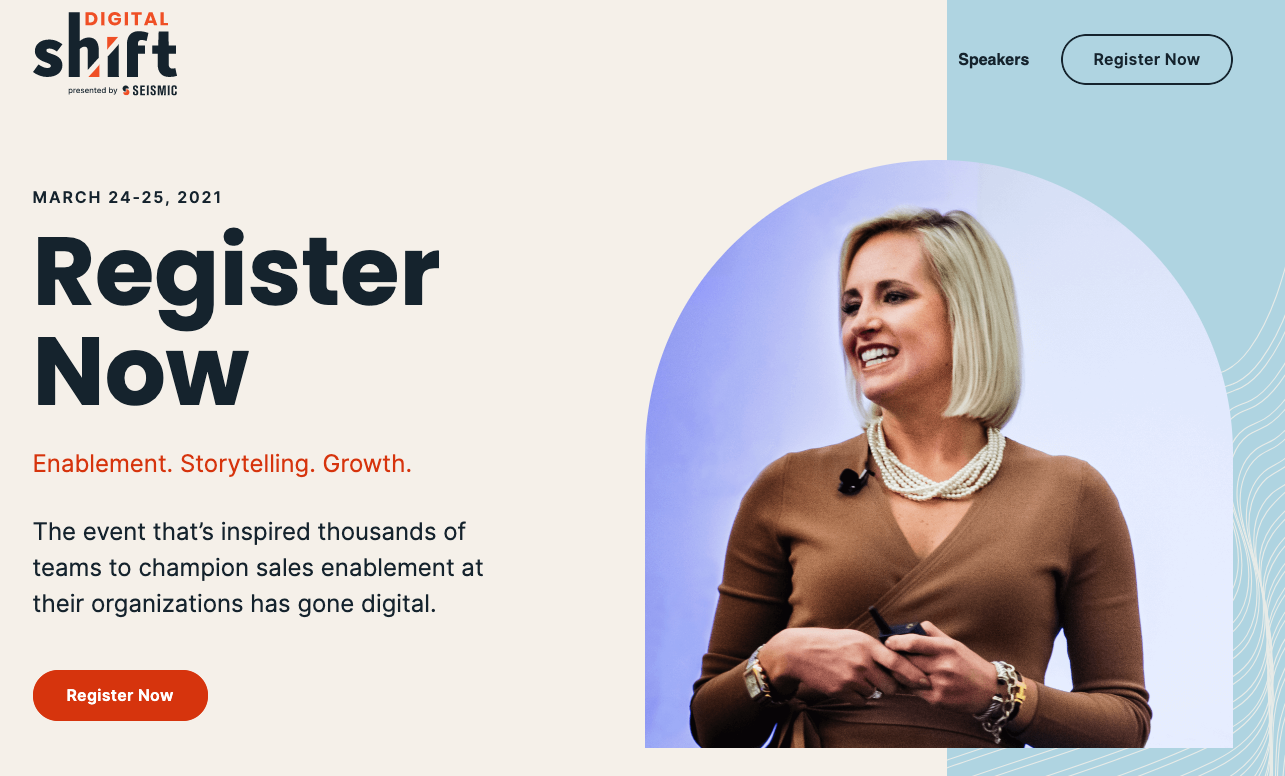 This year's conference is fully virtual – and better yet – free to attend.
Day one promises to be filled with engaging speaker sessions filled with takeaways from industry experts revealing their sales enablement playbooks for attendees to learn from.
Day two will give attendees insight into Seismic's global community of customers, as well as an opportunity to learn from leaders at external organizations as well as Seismic's in-house experts.
---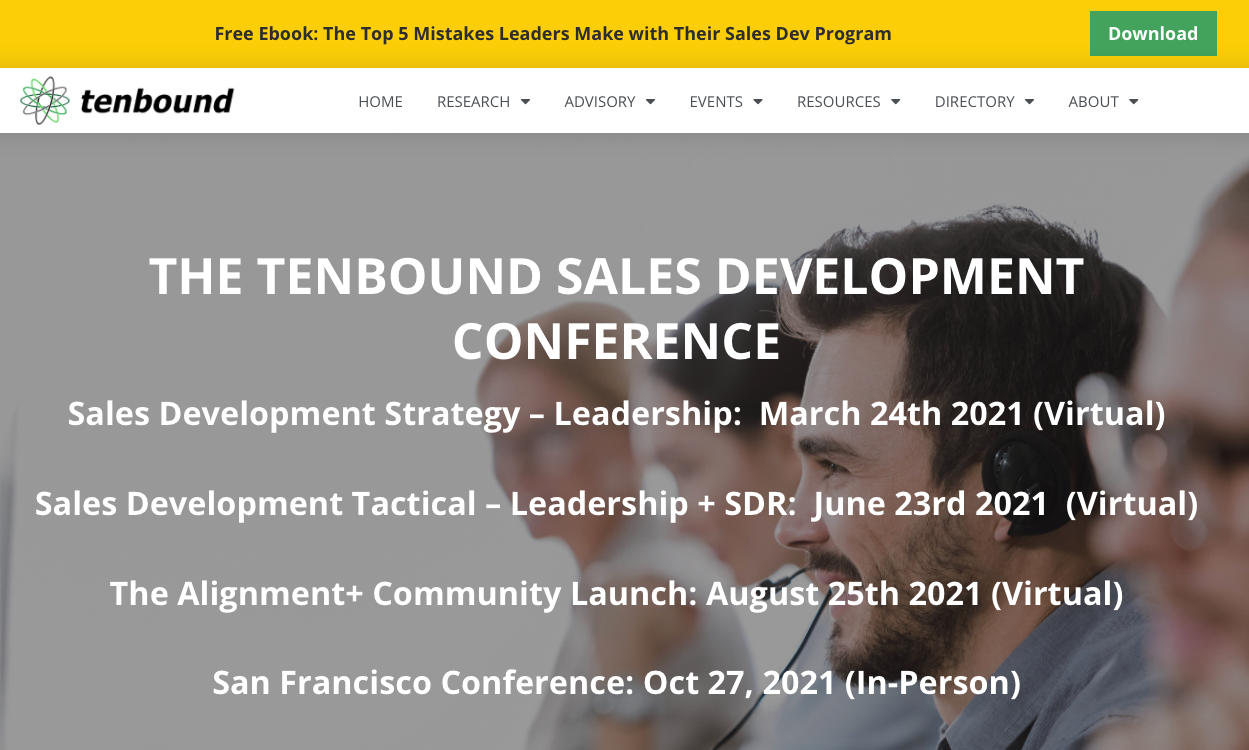 Tenbound is hosting four sales development conferences throughout 2021 – three of the four are virtual, capped off with an in-person event in October.
Sales Development Strategy – Leadership (March 24)
Sales Development Tactical – Leadership + SDR (June 23)
The Alignment + Community Launch (August 25)
San Francisco Conference (October 27)
Each event focuses on highlighting sales development professionals at all levels – from hands-on salespeople up to C-level executives. Tenbound promises that their conferences include an array of session types: general presentations, fireside chats, panel discussions, and more!
---

The AA-ISP Virtual Sales Summit is a free two-day conference offering learning and networking opportunities to attendees. They've done their best to replicate the in-person conference by having everything their summit would normally have:
A Tool & Tech Expo where people can connect with sponsors and get special, attendee-only offers
Sessions surrounding challenges sales teams face during the COVID-19 crisis
Networking opportunities, including 1:1 chats, think-tanks, and more
---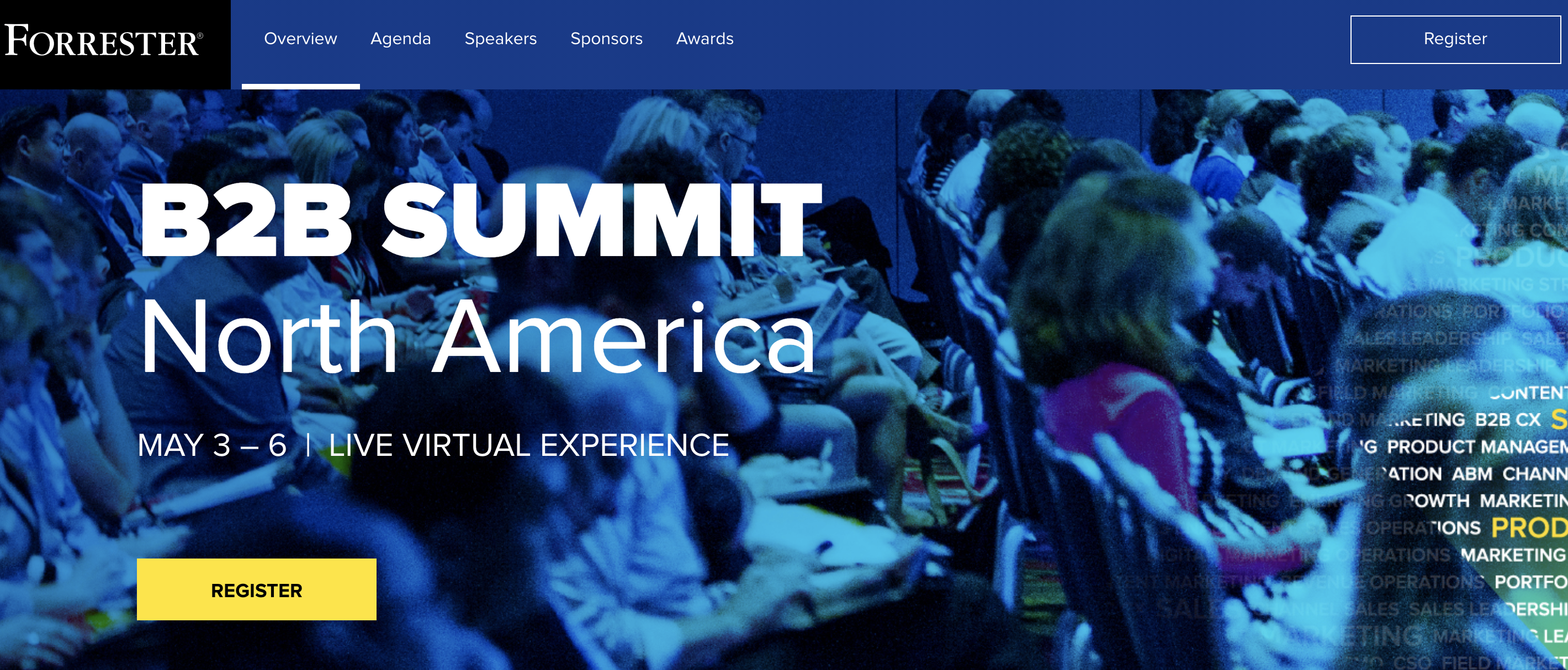 A fully virtual offering, Forrester's B2B Summit North America plans to cover how to create audience-centric campaigns; how to use technology for your sales and marketing teams; alignment of revenue ops and your team's organizational structure; and how to bring data to the forefront for pipeline conversion and growth.
Additionally, they have the following sessions lined up for attendees:
Building Trust: The New B2B Imperative
Routes to Market: A Means to Strategic Advantage
Future Fit Employee Experience: Everyone Wins
The Optimal Path to Revenue: A New Vision for how Marketing, Sales, and Customer Success Work Together
Step Up to B2B Marketing's New Destiny
The Future of B2B Sales: More Distant Yet Closer Than Ever
Forrester notes that sales professionals in the following categories are encouraged to attend:
Chief Sales Officers
Senior Sales Leaders
Channel Sales
Sales Enablement
Sales Operations
The cost for clients is $2695 and for non-clients is $2895 through March 1, 2021.
---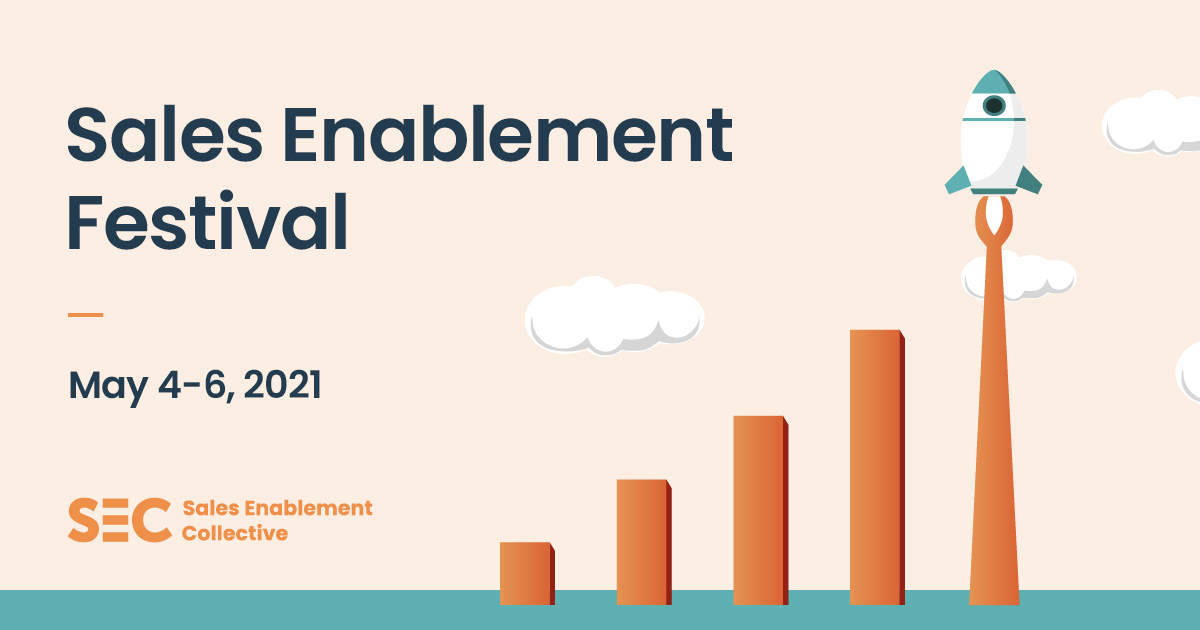 The Sales Enablement Festival is a 3-day virtual event that brings together sales enablement professionals from all over the globe. From insightful presentations, engaging conversations with peers to opportunities to recruit or be recruited for a sales enablement role, there's something for everyone to takeaway.
The agenda:
Day 1 – Presentations Galore
Day 2 – The Deep Dive Into Sales Enablement
Day 3 – Match-Making
With speakers confirmed from the likes of Google, Xerox, Oracle, PayPal and more, the Sales Enablement Collective are offering a front-row seat to learn from pioneering experts within this space.
2000+ attendees, 30+ expert speakers, 3 unforgettable days.
---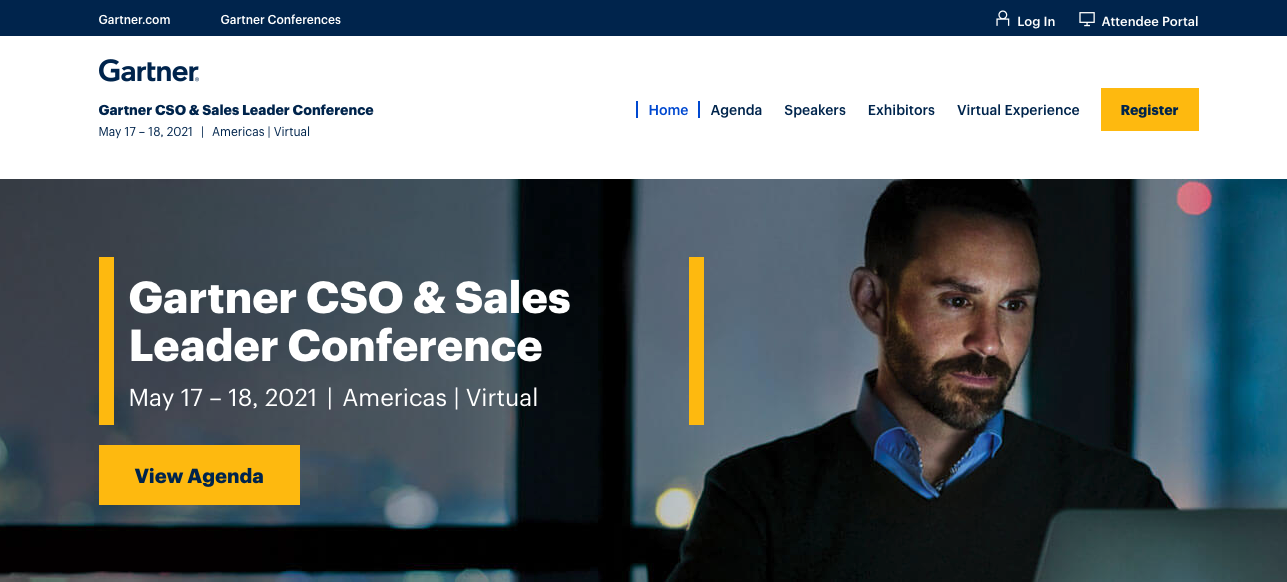 Gartner's CSO & Sales Leader Conference is a virtual offering accessible to their international audience. It promises to inform sales professionals about tends, sales strategies, and management effectiveness for new and seaoned sales leaders alike. Learn how to drive profitable growth during times of disruption; transform sales enablement into tactical tools and advice; and accelerate sales operations management for sales excellence.
Sales leaders in these areas are encouraged to attend:
Head of Sales
Sales Enablement
Sales Operations
The standard cost is $1450, and the early bird price is $975 through April 9, 2021.
---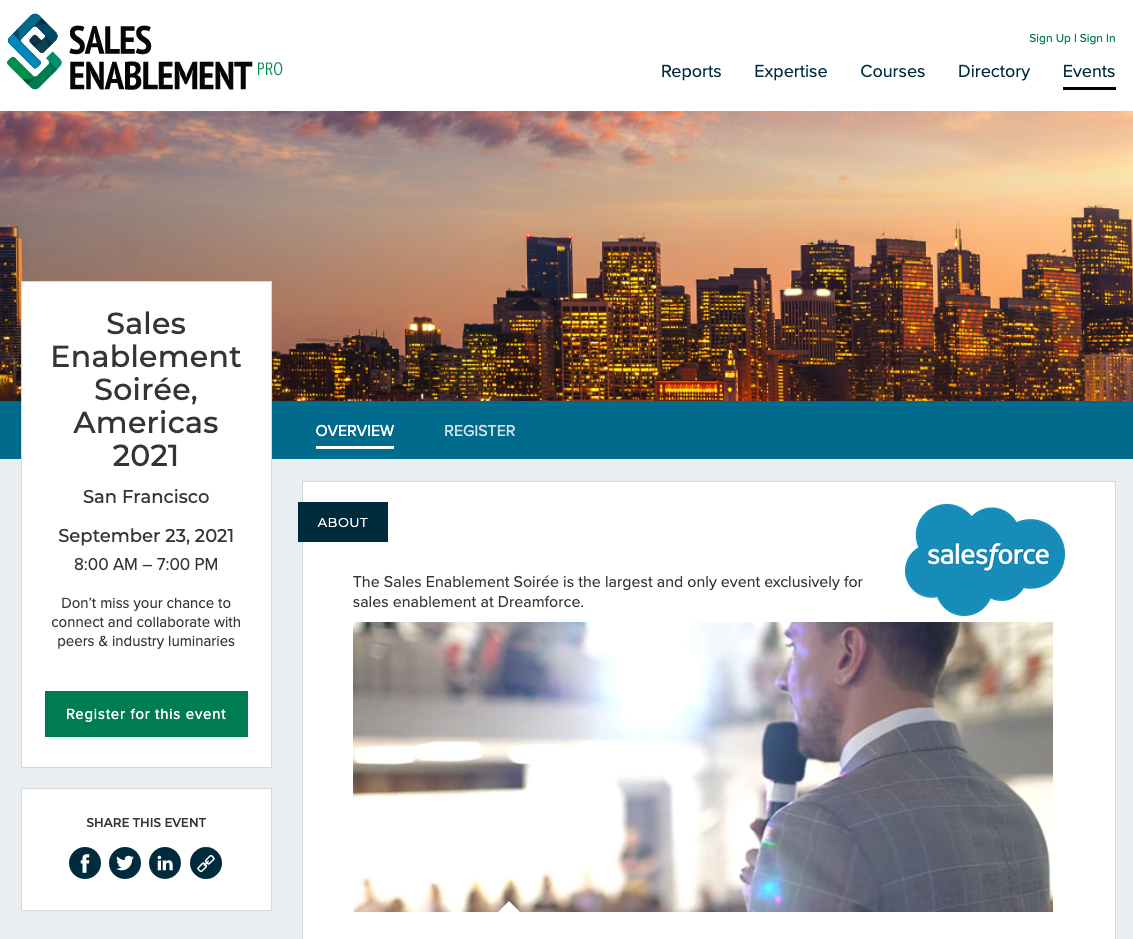 Sales Enablement Pro has already put on a few events to date, and they have a couple more coming up this calendar year. One of particular interest is the Sales Enablement Soirée, which will be hosted in San Francisco.
The event pulls together sales enablement thought leaders ready to share their tricks of the trade in an intimate setting. Attendees will learn best practices in sales engagement and how to onboard an organization from leadership down to the team level. It's a casual, intimate event sure to be packed with useful tips.
This one-day event seems to still be in person, but there may be a virtual accompaniment for those who cannot or do not wish to attend an in-person event.
---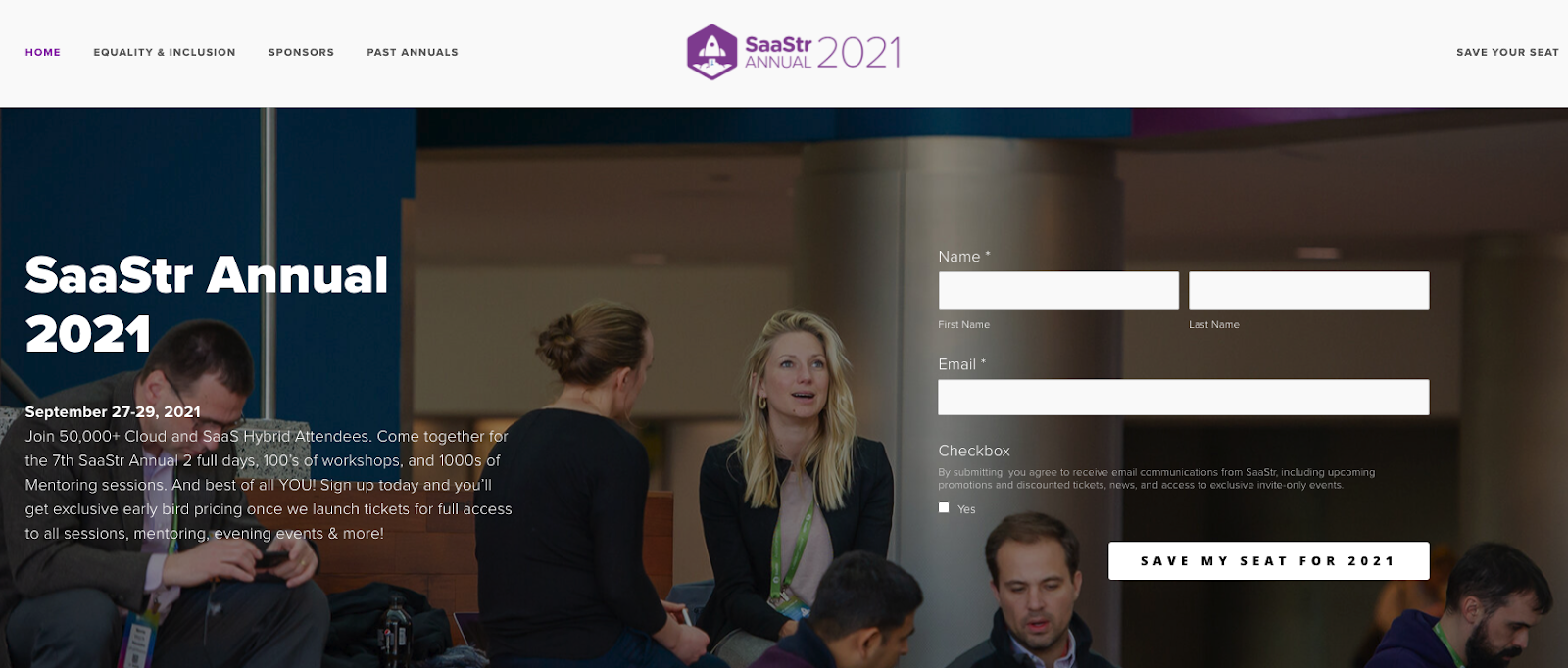 SaaStr's 2021 conference is virtual and promises two days of value-packed information for attendees. They're promising hundreds of workshops and thousands of mentoring sessions, as well as evening events as a special add-on.
Though they haven't released a date or price point yet, you can register online to save your seat for this year's conference.
---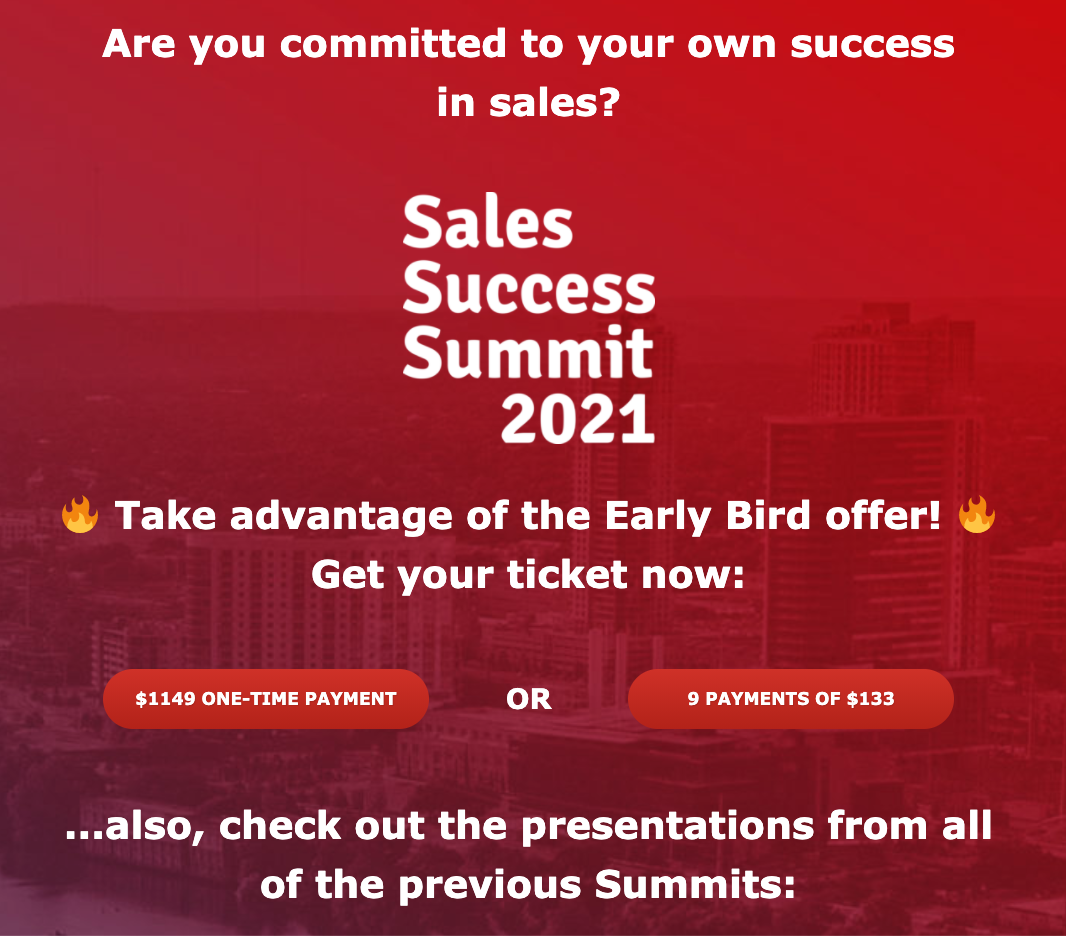 Hosted in Austin, TX, the Sales Success Summit is an event for sales professionals by sales professionals. All speakers are top-producing sellers who have previously appeared on the Sales Success Stories Podcast, and all are top sellers (either #1 or in the top 1% of their business).
This year's summit is still an in-person event without a virtual option as far as the website shows. It currently costs $1199, but the price increases by $50 per month, every month until the conference date. The highest cost for the conference will be $1599 if you purchase in October.
---
Level up your knowledge with these can't-miss sales conferences
Whether virtual or in person, these sales conferences provide a wealth of resources and learning opportunities to their attendees. With a lower price rate (or no fee at all), you're getting tons of valuable information at a fraction of the cost that you would normally pay for in-person sales conferences of days past.
Know of another great sales conference coming up in 2021 that's not on our list? Let us know in the comment so we can add it in!