Slack. Everybody wants a little. From busy executives to stressed-out millennials. Good thing more than six million users are now getting some. To make sense of all this Slack madness, we've decided to breakdown our top picks of slack integrations for sales & marketing productivity.
It seems like there's a slack integration for everything these days – even bots who can order pizza, analyze market data, and keep you humble on a daily basis.
Ironically developed to help get things done, Slack (which really stands for the nobler-sounding phrase, Searchable Log of All Conversation and Knowledge), has been around for only four years, but has already exploded into a $4-billion idea, and bagged a string of awards from media outlets such as TechCrunch and Inc.     
Top Benefits of Using Slack Integrations for Sales & Marketing Productivity

Slack has a super friendly UI and is very easy to use.  

People want a better communication/collaboration solution than email.

Millennials love messaging apps

for work, play, and everything in between.

Slack works on practically all the devices (desktops, tablets, smartphones) people use everyday.

Workplace collaboration is VERY in.

Slack stores EVERYTHING (conversations, shared documents, instructions, insults), which is great for workflow reference and for keeping everyone courteous and honest.

You'll never miss out on anything even if you work from home or the corner cafe.

The Slack mobile app is tremendous.

You get to use a superb in-app search function.

Make Slack your own: tinker with decent personalization settings.

Dozens of useful features such as group chat, file sharing, exclusive B2B channels, automation, and apps.

There's a free version.
Top 40 Slack Integrations for Sales & Marketing Professionals

Here's the moment you've been waiting for. Time to discover what the pros in your field have been using.
Without further delay, here's our top Slack integrations and apps for sales and marketing professionals (broken down by category):
Analytics
ARC. Get daily updates on all the metrics you follow on Google Analytics. Make real time decisions based on data-driven insight, but in crisp, simple language everyone comprehends. Understanding performance metrics need not be as complicated as rocket science.
Chorus.ai. Need to perfect your pitches? Every sales and marketing professional does. But here's one tool that gives you a little push where it matters. Chorus automatically records, transcribes, and analyzes your conversations in real time, giving you the clarity of hindsight and a tactical advantage for the next engagement.
Donewell. Boost your team's performance by getting the data you need to achieve more —  directly on Slack. Track metrics that move the needle. Set inter-team competitions to spur activity on every stage of the sales process. Use existing CRM data to your advantage.
Kixie. Derive actionable insight from your sales calls. Kixie sends your call data to your Slack screen so you can access deal data, call stats and all the information from your CRM to make vital decisions.
StatsBot. Bring Google Analytics, SQL, Salesforce and Mixpanel in the familiar interface of your pizza bot-populated Slack screen. Get custom real-time alerts when key metrics experience significant movements and make data-driven decisions to seize the moment.
Business Intelligence
Advocately mobilizes your NPS promoters to get more high-quality reviews for your B2B SaaS product on B2B review platforms. It integrates with multiple NPS platforms, CRMs and messaging tools in order to facilitate a quick set up process.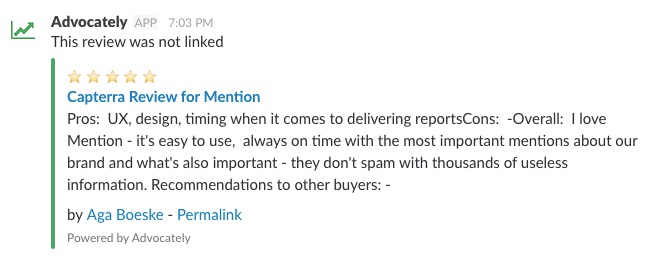 Chargebee. Get updates each time your cash register rings. Chargebee sends notifications on Slack when new customers sign up for subscriptions, purchase merchandise, or enroll for a service. Track cancellations, renewals, outstanding receivables, and new business like never before.    
ClariBot. Chat with ClariBot and you'll get personalized insight for improving productivity, whether you are a business development rep, account executive, or sales manager. Powered by new advances in machine learning, Claribot processes sales data to generate context- and role-specific information that will help you move the needle where it matters.  
DataFox. Next to genuinely serving customers, intelligence is the most powerful input that can drive sales and marketing performance. DataFox gathers critical, real time data about your prospects and competitors that have significant impact on your business. Get notifications on organizations and brands you care about. Track consumer behavior to better align your marketing and sales campaigns.
GrowthBot. Developed by HubSpot, GrowthBot generates critical information for sales and marketing practitioners to help them hike productivity and get the answers they need on demand through chat interactions. GrowthBot can link with several CRM platforms and analytics software to extract useful data and generate value-building insight.
Niles. Need a break from a rigorous cold calling drive? Hear some jokes. Need to brush up on product knowledge? Access the latest relevant content on your team's knowledge base. Get both and more from Niles, a wikibot that optimizes your company's knowledge base, answers your questions on Slack, and throws in some witty humor once in awhile.
CRMs
DealBot. Developed by Pipedrive, Dealbot sends timely updates that help sales teams improve collaboration reduce their need to write emails, and close more valuable deals faster. 
Insightly. Access records and perform actions on your Insightly CRM by having an  informal chat on Slack. Get contact information, set meeting reminders, and track sales activities from the comfort of a text messaging box.   
ProsperWorks. Designed specifically for seamless integration with Gmail and and other Google applications, ProsperWorks will help your team monitor and optimize sales activities, track leads, and close more deals. The ProsperWorks Slack bot only makes the same things a lot easier.
Salesforce. This list would be incomplete without the dominant force in the market. Using Salesforce' Slack integration, you can share account details extracted from your CRM directly with other peers on Slack. No need to switch between apps. Track opportunities, manage your accounts, and close deals faster without leaving the familiar Slack interface. 
Troops.ai is the easiest way to use Salesforce directly from Slack and centralize key sales workflows. Update any Salesforce record without ever leaving Slack, including both standard and custom objects. Celebrate with your team when they close a deal, create an opportunity, or hit key sales milestones — completely customizable with filters and specific deal information. Schedule or pull any of your existing Salesforce reports and enjoy them directly from Slack, made available via Troops' Salesforce Slack Integration.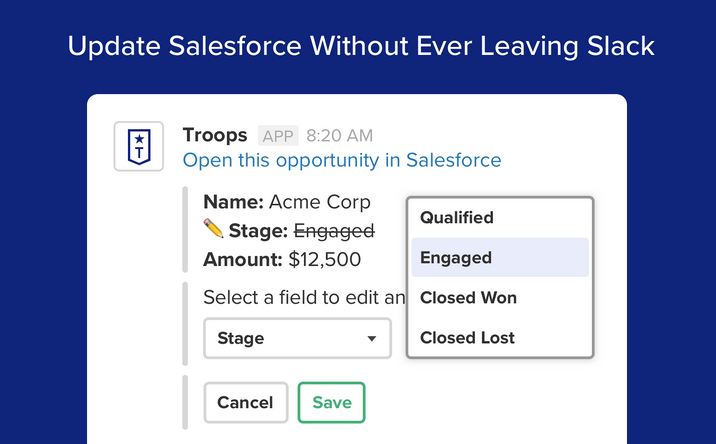 Contract / Document Management
HelloSign. Keep track of all the documents and contracts you've sent to in-house stakeholders, business partners, and clients from the comfort of your Slack screen. The HelloSign integration allows you to receive timely notifications when a deal has just been signed off, when you need to affix your signature to an agreement, or when a follow up is needed to expedite the process. 
Email/Communications
Drift. The more venues you have where customers can actualize their purchase decisions, the better for your top line revenues. So if a Drift integration for Slack allows you to chat with clients and close deals there and then, who are you to complain? Get the integration fast and carry on selling! Drift makes it a lot easier for your audience to make purchases, don't make it hard by not making a move. 
GetResponse. Gain visibility into the progress and performance of your email campaigns without leaving the Slack UI. The GetResponse integration for Slack enables you to keep track of your target audience's behavior — open rates, subscribes, unsubscribes — and whether your campaign is moving on schedule and achieving the targets you have set. 
GIPHY. Send your message with impact, or your quip with humor. Boost morale and have some fun. The GIPHY integration for Slack enables you to access a humongous library of GIFs that are categorized by theme or subject. You wouldn't know exactly what you're sending so keep the chat in-house. 
Intercom. Chat with peers, friends and customers virtually from anywhere. Using real-time notifications, this integration enables everyone to sync each time a conversation is started or closed.
Jiminny is the easiest way for sales and success teams to build a culture that focuses the desire for improvement around teamwork, inspiring every player to become a coach. You can consolidate 3 tools in one platform, fully integrated with Salesforce & Slack helping your reps work smarter. Connect Slack with Jiminny to start online meetings and request coaching with ease.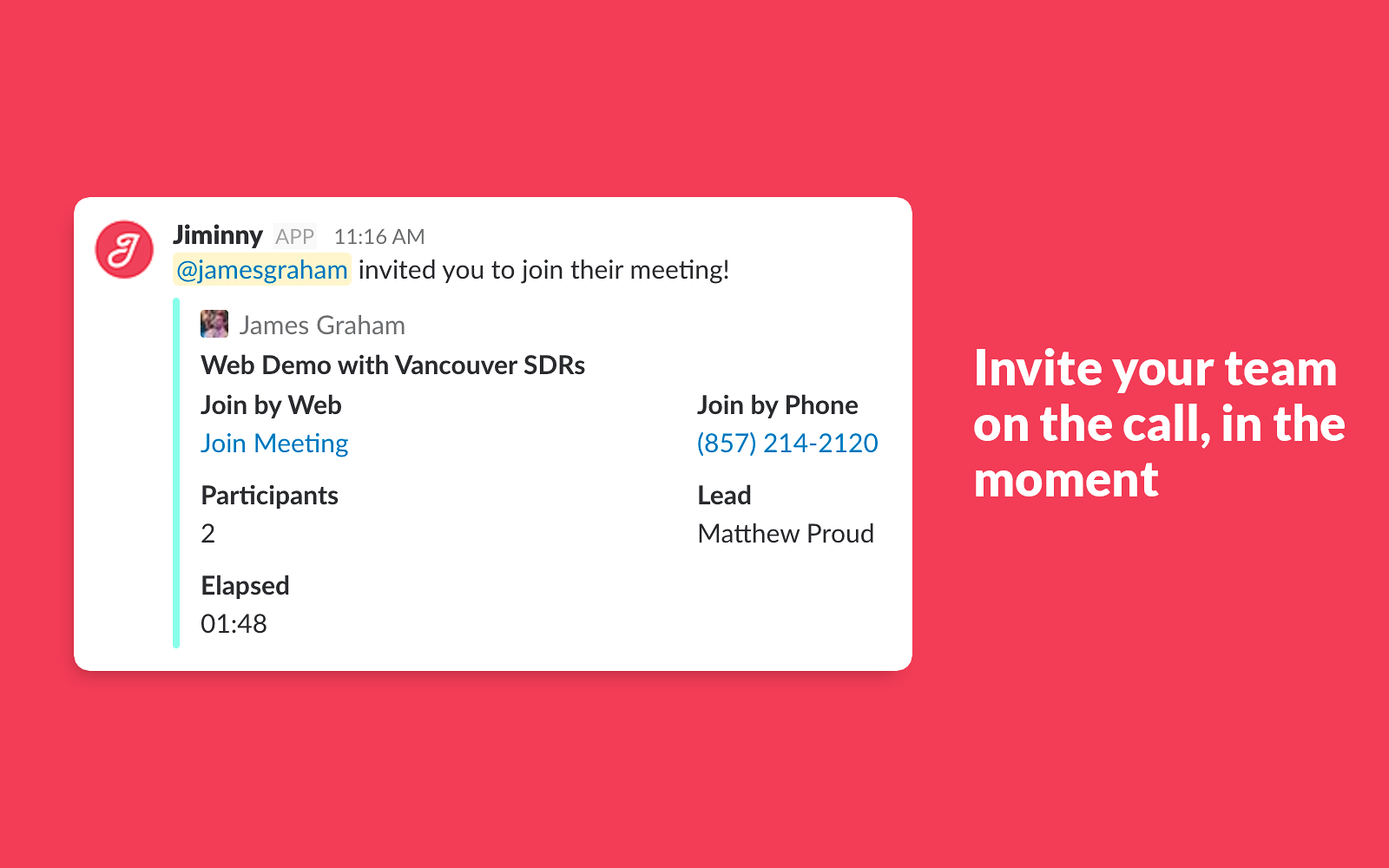 Klenty. Integrate Klenty to your slack account and you get a reliable way to receive updates on your customers' behavior about your brand. Klenty tracks whether customers are opening your emails, clicking on the links you've recommended, responding to your messages, and making purchase decisions/taking actions that benefit your business.
MailChimp. Among the most popular email marketing tools on the planet, MailChimp helps you leverage email engagement to generate value for your company. The Slack integration automates a lot of tasks for you — such as monitor subscriptions, clickthrough rates, and campaign status.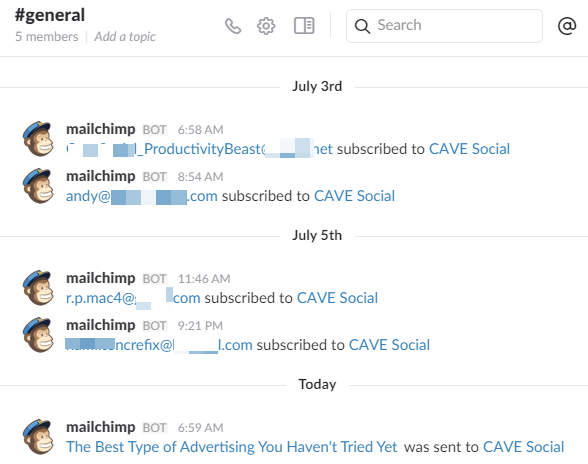 NURTZ. Hire an in-house editor to pore over your emails and other communication materials before you send them out to valued clients. After all, typos and grammatical errors can erode your clients' perception about your professionalism. NURTZ helps you proofread your drafts so only well-polished messages reach your customers.  
Olark. Make workflows and client engagement more effective with Olark's live chat integration for Slack. Talk directly with customers who visit your website without leaving or minimizing the Slack window. Collaborate with your team to determine the best engagement approach for each promising lead.
Ambition. Celebrate Every Win. High performing teams share 6x more positive feedback than their peers. Ambition's automated alerts in Slack provide the perfect platform for high-fives and team wide inspiration. Get real-time accomplishments in Slack via Ambition!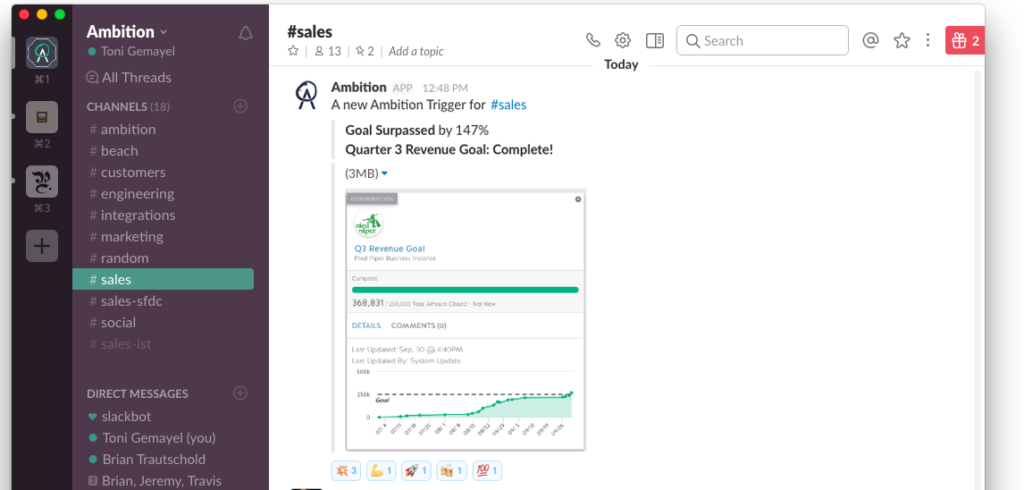 Project Management & Collaboration
Marker. Communicate better and faster with the Marker integration for Slack. Marker allows you to capture, annotate, and share screenshots so that your team can discuss the merits of a design, process, or specific information.
Asana. Definitely a top pick internally at Sales Hacker, Asana is a top voted project management tool in the B2B sales & marketing space. You can assign tasks to project owners, add due dates, attach files, leave comments, get notifications and more. Everything you need to move your business forward – do it efficiently and effectively with Asana.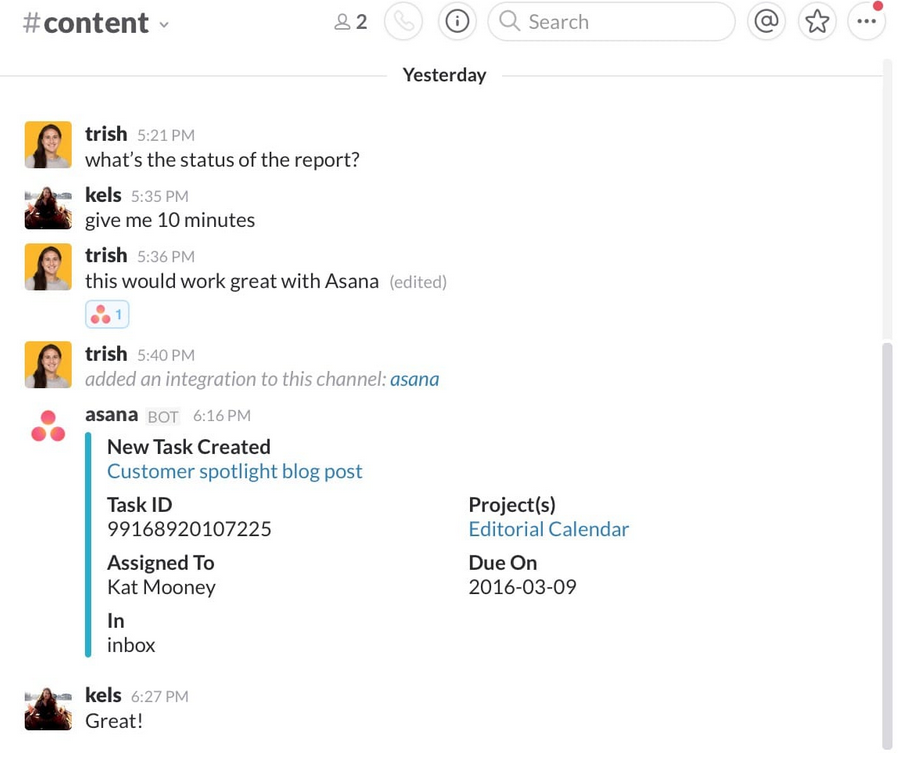 Trello. One of the most popular project management and collaboration services on the Web, Trello is an efficient way for teams to get things done. The Trello app for Slack allows you to use Trello right from the simpler and friendlier interface of Slack. Create Trello boards, add cards, set delivery dates, attach documents, and perform other tasks to complete your projects.
Bizzabo. The premier event marketing and management tool – and a top pick here internally at Sales Hacker. Manage ticket sales and attendee registrations with Bizzabo, and get real time notifications via Slack with the integration made possible via Zapier.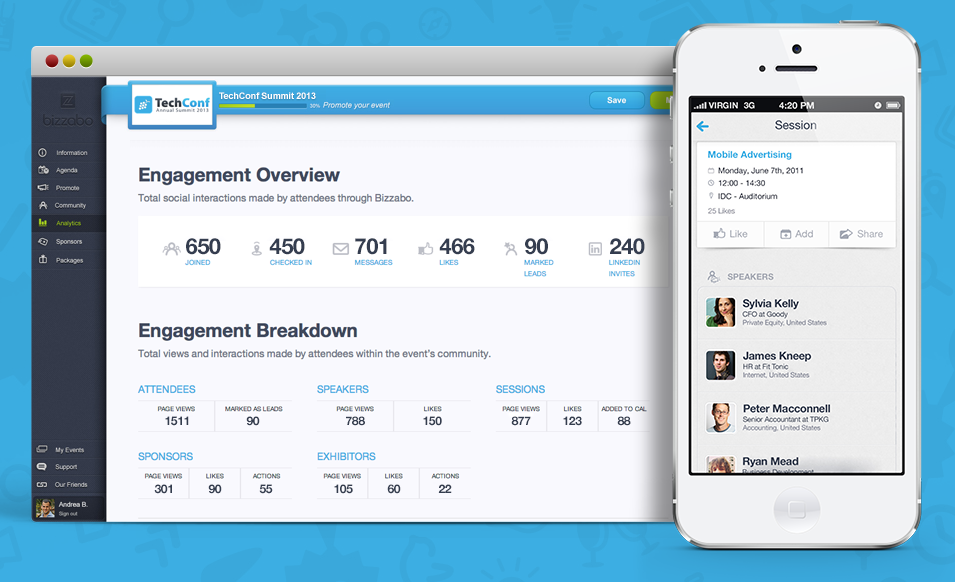 Guru. The Guru Slack bot allows you to capture new knowledge or answers exchanged directly in Slack. This new information is automatically consolidated with the rest of your team's collective knowledge, making it reusable and easy to search in Guru's browser extension. With Guru, you can search and surface all of your team's knowledge directly in Slack, keeping your conversations moving without having to switch context to get what you need to be productive. Try Guru as your knowledge management platform – track your Sales & Customer Success Enablement, messaging and positioning docs, case studies, objection handling scripts, competitive intelligence, product FAQs, and more directly in your rep's workflow.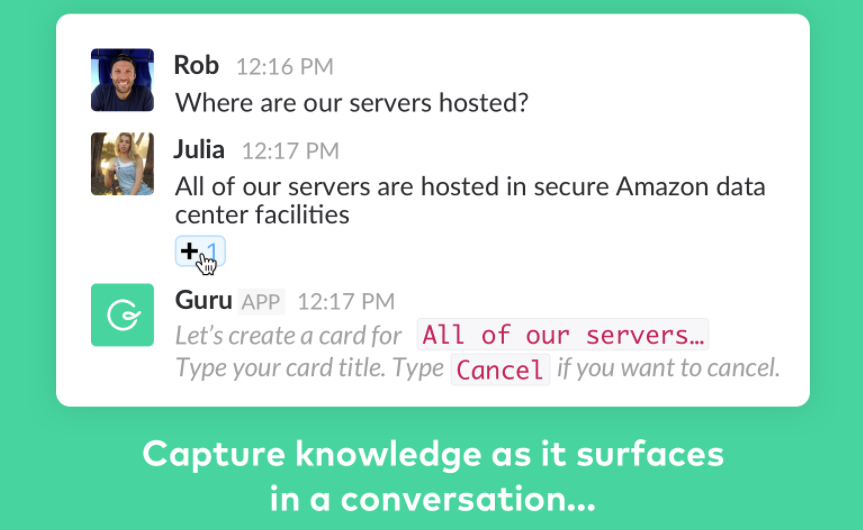 Totango helps you safely access your customer's information and volunteer to participate in missions for their success. Totango is one of the leading customer success apps. Zoe bot by Totango can help anyone on your team safely access customer data whenever you need it, instantly. You can also add Zoe to any channel you want, and if you need Zoe mid-conversation with a coworker, just type "@zoe" and your question.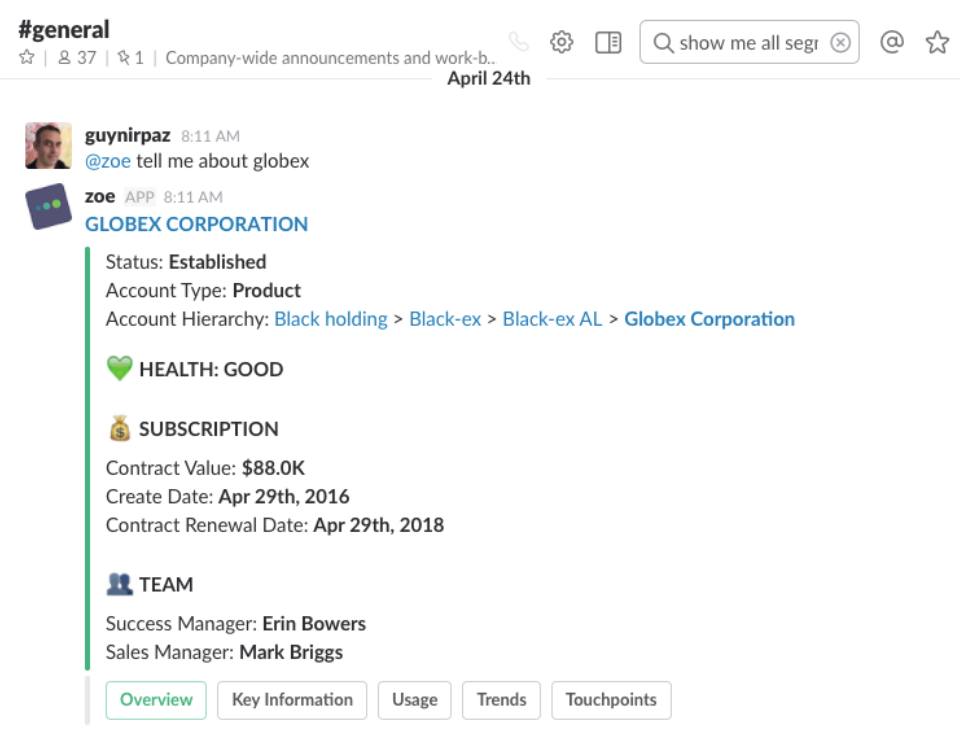 Prospecting & Lead Generation
Clearbit. Get real-time feeds about your customers. Let Clearbit generate and share behavioral or corporate profiles of promising leads to help the team formulate winning sales pitches. Gather and share other data to improve the quality of business intelligence.
Illumineto. Discover what excites your customers and what turns them off. The Illumineto integration for Slack enables teams to track their content and see how customers respond to each message and material. Leverage behavioral insight to make your brand and products resonate with customers.
Intro. Get to know everyone better. Intro establishes a private professional network on Slack while probing social media and other sources to automatically generate personal, contact, and professional information about everyone in the network. For sales teams, the data generated by Intro could be the gateway to building new lead pipelines.
MadKudu. Gain insight into how specific customers respond to your messaging. MadKudu sends alerts when triggers or events indicate a high likelihood of closed deals. Leverage the insight to determine the best moves for each lead, drawing the customer ever closer to conversion.
Social Media
DrumUp. Engage your audience with the best content in your niche. DrumUp enables you to find, curate, schedule, and share top-notch content that will mesmerize, entertain, or inspire your audience.
Mention. Track your brand imprint, favorite influencers, or emerging trends on social media. Using Slack's messaging platform, you can instruct Mention to capture "mentions" of your brand, a topic, or the influencer you are following. Get an accurate idea of your brand's social capital or a specific topic's mindshare in the conversations of the day. This is definitely a must have for social sellers on the grind.
Slacking your way to high performance
Usage figures and a round of new investments indicate that Slack will be around for the long haul and may well achieve its potential to make an even larger impact on the workplace. For one thing, millennials — who obviously love Slack — will be the largest worker demographic in the US and globally for years to come. That means the Slack ecosystem will be richer, with new apps, integrations, and features sure to be coming down the line.
Sales and marketing professionals shouldn't be left behind — especially when it comes to productivity and communication technologies. Have you installed your Slack apps yet? Now's the time to rev up your Slack app with integrations that will help you streamline workflows, find prospects, and close deals better.