Once again, Salesforce presents a strategic look into the rapidly shifting world of sales. The third edition of the widely anticipated State of Sales report surveyed more than 2,900 sales professionals and leaders from around the world. Here's a quick sneak peak of their sales research report.
Sales technology, buyer behavior, and the need to mingle have made sales more complicated, thrilling, and tougher than it already is. 
In fact, nearly 60% of sales reps expect to miss their quotas this year.
Customer expectations now border on the ridiculous and artificial intelligence brings new insight into the sales process. How should smart professionals turn the next wave of growth pains into profit? What tactics should sales leaders execute to still come out on top?
Jump to the State of Sales Report's top 5 takeaways >>>
An analysis of their responses signals a tipping point for all players in the sales dynamic — sellers, buyers, technology providers, market watchers, and thought leaders:
Which trends should sales leaders explore and integrate into their growth strategies?

How should sales reps find the sweet spot between the bizarre demands of customers and the mesmerizing tools at their fingertips?

What factors will guide sales team transformation in the future as technology, consumer behavior, and new market realities re-shape the contours of selling?
State of Sales (Third Edition)
The State of Sales report analyzes the responses of more than 2900 sales leaders from several countries and industries gathered in the first quarter of 2018:
Countries

[United States, Canada, United Kingdom, Ireland, France, Germany, Netherlands, Japan, Australia, New Zealand, Hong Kong, Singapore]

Industries

[Retail & Consumer Goods, Financial Services, Manufacturing, Healthcare & Life Sciences, Telecommunications & Media]
The report also provides individual country and industry profiles using the following data points:
Top Sales Technologies

Top Sales Metrics

Average Quota Attainment

Time Allocation Profile for Sales Reps

Cross-Team Collaboration

Share of Data-driven Sales

Imprint of AI Technologies
Key Findings & Takeaways
Here are the top five trends shaking up the sales world:
1) Rising customer expectations impede sales teams' ability to meet targets
2) Data is the new common sense
3) Artificial intelligence dominates the conversation
4) Sell anywhere, anytime with virtual
5) The savviest minglers tend to be the top sellers

1) Rising customer expectations impede sales teams' ability to meet targets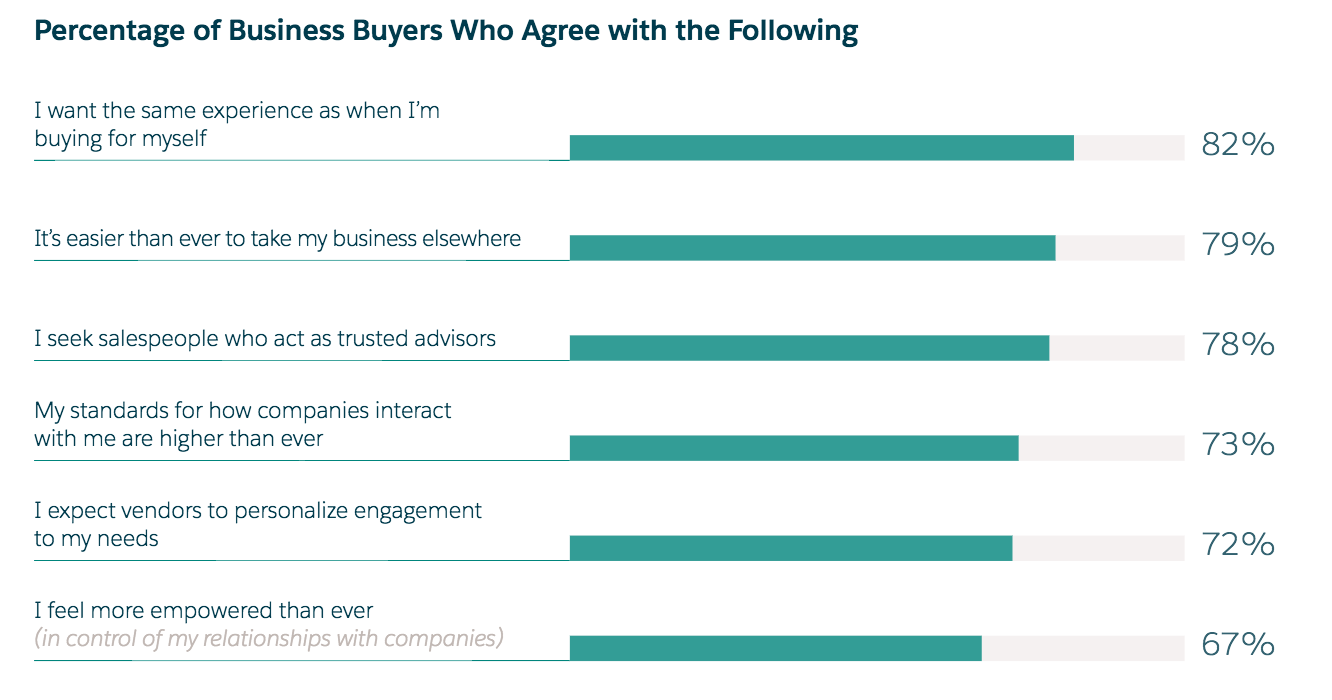 A strong majority of consumers and business buyers feel that technology should enable a greater degree of convenience, consultation, personalization, and care from sellers.
This perception forces sales teams to spend more time performing non-sales tasks just to meet a wide variety of customer demands. Overwhelmed reps reveal that they now spend only a third of their time selling.
2) Data is the new common sense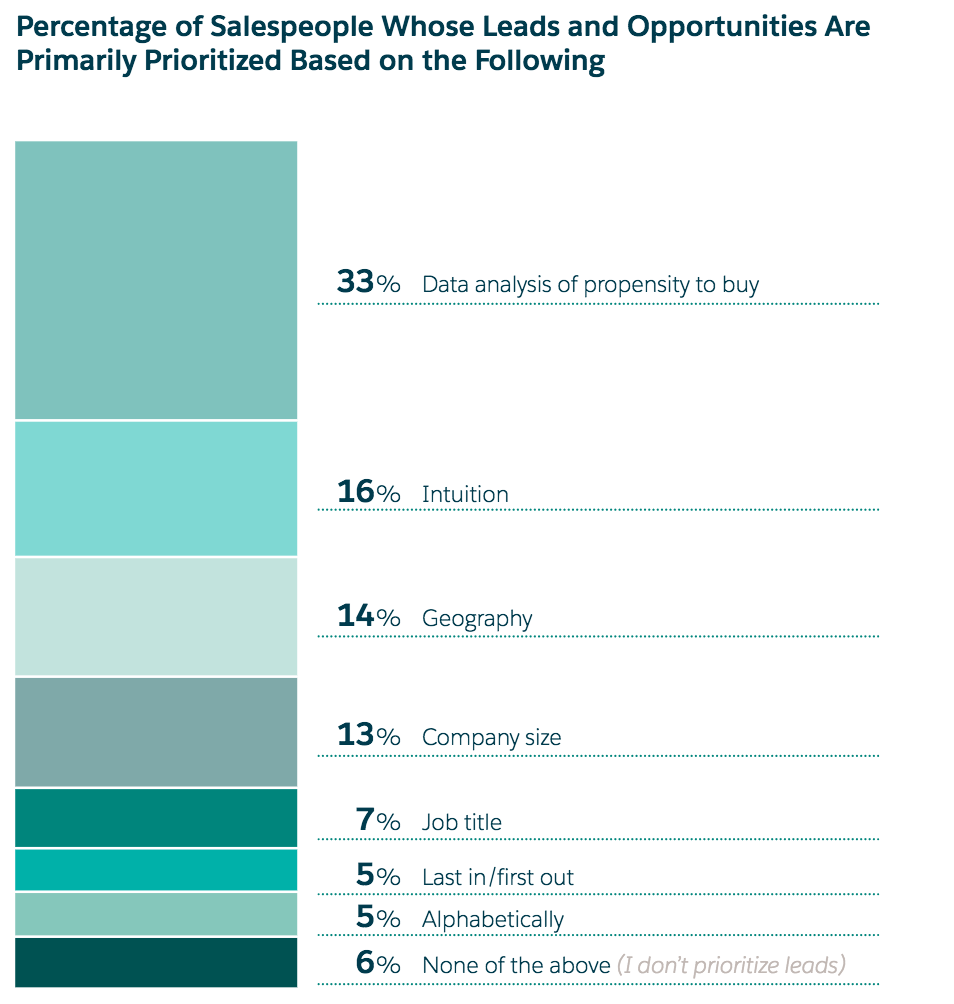 Sales skills and traits as active listening and attention to detail now share the limelight with data-driven insight.
These skills and the veterans who have them will remain relevant. But, tech-savvy sales professionals who know how to read and translate data into insight are being recognized on the sales floor. In twice as many teams, human intuition has given up its prominence to data analysis when it comes to forecasting and lead prioritization.
3) Artificial intelligence dominates the conversation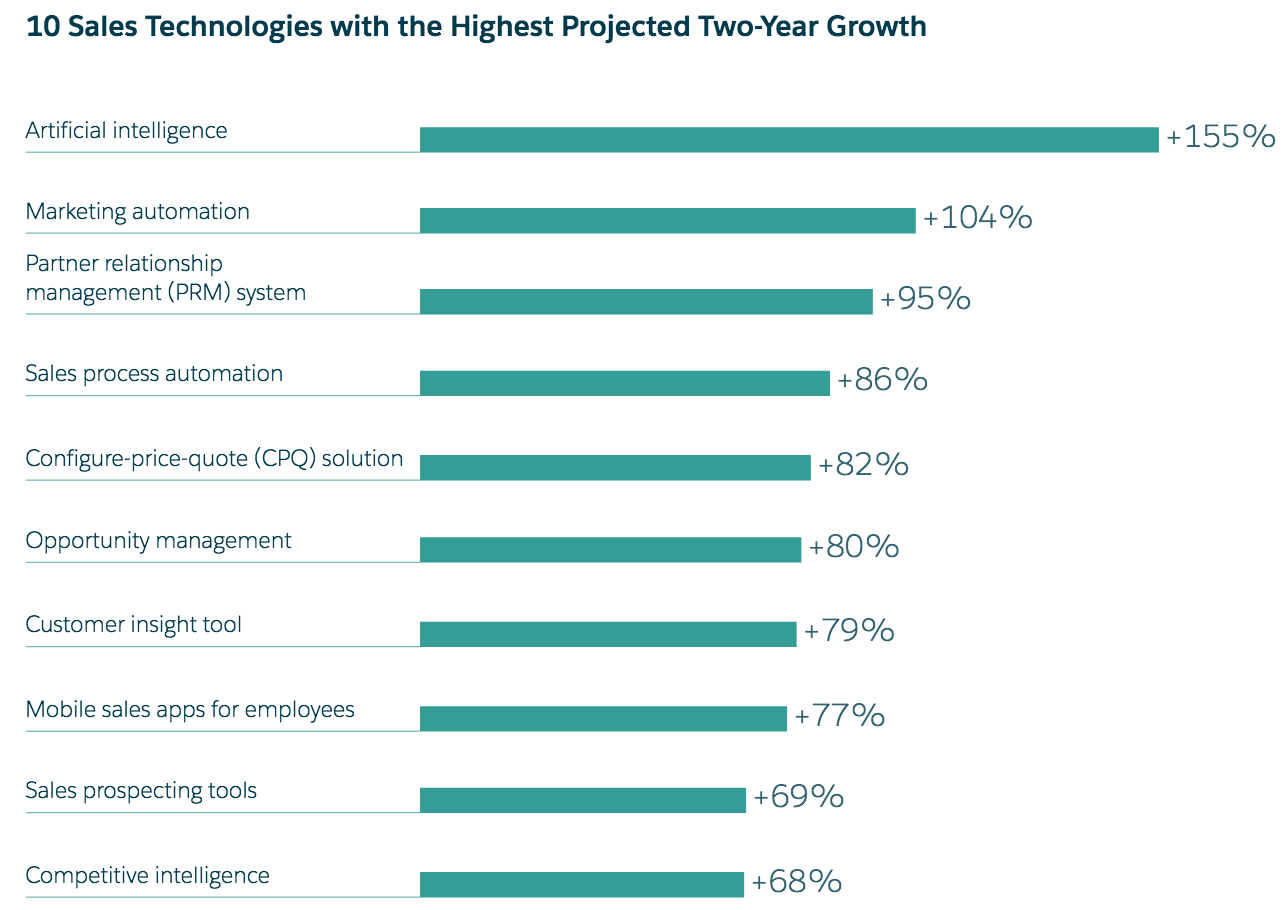 Majority of sales reps and managers believe that AI will deliver substantial impact over the next five years. Sales leaders expect AI adoption to explode by 155% within two years (2020).             
4) Sell anywhere, anytime with virtual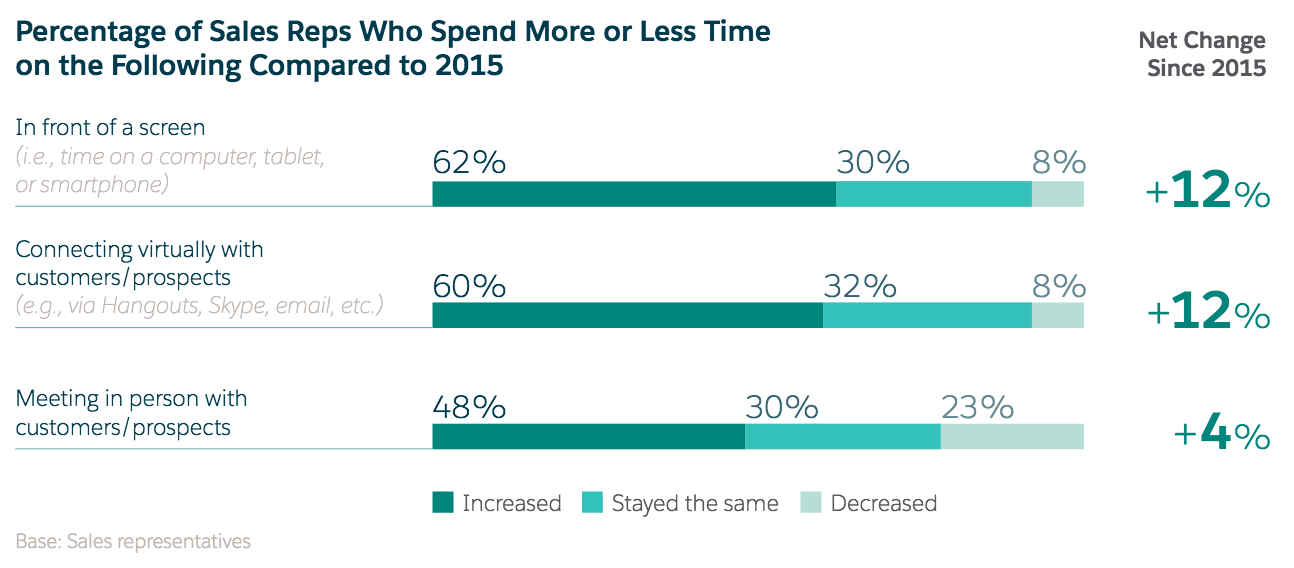 Compared with meeting clients in person, sales reps reveal that virtual meetings with customers via their computer monitors have increased by 3.2x more. This trend carried over to the recruitment space, with teams now hiring more inside sales reps and development staff.
5) The savviest minglers tend to be the top sellers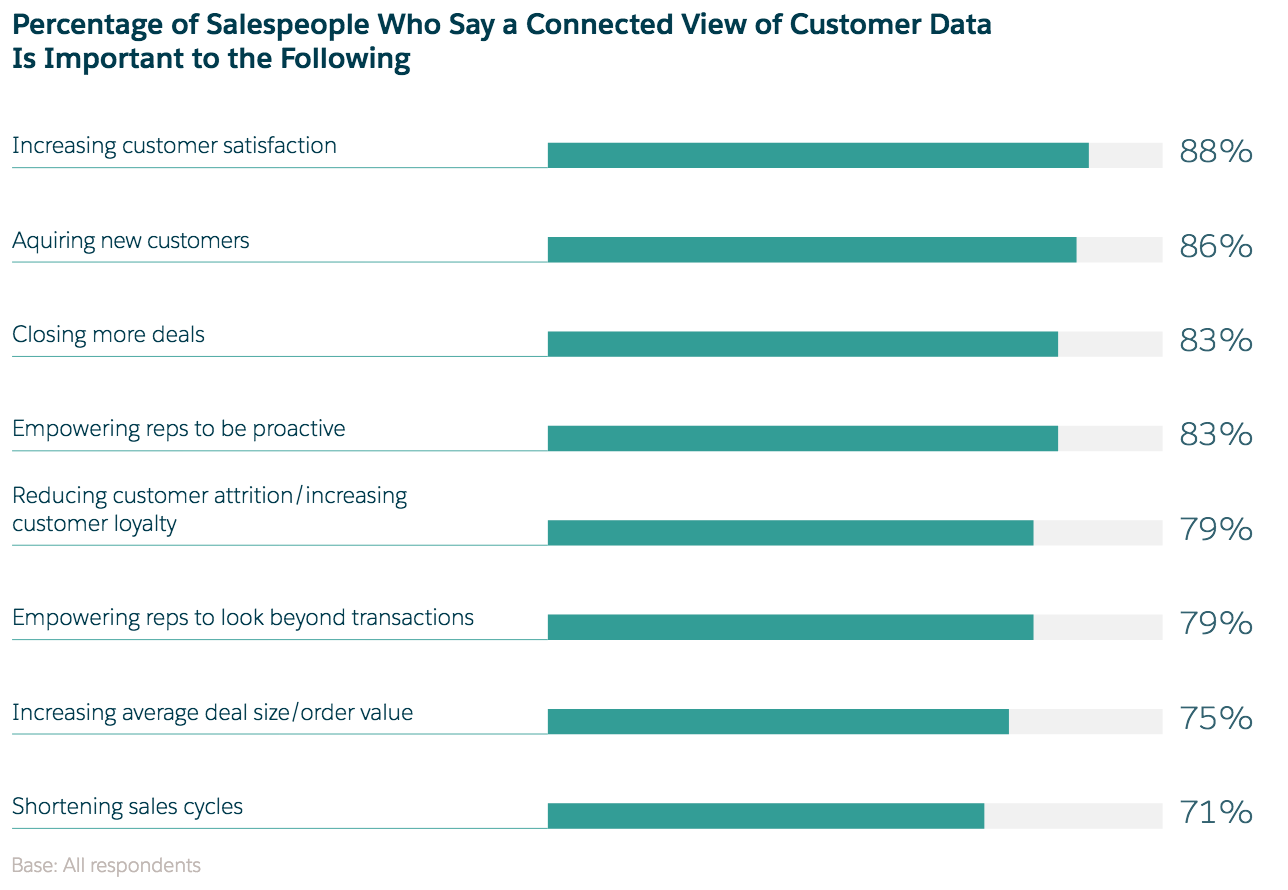 Silos are out. The days of getting comfy in your own corner of the organization are gone. Because customers view vendors as one entity, they expect their entire experience to be consistently personalized and convenient across every department in the entire company.
This compels the best sales teams to closely collaborate with every other unit in the organization which also shares touch points with customers. Top teams are more than twice as likely as under-performers to have systems integration with other departments to allow a free internal flow of customer data.   
Final Call
Technology zooms and dazzles while customers remain great at being demanding. Their expectations have risen to unprecedented levels and they want tailored, consultative relationships at the snap of their fingers. Artificial intelligence is outsmarting the best human tactics.
What can sales leaders, reps, account executives, and support managers do amid this new wave of challenges and still win their game?
Download the report to get the answers and a few more surprising insights into the State of Sales.