Sales will always be a numbers game. But when you express those numbers as minutes in the day, they suddenly become a more visibly finite resource:
Just 1,440 minutes in the day
Still, fewer minutes in a workday
Even with a 12-hour work schedule, there are just 720 minutes (or 43,200 seconds) in a given workday. The question is, how many of those minutes are spent managing the close?
Is It Possible to Shorten the Enterprise Sales Cycle?
How most sales reps spend their day may surprise you. According to an InsideSales.com report, nearly two-thirds (64.8%) of the average workday is usually spent on non-revenue-generating activities — leaving only 35.2% of a sales workday for functions directly related to selling.
That's a shame, because time not spent closing the sale isn't just wasteful, it's also dangerous. Mistakes and setbacks abound when we don't proactively manage the close of an important sale.
That's especially true in enterprise deals.
Keep reading to learn 8 key tactics to effectively shorten the enterprise sales cycle and manage the close on time.
8 Ways to Shorten the Sales Cycle
1. Know How to Work Proactively with Account Mapping
Too often, we take a linear approach to sales acquisition. For example, my reps mainly focused their efforts on account administrators, and as soon as they got a "no," they would move on to work the next account.
On the surface, this seemed like a logical (even efficient) way to conduct business.
Unfortunately, it was not. Talking to just one or two people for each account was merely scratching the surface. Making it worse, leadership was faced with higher growth goals.
Then Carter, one of our enterprise reps, took a different approach to work his accounts.
Instead of focusing his sales efforts on a company's admin, he started creating account maps to show the relationships between different people within each organization.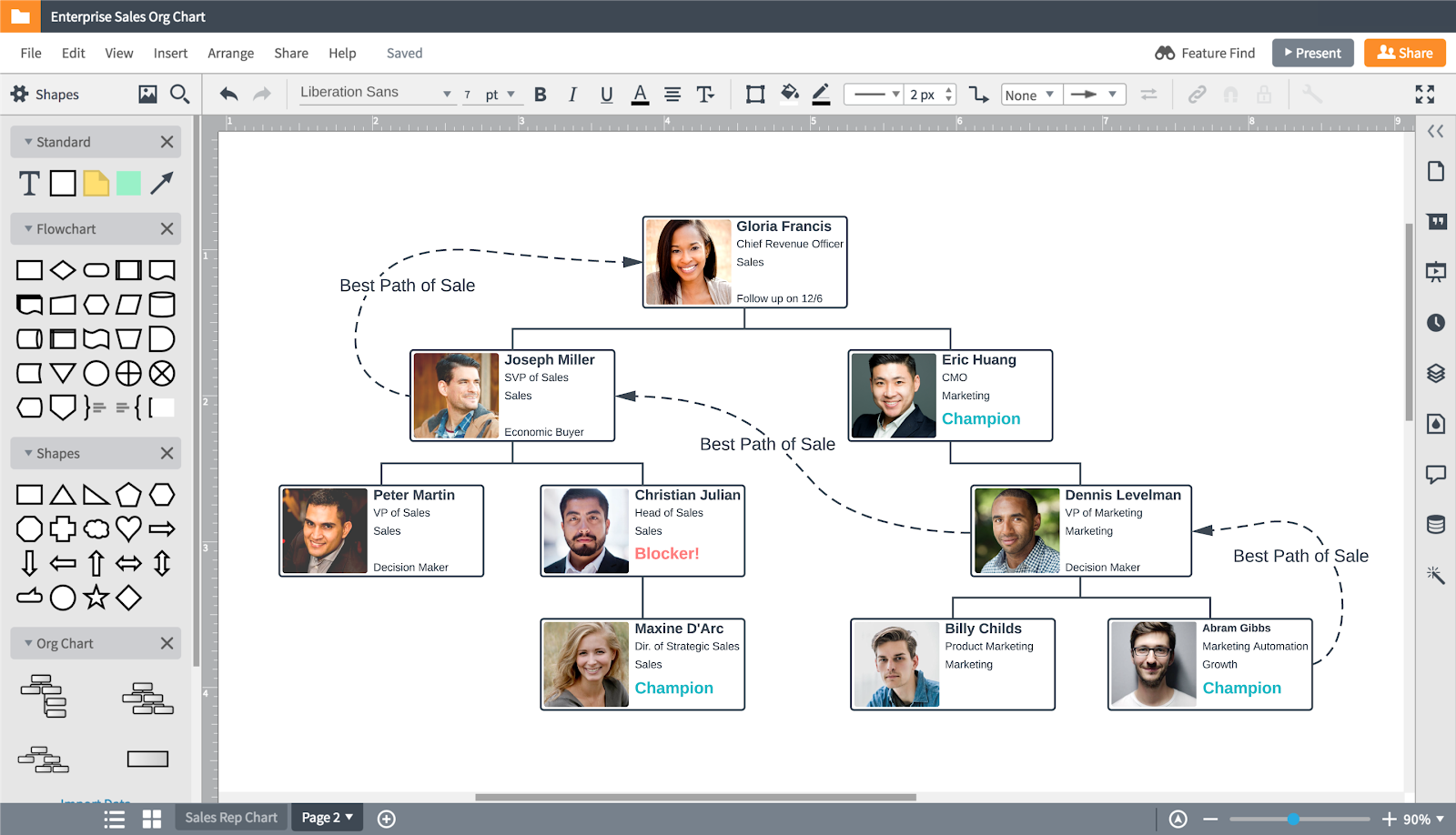 Enterprise-level sales are complex and involve creating consensus among a whole committee of informed buyers. A great account map offers reps a holistic view of a potential client — more so than a CRM with its most valuable information confined to rows of data.
And an account map uncovers insights beyond the typical org chart –– like who has existing relationships at a company or can help make an intro.
2. Know Everyone on the Account at Any Given Time
Throughout the sales cycle, your reps can refer to the account map to show you who they've been talking to — and give updates on the status of a sale. Sales leaders can point out key relationships that may have been missed and provide coaching as needed.
At most any sales org, change is the only constant. Reps come and go. Territories are created or realigned. Accounts change hands.
Even with a great CRM, inside information is often lost.
RELATED: You Can't Sell into the Enterprise Overnight
With account maps, accounts transition seamlessly. New reps can review a map to see a deal's history and current status instead of blindly jumping in to move a deal forward. Account maps are living documents that reps keep up to date and ready to reference.
They can even be used to review key deals and show the progress you've been making with your executive team and stakeholders from other departments across your organization.
3. Know Where to Spend Your Time on the Sale
Depending on the scope of the sale, closing your deal may involve several people within the organization. It's crucial to understand who the stakeholders are on any given project and know who has the final approval or official sign-off to complete the sale.
Although it may seem unnecessarily complicated on the surface, involving multiple decision makers is a good thing.
RELATED: How to Help Your Sales Development Team Break Into the C-Suite
Deals that involve more than one decision-maker are called multi-threaded sales deals, and here's how they work…
Your sales conversation may begin with someone in procurement who has control over the budget. But the purchase decisions has company-wide visibility — which means the buyer's organization will need more oversight and greater input to approve the deal.
That being the case, there will be more decision makers on the buy side, which means you need more than one person on your team to be actively involved in the deal.
4. Know When to Dedicate More Resources to the Sale
Dedicating more resources to closing the deal not only helps ease the burden, it can also be seen as a preventative measure to mitigate loss — especially when there is employee turnover.
After all, it's not uncommon for people to come and go on both side of the table before the deal is closed.
According to a Bridge Group survey of 342 B2B SaaS companies, the average sales rep turnover rate is now 34%, with involuntary turnover making up nearly two-thirds of that number.
Working with multiple decision makers helps minimizes the risk of losing the sale or starting over when someone leaves the company by keeping the momentum toward closing the deal quickly.
As sales leaders, our job comes down to building incredible partnerships that drive value.
It's critical to understand your prospective client and what's important to them. Use your internal resources to move things forward, then go over the sales plan until a final list of action items is determined.
In the end, it takes a team to close a big deal.
RELATED: The Ultimate Guide to Mutual Action Plans (How to Use MAPs to Transform Your Sales Process)
5. Know When to Walk Away for a Better Sales Outcome
Listening is perhaps the most important sales skill.
Sometimes, your customers need time to process. However, if you've demonstrated value and negotiated around budgetary constraints and the discussion still comes down to price, take a step back. Avoid going back and forth, putting yourself in the role of an order-taker.
In the end, shortening the sales cycle may result in forgoing the deal altogether. After all, the best sales outcomes are those which provide mutual value to all involved parties.
When the likelihood of a deal closing soon is not imminent, it may be best to remove them from your sales pipeline. By doing so, you will equip yourself to make better use of your time and resources toward those prospects who will close, eventually shortening your sales cycle and growing your business.
6. Know When to Think Like a Project Manager
When it comes to setting expectations, maintaining productivity, and inspiring action, sales reps can learn a lot from project managers. But how — and why — should a project manager's mindset be applied to the closing of an enterprise-level sales opportunity?
Project managers not only understand the importance of setting deadlines but also how to plan out all the intermediary steps needed to meet those dates in an efficient manner. For them, deadlines are never arbitrary.
Use this same approach with your sales cycle.
At Lucidchart, we make a concerted effort to decide on a go-live date for your sales solution. Then, we work backwards to establish the roadmap to close the deal that will get us there. Once both sides agree on the deliverables of the sale and decide on what's needed to put the solution in place, prospects will begin to feel a greater sense of urgency to close the deal — getting you that much closer to completing the sales cycle.
7. Know When to Follow up to Minimize Wasted Time
Project management also means scheduling regular follow-ups with everyone who has a responsibility or action item that has an influence on the sale. To minimize wasted time and lost opportunity, reps should be proactive and schedule their next call at the end of the current one.
RELATED: Perfecting The Sales Follow Up: How to Gain Momentum and Win Deals Without Being Annoying
Remember, anyone at any stage in the process or anywhere on the org chart may have the potential to make or break the sale. Be mindful of how you and your team are living up to the expectations you have set with your prospect and key stakeholders.
8. Know How to Keep the Momentum Without Rushing Them
Again, if you know the buyer has a specific go-live date in mind, rely on this information to maintain your sales momentum without applying too much pressure to those key decision makers.
The last three weeks before you get a signature, follow-up can almost be daily.
Some prospects genuinely need more time and consideration to evaluate your sales proposal. Buyers want to be led. But don't rush their decision process. Viewing the sale through the eyes of a project manager will help you tailor your sales cycle to each opportunity accordingly.
Putting It All Together
As you can see, there are many things to know if you're striving to shorten your sales cycle and grow your business. When starting your plan, keep the following tactics in mind:
Dos
Do work to free up time for your sales reps to pursue more impactful activities.
Do provide support to the sales team for tech or other issues related to the sale.
Do reallocate resources as needed, including the human capital to close a deal.
Do refer to the account map throughout the sales cycle to track your progress.
Do what it takes to set the right expectations by thinking like a project manager.
Do listen and give prospects enough time, but try to work towards a go-live date.
Don'ts
Don't fear change. Your sales cycle must adapt to meet changing market needs.
Don't forget to see the big picture. Focus on solutions and identify inefficiencies.
Don't let the past dictate the future. Decide what's working or not and act upon it.
Don't limit decisions to the sales team. Involve others across the org as needed.
Don't be afraid to walk away from a sale when the close is no longer imminent.
Don't waste time. Try to schedule the next call while you end the current one.
When you understand the enterprise sales cycle, you'll be able to get in front of your customers… read the room… identify who your detractors might be… and realize where to focus your attention to win them over.
Once you've reached that point, you'll know exactly how to shorten the sales cycle –– to the point of dictating the length of the sales cycle to grow your business.
What are you doing to streamline your sales cycle? What's been your biggest challenge?