Real Sales Plays is a Sales Hacker series featuring real salespeople sharing their playbook for achieving amazing results.
Today, we feature Lee Constantine, Head of Growth at Publishizer, a one-of-a-kind publishing platform that is revolutionizing the way publishing and technology come together. Their aim? To change the way authors, editors, and readers connect (and get lots of great books published).
***
Last August, our company had a record month. It was the first time we earned more than $100k in revenue in one month. 
As background, our revenue is driven by high-quality authors who launch book campaigns with us, each of them onboarded through personalized sales-driven outreach. 
Keep reading to learn exactly what we did it.
The Play
Scenario

: Can we 5x monthly revenue from $20k to $100k without a 5x in extra time spent?

Goal

: Use the current sales process (same inputs) to achieve $100k in revenue within 30 days (multiply outputs).

Steps

: High converting email templates, software, CRM, data such as LTV and conversion rates

Results

: Increase revenue and cash flow, fundraising story, hire more sales reps
It's worth noting that I was the only sales rep last August working to validate our business model and find product-market fit. 
Now, here's the playbook I used to achieve this record-breaking month.
1. I had a clear goal.
Last year was a very purpose-driven year for the company. We had a goal to bring on more authors than any previous year before, so we could increase market share and prove our ability to scale as a platform. 
In addition to that, we had a goal to raise funds from investors.
In order to raise funds (and surprise ourselves), we wanted to show we could earn $100k in one month with a repeatable sales process. That means the total revenue of all launched book campaigns in one month would reach at least $100k.
This was added motivation to reach our goal. We had to have a reason to hit $100k and then be committed to fulfilling that promise to ourselves. Last year, it was all about fundraising. In addition to that, we ensured the goal was communicated properly across the entire team  —  from Dev to Product and Marketing for support.
2. I used numbers.
Before we settled on this goal, we had to make sure it was not only ambitious enough to excite investors but also that it was attainable. 
Our strategy was to run book proposal contests for the three most successful categories to date on our platform. We saw that, over the past three years, Business, Self-help, and Mind & Body were our highest-earning. 
RELATED: How to Identify Your Ideal Customer Profile (And Then Target Them)
Great, we had our categories.
Next, by analyzing the data of our previous contests, we knew our most successful contest earned about $34k and had 12 launches that month. That's an average of $2,800 per launched campaign. I'm going to call this our LTV (average lifetime value).
Total Campaign Funds / Total Author Launches = LTV

Image: Previous contest data
To stay conservative, I compared this with our other previous contests and with the total launched campaign data on the platform. We had so far earned about $1.1M on the platform with about 600 authors who launched campaigns. That gave us an average of about $1800 each. I felt confident using that as a base to forecast what I needed in order to hit $100k in one month.
So next, I had to determine how many authors I needed at that LTV in order to achieve $100k in one month. $100k / $1800 = 55. So 50+ authors would likely get us there if I went after high-quality authors.
Revenue Goal / LTV = Author Launches Goal
I also knew that on average about 15% of everyone who created an account on the platform —  we call these Submissions in the figure above  —  will actually go on to launch a campaign. So I divided 50 author campaign launches by 15% to get 333 needed Submissions.
Author Launches Goal / 15% Conversion Rate = Needed Submissions
RELATED: Sales Pipeline Benchmarks to Supercharge your Competitive Edge
3. I got in flow.
I cannot say enough about this. My sales life was forever changed because of routine. 
I planned out a good one and stuck with it. I knew exactly what I needed to do to get the number of authors to reach our goal and had a daily schedule to stay organized. 
I automated tasks that could be automated and spent all my energy on the sales process and phone conversations with prospects. 
I worked from 9am – 6pm every single day. I told myself that if I had to work 16 hours per day to get $100k, then it wouldn't be worth it. That's not really scaling; that's just working more.
4. I used my current pipeline.
Over the previous three months, I had been doing outbound sales to coaches and nonfiction authors mostly. Most were business coaches, and I wanted to stay in that category. 
I also had some coaches interested in writing a book in the Mind & Body category. So I used those semi-warm leads who were interested in launching a campaign but hadn't pulled the trigger yet. This was everyone who said yes but not now. I followed up and got a lot of them to say yes to the new contest deadline.
Streak for Gmail was my best tool. It allowed me to manage hundreds of potential authors in my pipeline, coordinate my email follow-ups, and write notes about who was likely to launch on my deadline and who would waste my time chasing them down.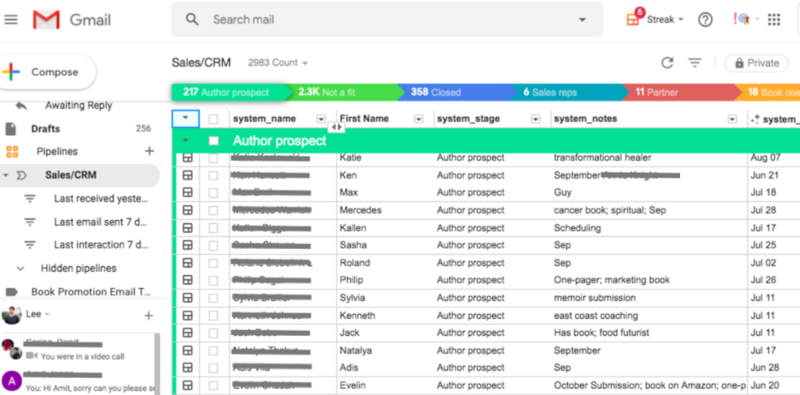 Image: Streak for Gmail pipeline
5. I had a great offer.
I pitched the contest as a great fit for the authors and added the extra incentive with our publishing partners guaranteed to look at the top three launched campaigns with the most book pre-order copies in the contest. 
That was a great way to activate warm leads and prospects and get them to say yes now and go for it. Everyone wanted access to good publishers, and dropping a couple of names from our partner list did the trick.
For anyone in my pipeline in Streak for Gmail, I created a similar unique pitch. If half of my prospects were Business topics and the other were Mind & Body topics, then I would only pitch the specific contest that they would fit with and tell them why it might be a fitting time. 
I customized by follow up and made each person or author feel like we created the contest just for them. Which, in a way, we did.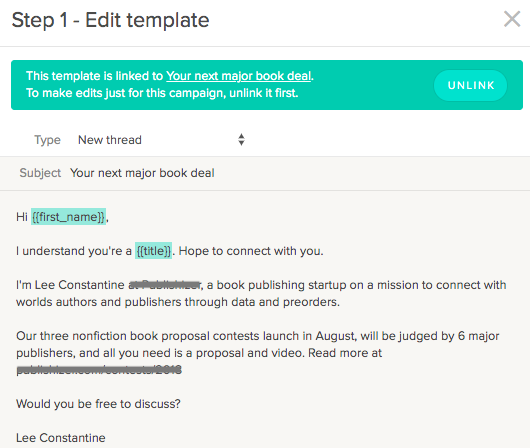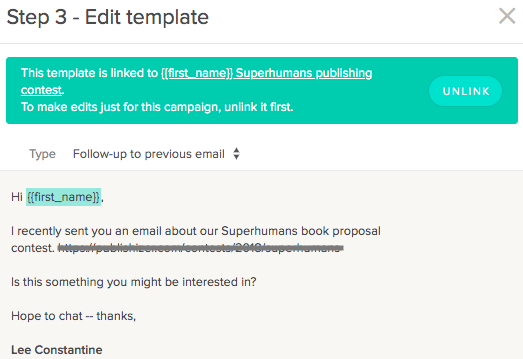 RELATED: Perfecting The Sales Follow Up: How to Gain Momentum and Win Deals Without Being Annoying
6. I followed up weekly no matter what.
Sales happen in the follow-ups. If you don't follow up with every interested reply every single week they will go cold. 
I estimate 80% of my launches happened because I followed up with them when they were about to go cold and weren't responding anymore.
I followed up with every prospect in my pipeline every week until they gave me a "No": no excuses. This included leads who had gone cold. I of course also followed up with all my warm leads — authors who said yes  —  and made sure they were on track.
I sent them a different email, reminding them of the contest, and after 2–3 weeks of persistence, a few more authors had agreed to move forward. Once there, I set clear deadlines for them and held them accountable.

By the way, the free version of calendly.com is all I needed, and it worked really well. Instead of having to discuss "a few times that work and then choosing the best one," they just clicked, scheduled, and got a calendar notification.
7. I gave great customer support.
For the authors who said yes, holding them accountable meant still following up with each one every week until I knew they were ready to launch. 
I knew exactly where all my prospects were in terms of account setup at all times. So when I followed up, I mentioned, "Hey, you still have your video to do," or "Hey, you're almost ready. Just need to finish a section on your campaign page," etc. They reciprocated my detailed support and enthusiasm with work and planning of their own.
I would also offer to give feedback on account or campaign details and anything else they needed help with. And if they wanted to jump on a call, I made myself available. Many did, so I took many phone calls with very warm leads to help push them to the finish line.
I took 6–10 phone calls every single day. Many of these calls were about motivating the author and coaching them through the account set-up phase, which prepared them to do well and also gave them confidence that they could succeed during a launch.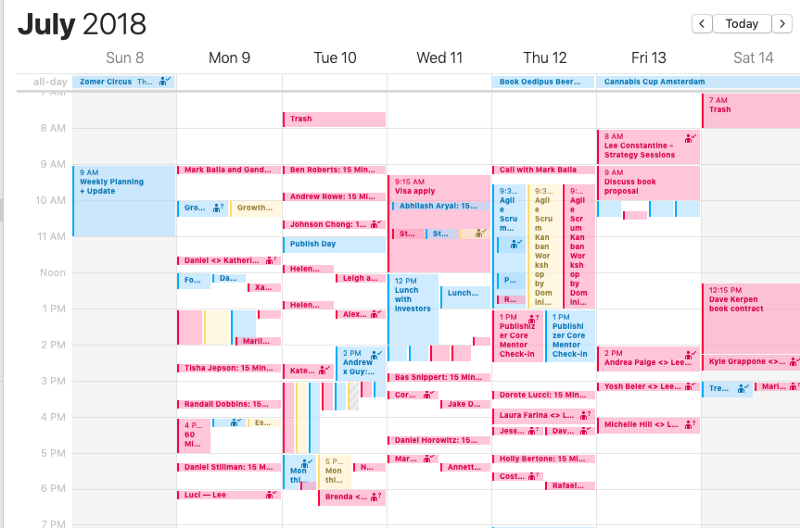 Image: Weekly calendar meetings
8. I found prospects who said Yes Now.
I can prospect most efficiently when I know what type of person would be likely to be successful on the platform. This meant people and authors who are likely to have a good book idea and would say yes now.
Yes. Now.
I optimized my author curation and research for those who would likely launch their idea in the next 1–2 months. This was our sales cycle. And this is a yes now. 
RELATED: Sales Cycle Management: Two Expert Strategies to Shorten Your Sales Cycle
Based on our previous successful campaign and contest data, I knew there was a certain type of person who likely will do this: nonfiction authors, coaches, tech-savvy people with a mind for growth, business, and influence. 
Why? Because they likely have experience growing their influence and have a following already. They likely already know what their unique message is, and they know that a book would boost their influence and credibility in their expertise. They also likely have a follower base who will respond once they launch.
All those were points I talked about in my emails and on the phone with them. I did my best to speak their language, and they developed trust that our goals were aligned. 
I curated about 2,000 leads and planned cold email outreach to them in all of June. I sent no emails in July since that was designed purely for phone calls, follow-up emails, and prep for warm leads to launch campaigns on August 1st. 
Here is what my cold email campaigns looked like in PersistIQ, which I segmented based on job title or expertise: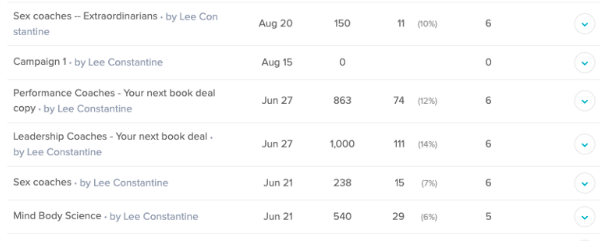 Image: Segmented lists in PersistIQ
9. I focused on increasing conversions of cold emails.
With those curated 2,000 emails in June, I created high-converting email sequences in PersistIQ. I had a sequence of 5 or 6 emails across 4 segmented email lists. 
I focused on increasing my conversions at each step of the sequence in each list. I was always updating my pitches to get more replies.
Since the contest was crucial to my sales cycle and goal, I mentioned it right away in my cold email. I pitched only the necessary components and made the value proposition clear. 
This helped ensure any lead who replied would be interested in exactly what I had to offer and we could hit the ground running. I wanted to reduce my sales cycle as much as possible, starting from step one in the sales process.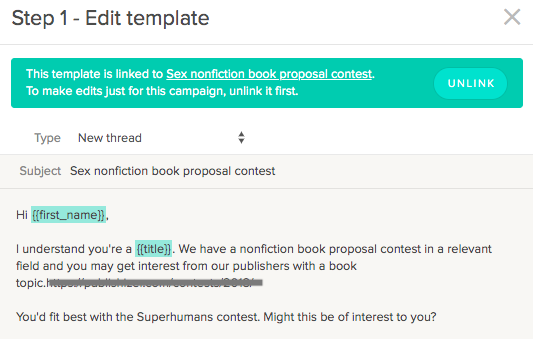 Mentioning the deadline of the contest once we talked on the phone was good timing for the authors if I did my prospecting properly. Add in our publishing partners offer, and they had very little reason to say no. 
In terms of conversions, I gave no excuses. I owned my goal. 
RELATED: How to Own it, Crush it, and Stay Motivated in Sales [9 Tips for AEs]
When I didn't get high reply rates or if 15% of my emails bounced, I remained optimistic and problem-solved to ensure I got my 366 submissions and scheduled enough phone calls to reach my goals of 50 launches. That might have meant curating more leads or converting more of my pipeline to a closed sale.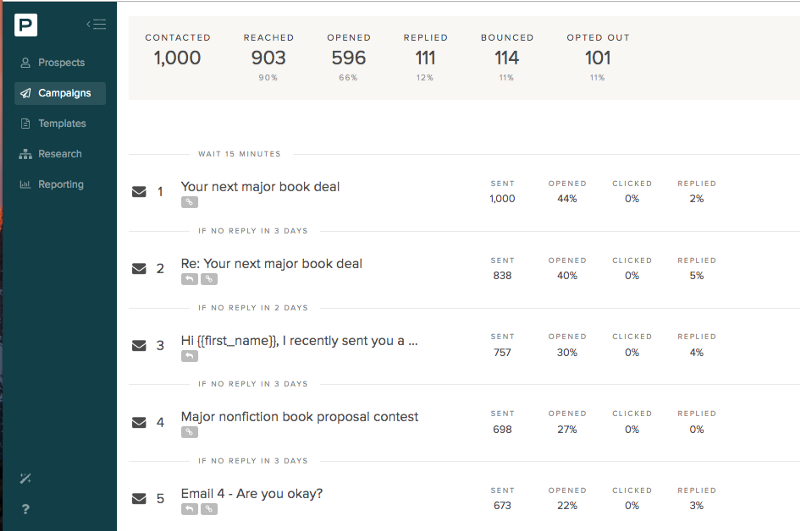 Image: Email sequences in PersistIQ
10. I automated tedious tasks.
Back to flow… 
You can't get in flow when you're doing a bunch of manual tasks. You'll get bored and frustrated and burn out. 
When you reduce your time on tasks, you automatically increase your ROI (return on investment). In this case, that meant reducing time spent to get exceptional results.
Once I had about 20 phone calls and got a bunch of yeses from my warm leads, I knew exactly what to say on future phone calls, in new email sequences in PersistIQ, and in follow-ups in Streak from Gmail. 
Phone calls

Cold emails in PersistIQ

Follow-ups in Streak for Gmail CRM
These were all the biggest bottlenecks in my sales process for turning prospects into launched campaigns. So automating or making each of them more efficient would have the biggest impact. 
Using software, I basically automated the pitching process and the follow-up process with well-thought-out emails. 
So most of my time was spent on the phone moving all my leads to a launched campaign. I had a great script for this and knew how to overcome challenges and get the desired outcome from each conversation. If my prospecting was spot on, this would happen more often than not. 
11. I celebrated pretty hard.
So did the entire team. It was two months of flow that turned into a tidal wave of many big launches. 
Our platform reached it's first $100k month ever — $123k to be exact — and had 60 launched campaigns in August, which exceeded our goal of 50. I learned a lot about what's possible in terms of time and results. 

Image: New top 3 contest data
Conclusions and Recap
Looking back on it, the most important thing that led us to achieve $100k in one month was that I stayed committed to the sales process, kept my eye on my numbers at all times, and didn't stop cold outreach until I knew I would hit my goal. 
I improvised and experimented and did what I needed to get leads and prospects on the phone. This helped us validate a repeatable sales process and move us closer to product-market fit. We did raise a seed round after this. 
Quick disclaimer: This playbook was shared with our new internal sales team this year to implement on top of our sales process, and they brought in about $200k in one month the second time around.

The above is how I have been successful in achieving a revenue goal. I encourage you to use as much or as little as fits your style (if you are getting results). If you are not getting results, you might want to try this method until you do get results and develop your own style.