In May 2008, I graduated college with 1.56 million of my peers directly into a recession.
The job market vanished overnight. By 2009, unemployment for '08 graduates was at 9%.
For a lot of us, it felt like the door to the real world slammed shut just as we were about to walk through it.
So if the recession talk is making you nervous? I get it. But I recently sat down with 4 leaders who guided their teams and companies through '08 and beyond.
And you know what they said?
Don't panic.
Really, really, really: Don't panic.
The argument here is a two-parter. Basically:
Today's economic climate looks very different from 2008.
Even if we do head into a recession, there are actionable tactics and strategies you can use to seize the moment and transform your career.
But — to quote my personal household saint, LeVar Burton — you don't have to take my word for it.
---
Table of contents
---
Meet the Experts
| | Today | 2008 |
| --- | --- | --- |
| | VP of Global Innovation at Outreach | Chief Commercial Officer at a high-growth company |
| | CRO at GoMoto | VP of Sales, reporting into Mary Shea |
| | Cofounder of CoachCRM and ClozeLoop | VP of Sales in media tech, leading team of 20 |
| | Managing Partner at CGI Executive Coaching | VP of Account Management in life sciences industry, leading a team of 85 |
---
The markets are cyclical
"This is called a market cycle. Right? It happens all the time. Let's not be surprised by it." — Hilmon Sorey
This was the biggest takeaway from this panel of leaders: The economy is constantly in flux, swinging from boom to bust and back again. So don't freak out. This is normal.
And it doesn't mean the world is ending.
"The biggest thing is not to panic," said Mary Shea, a VP who's survived three recessions. "People still need to buy things, businesses still need to function."
Related: We Asked 10 Successful Sales Leaders About the Economy – July 2022
That's the 3,000-foot view. More specifically, CRO Mike Murray (another recession three-peater) threw out some comforting numbers:
"The average recession lasts 17, 18 months," he said. "Right now [August 16, 2022], unemployment's at, what, 3.5%? Even if it is the case that we're in a recession, and they last 18 months, then we're halfway through it. You won't even feel it until 6 months. So don't get freaked out."
Plus, this recession differs from 2008 in some fairly significant ways:
Signs of economic recession: Now vs. 2008
Some signs of recession are recognizable across the decades. Today, as in 2008, you're likely seeing:
Protracted sales cycles (with more objections and more stakeholder involvement)
Hiring freezes
Clients canceling events, reducing spend, and failing to make payments
Early termination or cancellation of contracts
Between this and the layoffs trickling through the tech sector, it's easy to panic (or, a lovely word my therapist friend uses, catastrophize). But our panelists argued differently.
First of all, as Hilmon Sorey pointed out, salespeople generally see recession coming down the pipe long before it actually arrives.
(Here's proof: In 2008, Hilmon was running a media business with about 80% of his revenue coming from commercial real estate and banking. So his team had a way early leading indicator when those accounts quit buying sponsorships and advertising.)
These early indicators can lead to a sense of doom and gloom in sales — long before the rest of the working world knows what's up.
Mary agreed, saying, "I do think in sales you know when a recession is coming probably 6-9 months before the rest of the world, who aren't quite as in touch as we are."
In sales you know a recession is coming probably 6-9 months before the rest of the world.
And finally, Mike pointed out, in some important ways, today's "uncertain times" aren't like 2008 at all. In fact, kind of the opposite.
"I'm looking at the data and seeing that a lot of things from 2008 aren't present today," he said. "We're raising interest rates right now — in 2008, we dropped rates to drive and stimulate spending. It's almost the reverse."
So stop panicking about a potential recession. Instead, focus on what you can control.
---
How sales leaders succeeded in 2008 — and how they can save their companies today
Get close to your customers
Cherilynn Castleman was a VP of account management in 2008, overseeing a team of 85 in the life sciences industry. In response to the recession, her company underwent a major transformation — driven by a total overhaul of their customer experience.
"We mapped out everybody in the company who touched a client, and every single team came up with strategies for improving that process," she said.
The entire panel agreed, hard. Transformative tactics included:
Listen to your customers, especially if you're doing outreach — you'll learn from them what's coming down the pipe long before anybody else knows.
Get executive sponsors on key customers — literally. Have senior execs reach out to customers and assure them you're solidifying the business.
Reimagine your org to minimize layers between execs and customers.
Re-evaluate your value proposition
Getting close to your customers is step 1 — and it directly fuels the second step, which is to re-evaluate your company's offering. Radically.
"Ask your clients: What does the future look like for you now?" said Cherilynn. "Where do you see yourself in a year, two years? Then, leverage that insight and rewrite your value story to address that future. Take that action. Be innovative."
And if you can't talk to your customer (like Hilmon's banking and real estate clients, who vanished overnight in 2008), you can still revisit your service and identify where there is a sector that can be served by the value you create.
Questions to ask:
What are your clients doing well right now? What do they want to do better?
What necessities has the new economic reality created?
How do those necessities for your customers align with your tech roadmap?
If your customer or market need has disappeared, what value prop can you offer?
Look to the future, Hilmon urged us, not the past. To quote Wayne Gretzky: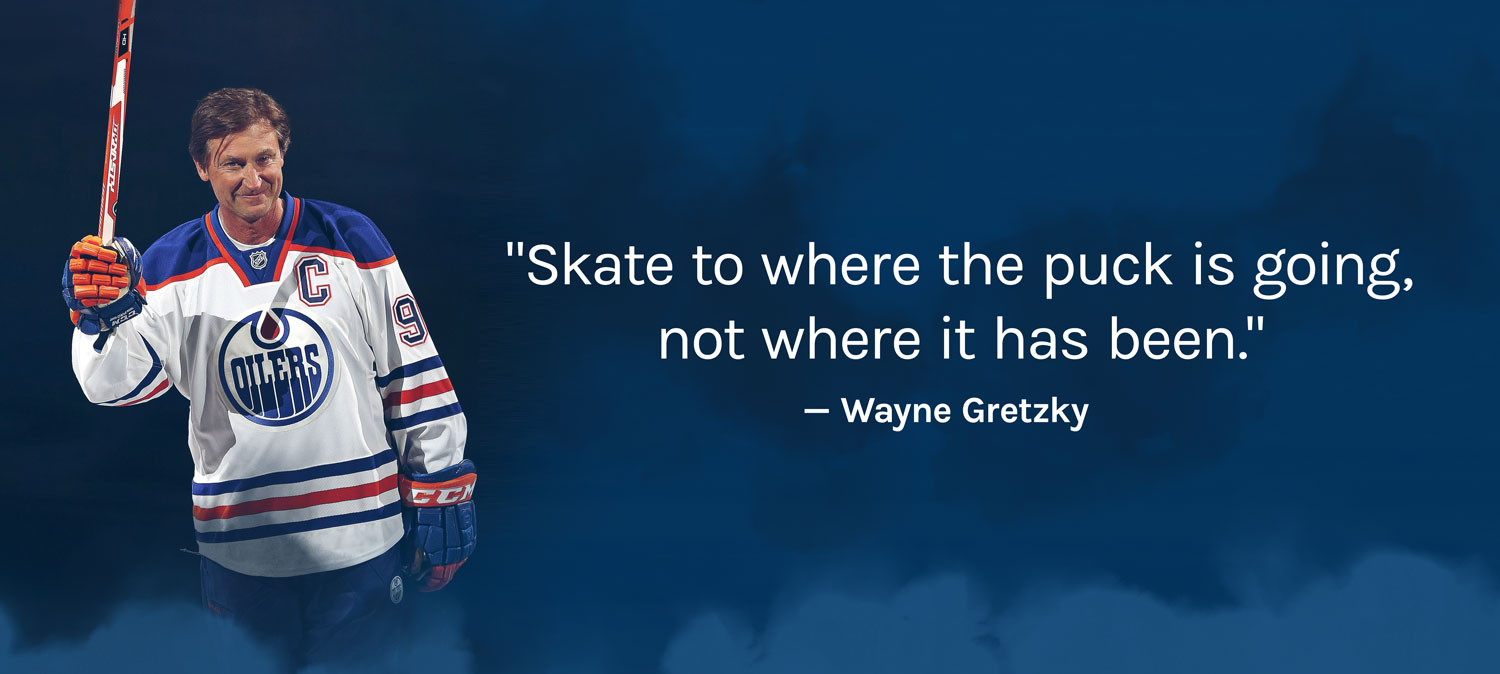 Critically rethink team roles and structure ‍ ‍ ‍
Just like you've reexamined your company's offering and value prop in line with the times, you should also take a hard look at your org structure.
Getting lean doesn't just mean getting smaller. It means getting smarter — and more efficient.
Think critically about the role of each team in the org. Who's working toward your new value prop and mission, and which roles no longer play a function.
And if doing layoffs, be humane — as considerate and as generous as possible.
(The panel didn't belabor this last point, but I'm asking you to. Let those people go in a way that would make your mom proud.)
Invest in the people you keep
"So you've hired people or laid people off. You've got the right team now. How do you keep them?" — Cherilynn Castleman
Downturn or no, Mary warned, competitors are going to come for your top talent. So don't be stingy. Don't sow a culture of fear.
Instead, lean in.
"As a leader, one of the things you want to do is control what you can control," Mary said. "And the more you give folks the ability to control what they can, with a more advanced skill set, the better your morale is going to be. You've got to make sure you're invested in the folks you have."
The panelists recommended:
Double down on training and education for your teams.
Work overtime to create a coaching culture.
Have open dialogues about what's going on. Be transparent.
Related: How to Run Sales Trainings Your Team Will Actually Enjoy
Managers, take care of your teams (and leaders, take care of your managers) ❤️
People managers are the connective tissue of your org — and they're supporting your frontline, prospect-facing employees. So prepare them to take care of their teams.
Cherilynn broke it down into three ways you should prioritize seeing your people:
See them as a person. Are they a working mom? Are they living alone? Supporting someone else? Be an empathetic listener to build true connection.
See your people for the value they contribute. Recognize their successes. Shout them out on social media. Celebrate them loudly, and demonstrate the impact of their work on your customers, company, and the world around you.
See them in your future. Say, "I'm pushing to be COO, and I see you leading this team," or "I see you as an enterprise salesperson," or "I see you running this account." Let them know they're in your future.
Related: Your Sales Team's Mental Health Is Your Responsibility, Too
---
Best hits: 6 things leaders can do right now
Mike Murray rattled off this list around minute 20 of the webinar with a clarity and swiftness that was, frankly, dazzling. (Like, where did that come from? Did he just have it in his back pocket or what?)
According to Mike, you should:
1. Adjust your pitch to meet the tone of the marketplace
Find what hits and resonates now. When the market hits the fan, people run for safety. Adjust your message. Don't be talking about high-value stocks when everyone is investing in gold.
2. Find your best customers and focus on them ‍♀️
Who are your ideal customers? Do you know who those customers are? Get narrow in focus, and prioritize going after and retaining those key companies.
3. Get a good methodology and stick with it
Challenger, solution-based selling, MEDDPICC — whatever it is, get a good one and use it consistently.
4. Invest in your talent
Upgrade your talent. Train and invest in your people. "People are going to come after your top talent, so make sure you're investing in them."
5. Avoid price cuts
Price cuts devalue your product. As Mike noted, "To me, a price cut says, 'My product's cheap. I've been overcharging you for years and now I gotcha.' And then, finally, I think it devalues the salesperson."
So don't discount the product. Sell the value.
6. Make the pie bigger
"It's easier to divide when the pie's bigger," Mike said. This means: Make opportunities for more people to win. Pull up seats for others at the table.
---
What salespeople and ICs can do to save their careers in a recession
Invest in yourself
"There's a lot of opportunity for you to position yourself going forward and reinvent yourself all the time." — Mike Murray
The best thing you can do as an IC — besides not panic — is continue to invest in yourself.
Take yourself seriously as a professional. Think critically about what this moment means in your career journey, where you want to go next, and what you need to get there — even (or especially) if you've been laid off, or are worried about job security.
Related: 8 Tips to Advance Your Sales Career in Uncertain Times
Hilmon took it a step further, recalling his past as a competitive swimmer:
"There were times when I would get to a point where things just weren't working. But because I kept a journal, I kept a log of all of my activities, my workouts, my times, I could go back to my journal and figure out what I did last time to get out of the problem.
"So in the spirit of the economy being cyclical — if you're an IC, you will hopefully be in management in the next recession. So take note of how you're feeling now, what you're doing, the good things you're doing that are having an impact, the curiosity that you're using in reaching out to clients and peers and leaders and executive coaches. Whatever you're doing, keep a log of it. Because all this stuff comes back."
Lead the change you want to see in your org (even if you're an IC) ‍♀️
If you read the section of this article aimed at leaders (I already love where your head, as we say here in Texas, is at), then you know change is coming down the pipe.
So don't wait for it. Get ahead of it.
Cherilynn said, "I always challenge people to lead from the middle. So wherever you are, re-engineer, reinvent what you do, touch. And doing that will position you as a leader, it will position you for a promotion moving forward. And so, control what you can control.
"Back in 2008, I partnered with HR to change our job titles, our roles and responsibilities. I wasn't in HR, but I went to them and I said, 'This is not working. We cannot meet our clients' needs like this. We need to redo this.' Then I met with our leadership team and said, 'We have to change how we approach our clients and how we work with clients.' Yes, I was a VP, but it wasn't an executive position — I just reached into the other areas and led. So this is when leaders rise. And so, regardless of your title, I would challenge you to lead."
It's not just fluff.
During the 2008 recession, Mary shared, she started competing in triathlons to stay fit and get out of her own head. Not that you need to get into running Iron Mans. But do get your body moving, and avoid stewing.
"Sales is a high pressure job," said Mary. "And when, as Mike says, the market hits the fan, the pressure ratchets up for everybody. So develop a new hobby, get outside, whatever it is that makes you whole — you've got to double down on that during these difficult times."
Final word
Love what you've heard? You can hear even more straight from the leaders' mouths (and watch me awkwardly fan-girl — seriously, writers should not be allowed to talk to people) in the on-demand recording of the webinar.
I'll leave you with this pep talk from Mary Shea:
"I think the biggest thing I learned is how to be a pretty tough executive and how to roll with the punches and not let anything phase me. You will gain incredible chops by pushing yourself through whatever challenges you have in the marketplace. And those chops will be infinitely more valuable when you come out on the other side of this."
Thoughts? Fears allayed? Let us know in the comments below!