This article outlines the results of a B2B Buyer Experience survey by TimeTrade.
Make no mistake: we live in a digital world. For many of us, that's also the primary channel through which we make an increasing number of purchases.
Industry research consistently shows that buyers want the same easy experience they now routinely enjoy in their private life.
Related: 5 Painful Mistakes That Are Crippling Your Customer's Buying Experience
Given these trends, it can be easy to draw the conclusion that buyers no longer need or want a "human" touch when making a purchase. In the world of B2B sales, the conventional thinking has become especially stark.
A number of industry pundits have even gone so far as to presage "the death of the B2B salesman."
At TimeTrade, we wanted to move beyond the rhetoric and take a more quantitative approach to understand what today's buyers want from seller organizations.
B2B Buyer Experience Survey Outline
What are the common challenges surface within the B2B buyer experience?
How and when do buyers want to engage with providers of goods and services, and are there unique preferences for B2B vs. B2C purchase scenarios?
When it's available, what is the potential impact of offering easy scheduling of 1:1 appointments between buyers and the businesses they may buy from?
For this specific survey we spoke to more than 300 B2B buyers, representing a cross-section of goods and services, company sizes and vertical markets.
The bottom-line? B2B buyers reported a significant need for improved engagement with seller companies. Buyers are specifically looking for ways that make it easy for them to connect and interact with a knowledgeable resource prior to making a purchase.
Now let's break it down and look at the data in more detail:
Your Buyers are Knocking. Is Anybody Home?
First, the bad news. Could you imagine a potential customer visiting your web site and saying, "Sell to me!," only to slip through the cracks without ever receiving a response?
In 2018, this is the experience of an overwhelming number of B2B buyers.
In fact, 84% of surveyed professional buyers reported that they "Always" or "Frequently" do not receive responses to their questions related to a purchase.
Post-sale, the numbers were equally stark. 76% of buyers reported that they "Always" or "Frequently" do not receive a response when making support or service-related inquiries after a purchase.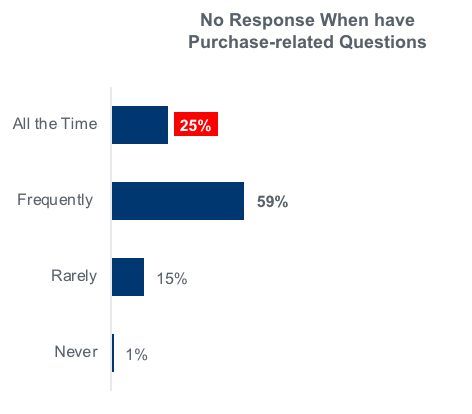 Given the growing importance of customer experience in today's market, as well as the increased complexity of many B2B sales cycles, these numbers are a significant red flag.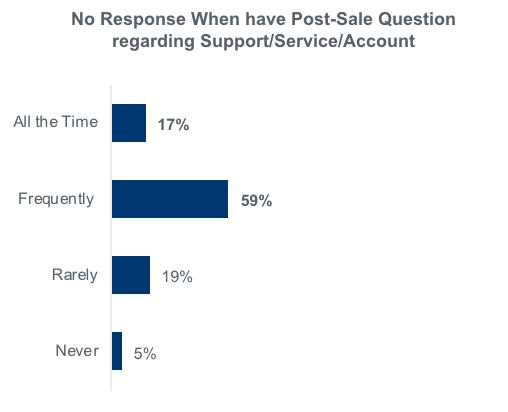 How much are companies leaving on the table when these pre-sale questions go unanswered? What's the impact on customer loyalty when service levels fall below buyers' expectations?
Still Thinking B2B vs. B2C? It's Time for H2H: Human to Human Selling
The case for live meetings
Clearly, companies should work to close this costly gap with professional buyers. One solution: make buying easier by offering the option of setting live appointments, either virtually or in-person.  
When asked about the value of live meetings:
88% of B2B buyers, on average, said it's important to have live meetings or appointments with a company they may buy from.
These numbers increase significantly for buyers of technology (92%), and banking or financial services products (96%), categories which are often more complicated in scope, level of risk and potential cost.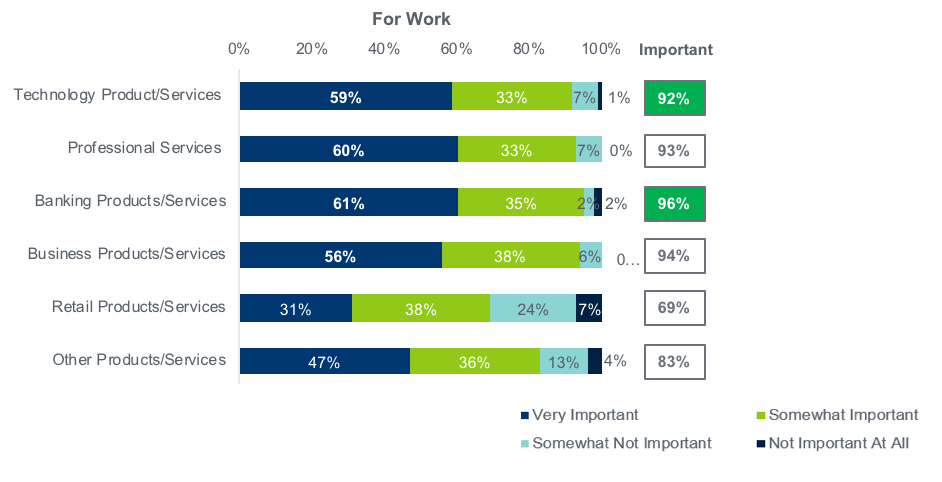 Further, 90% of B2B buyers reported that the availability of live appointment setting made a company easier to buy from. And 91% agreed that they would like it to be easier to schedule meetings with companies when making purchases for work.
Related: Quit Preaching — 6 Ways To Actually Be Human In Sales
Ease of working with companies that are willing to book appointments
But as the saying goes, "if you build it, will they come"?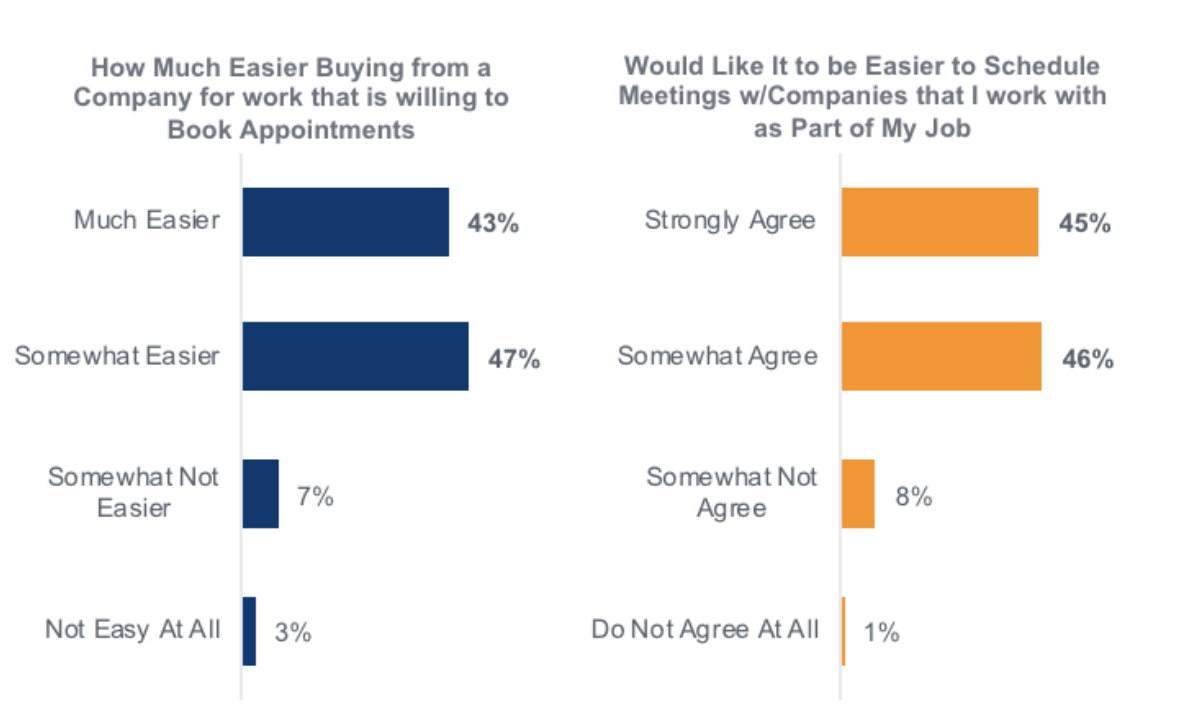 92% of buyers said yes, reporting a high likelihood to schedule appointments with a seller if the option were available. Given that the majority of salespeople are looking for easier engagement opportunities with prospective customers, making appointment scheduling easy for both parties seems a winning proposition.
Likelihood to schedule appointments if offered by a company you may buy from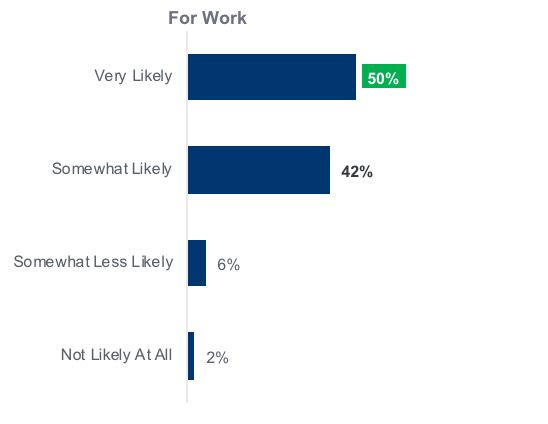 Despite the perceived positive benefits of appointment setting, these numbers would imply that most buyers are finding it difficult to realize this level of live engagement. When we asked this question explicitly in our survey, a majority of B2B buyers agreed that they find it hard to schedule time to speak with a sales or customer service representative.
Difficulty scheduling meetings or reaching a company representative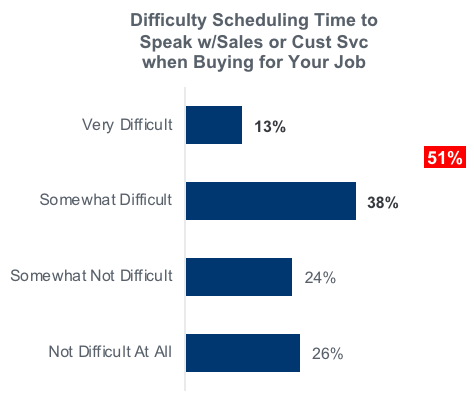 These numbers become even more prescriptive when viewed in the context of other communication options, and the buyer's stage in the decision process.
83% cited scheduling a pre-arranged phone or virtual appointment as their favorite channel versus online chat, email, phone, or a physical, in-person appointment.
Communication channel preferences when purchasing for business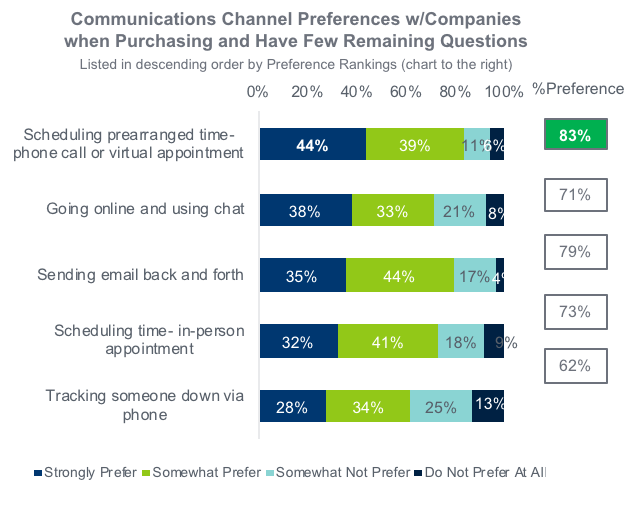 Clearly making investments in appointment scheduling solutions has its rewards – both in terms of customer satisfaction and potential lifetime value.
But what about the quality of those interactions?
Are all meetings and appointments created equal?
Our data indicate that responsiveness and ease of engagement are only part of the picture for B2B buyers.
How Does Interacting with "Knowledgeable" Employees Influence Purchasing?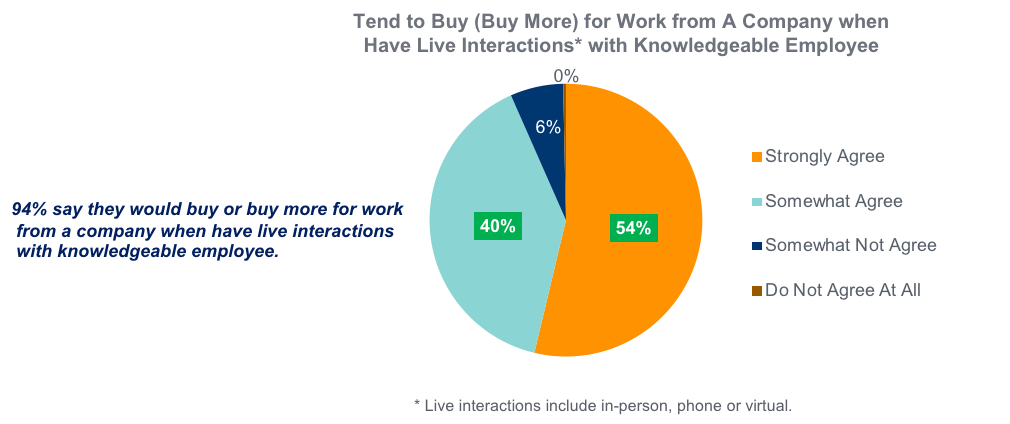 B2B buyer respondents clearly told us that it's not just about connecting with anyone in an organization.
It's about connecting with the right someone who is informed and can address their specific needs.
94% of B2B buyers agreed that they tend to buy more from a company when they have live interactions with a "knowledgeable" employee.
One way that many B2B selling organizations are showcasing their level of expertise is the hosting of physical events for customers and prospects. This includes programs like in-person workshops and classes.
TimeTrade's survey data shows that these types of forums are not only valued by B2B buyers, they can also be a valuable purchase incentive.
79% of buyers said it was important to be able to attend events and classes to learn more about a product or service prior to a purchase.
So what should smart sales teams do to take advantage of these findings?
B2B sellers must recognize that not all buyers are alike, nor will they have the same decision-making styles. This should encourage smart companies to offer omnichannel engagement opportunities that allow customers to connect with any number of knowledgeable company resources.
Companies that value customer engagement should consider adopting meeting scheduling strategies that ensure easy, frictionless connections, and feedback loops. This results in interactions that match customer needs with the right resources.
Salespeople may want to follow the example of their counterparts in the B2C world. Consider the potential upside of in-person workshops and classes for business buyers. The availability of live meetings for educational purposes can be a powerful channel for ongoing customer engagement.
Top 3 Key Takeaways
For B2B marketers and sellers, the power of an authentic, human connection is not to be underestimated. Buyers still want and need to engage with informed, insightful salespeople.
The bad news? B2B organizations have some significant work to do to win buyers' dollars and long-term loyalty.
As one of most desired engagement options for B2B buyers, easy-access appointment scheduling can deliver benefits on both sides of the purchase equation. It clearly supports the always-on experience buyers now enjoy in their consumer life.