Before we get into our 2017 recap and 2018 road map, I wanted to provide some quick background on how Sales Hacker came to be.
How It All Began: The Story of Sales Hacker
I can't believe it's been 4 years since we threw our first Sales Hacker Conference in September of 2013.
300 people showed up to learn about all the new advancements in Sales Technology. I ran it myself, and made $60k profit, in only 4 weeks worth of work (although,TONS of work went into those 4 weeks).
Here's a screenshot of the first Sales Hacker conference website.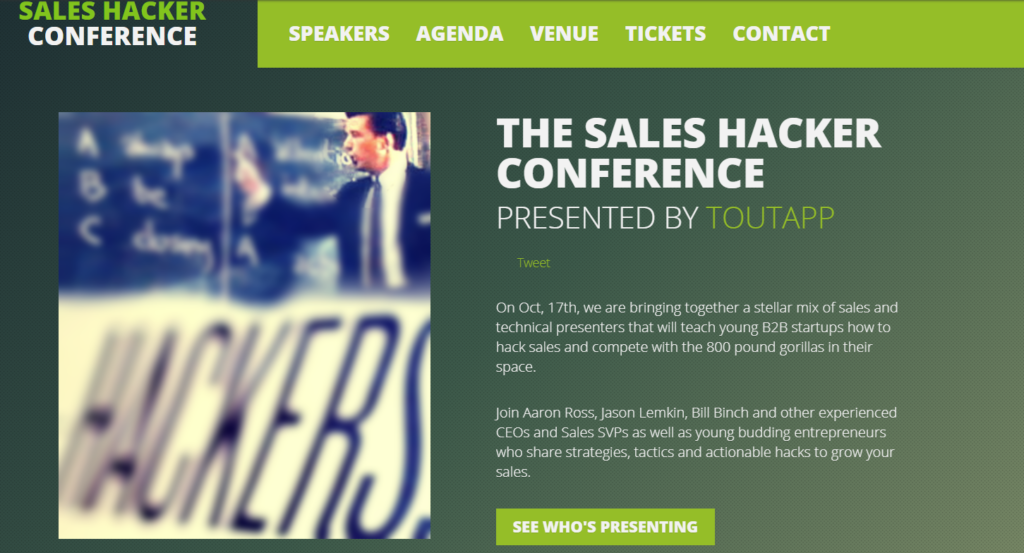 And here's a photo of Aaron Ross breaking down his epic predictable revenue framework on one of the first ever Sales Hacker panel discussions.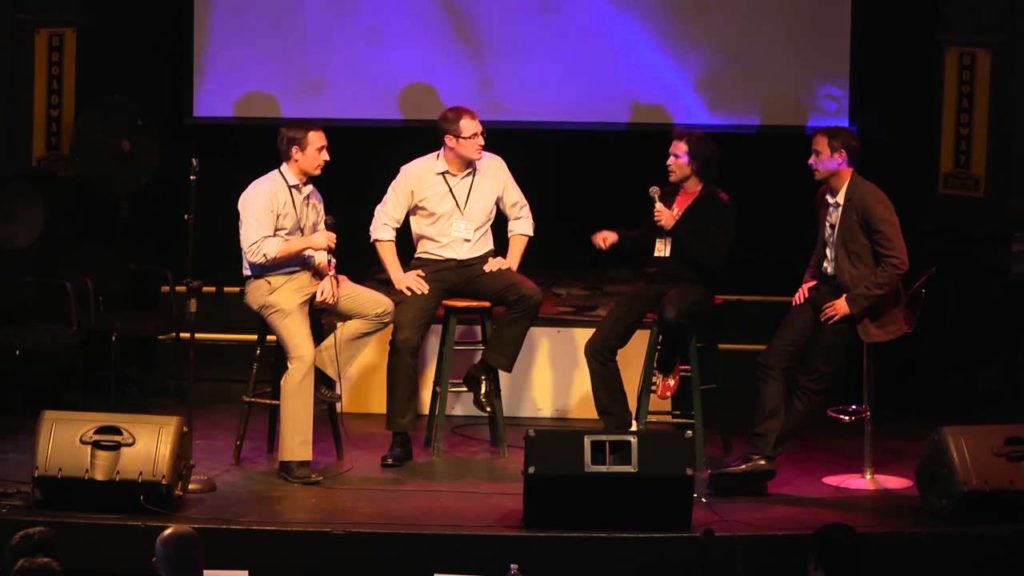 I had no idea that Sales Hacker would eventually become what it is today. I'll let our amazing community members tell you better than I can!
2014: Full Time on Sales Hacker
In March of 2014, I went full-time on Sales Hacker. I figured, if I try it for a year and it doesn't work, I'll have made some money and built a good network. Why not?
In March of 2014, I started the Sales Hacker Blog. I actually negotiated to buy the Sales Hacker domain from someone who was writing a sales book and scooped up a bunch of domains. I got it for $600 and wrote the first few articles along with the recap posts from the previous conference.
The Original Sales Hacker Blog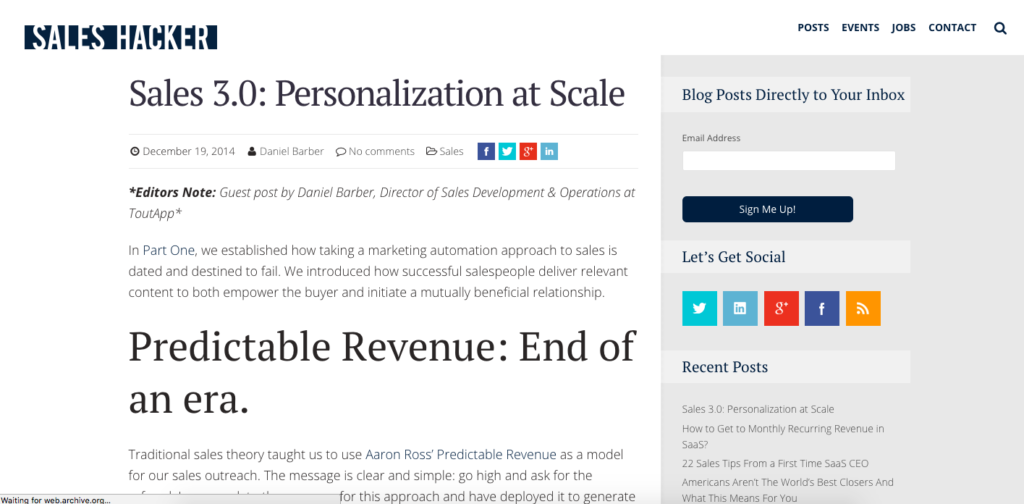 We ran NYC in April of 2014, and SF in the Fall. I hired my first employee to help us with events. It was scary and I had little idea as to what I was doing. We also started our meetups that spanned 5 continents and 32 cities globally.
Here's Aaron Ross speaking at our first ever NYC event in 2014. Still holds to be our most popular YouTube video to this very day.
2015: The Sales Stack Conference
In 2015 we ramped up. I hired our first salesperson and got my old virtual assistant team back. We kept pushing and knocking on doors. We kept adding value to a rapidly growing space.
And in the fall of 2015, we ran our first 1000 person Sales Stack conference. It was a huge risk. I signed on for a big, expensive venue, and we started selling tickets for a massive event at Pier 27.
Brian Walton, Kyle Porter, Andrea Austin, and Armando Mann at Sales Stack 2015 delivering the SDR playbook for high performing sales teams.
We sold out a 1000 person event in 3 months and had over 45 vendors there exhibiting. This was an inflection point. Since that event, we've generated 8 figures in revenue and a few million in profit through Sales Hacker, Inc.
Fast Forward to 2017: Building a Real Foundation for the Future Of Sales Hacker
2017 was the real turning point for our business. We built out the team and a strong foundation that would take us to the next level.
In 2017, we worked with over 100 vendors in the sales and marketing space.
New SaaS Sales & Education Partner Directory: A Platform for Unbiased Sales Thought Leadership

Here's a bird's eye view of our newly relaunched SaaS Sales & Education Partner Directory.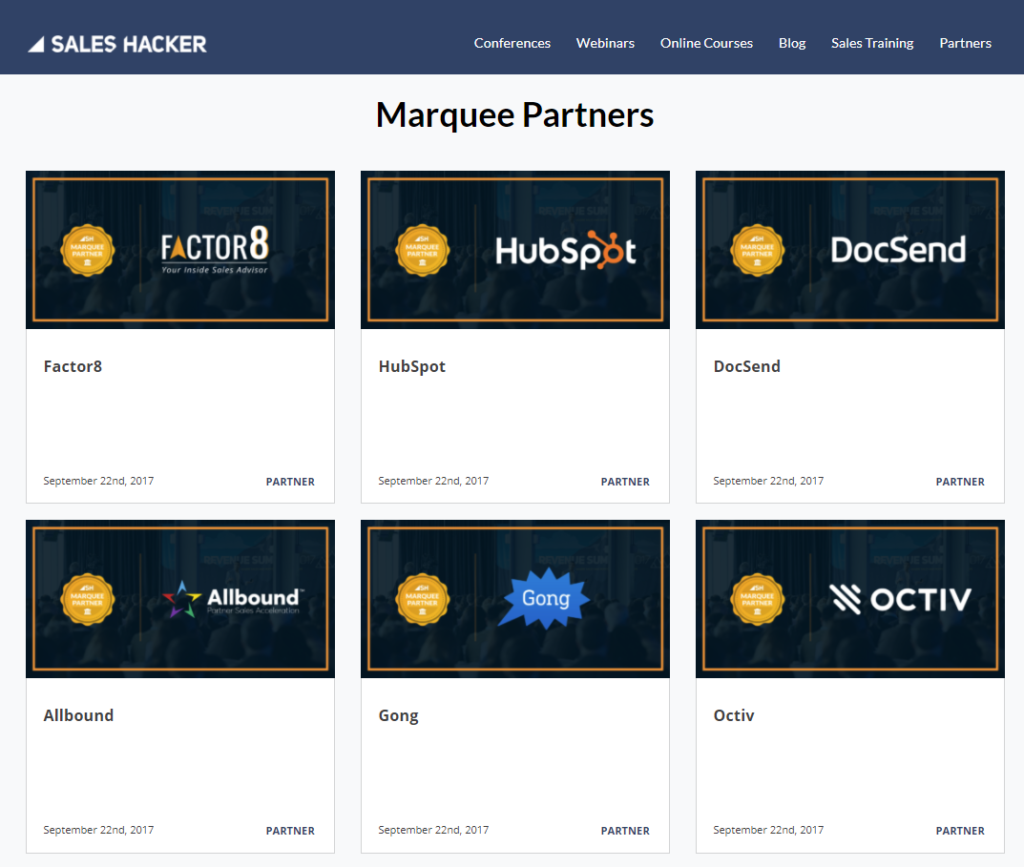 We worked extremely hard on building our new Partner Program for vendors in the sales space.
Instead of seeing a landing page with a bunch of logo links, now we have a much more sophisticated directory, and every partner gets their own nifty custom-built landing page.
Here's an example of what we've built for our friends over at Pipedrive.
You can easily discover all Pipedrive's content produced on Sales Hacker, (all broken down by content type), and should you feel inclined to do so, you can easily learn more about their platform and choose to contact them via our portal.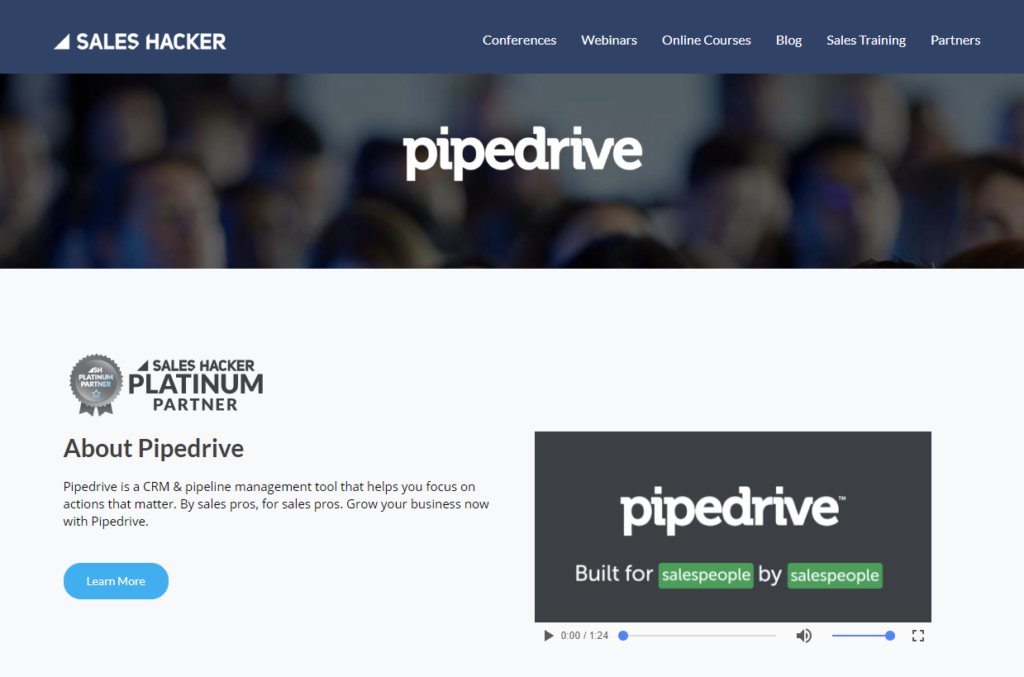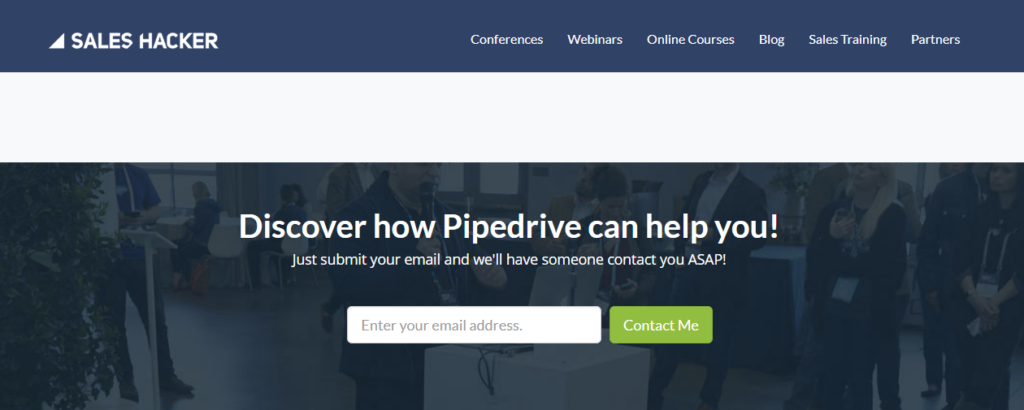 It's exciting, as we aim to be a platform that allows SaaS brands to build targeted thought-leadership to new audiences.
Vendors are funny sometimes. When left to their own devices, most marketing materials can be incredibly salesy. When vendors partner with us, we only care about enabling them to showcase their unique thought-leadership.
Who better than an outbound emailing company to tell us, with data, when the best time to send a sales email is?
Who better than a conversational intelligence company to tell us, with data, what the best time to bring up pricing is on a discovery call?
We partner with these fine organizations to get you the data that can help you make practical and tactical decisions, not bombard you with sales pitches.
If you're a vendor in the space that we're not currently working with, get in touch with us HERE.
New Sales Hacker Homepage

We realized that our homepage needed some love. The above the fold section was too busy, and lacked a clear value proposition.

Fast forward to 2018. We've simplified our messaging and removed homepage distractions. This has led to tremendous results for us, primarily in email list growth and increased site engagement.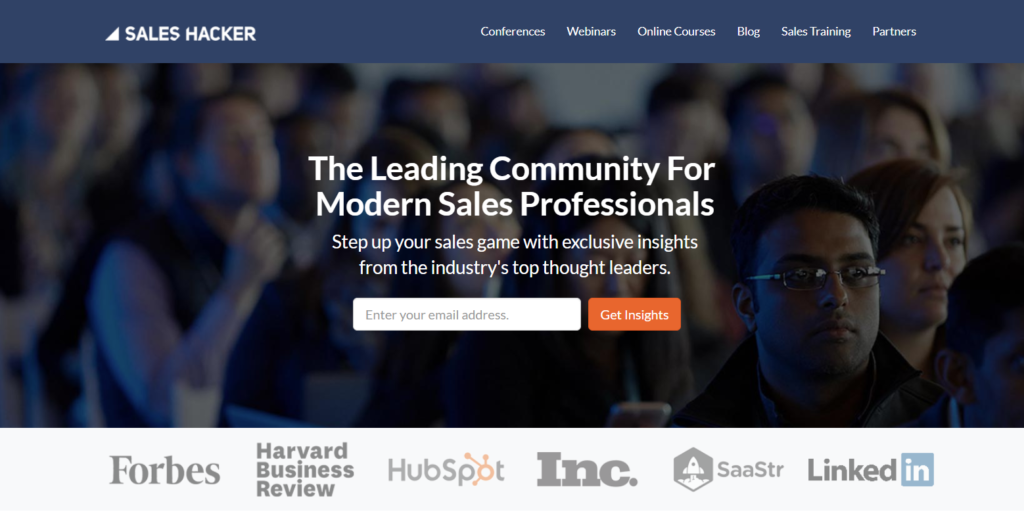 We also realized that many people were still asking, "So, what is Sales Hacker anyway?"
In order to simplify and explain our offerings, we condensed it into 3 simple columns on our homepage, right below the fold.
We also explicitly say what we do:
We provide world class thought-leadership, webinars, conferences, online courses, sales training & digital partnerships.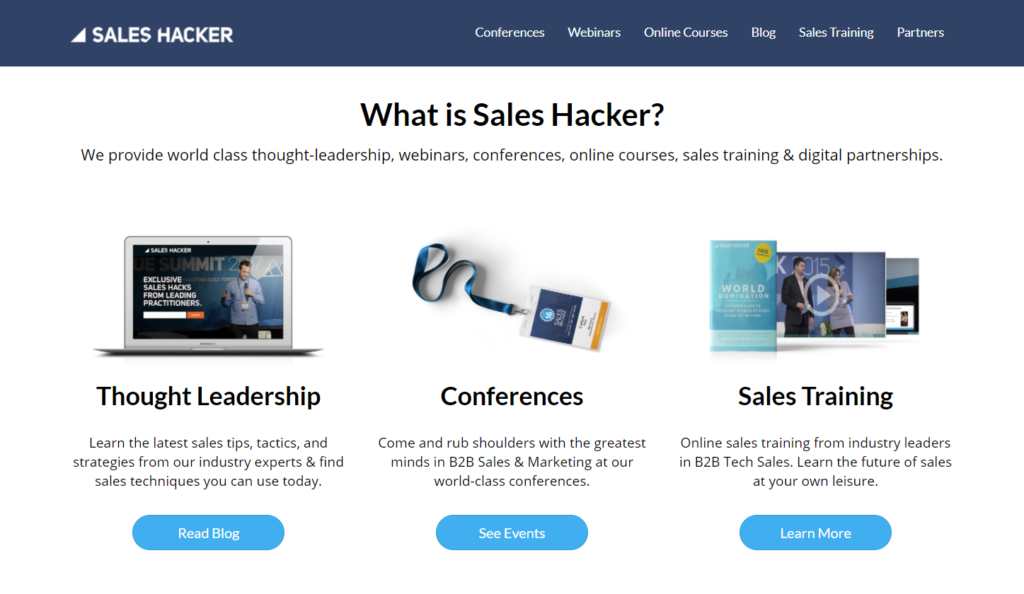 Improved Content Quality Leading To Business Results

List growth is at a consistent 6-10% MoM, and we're hosting over 100,000 monthly site visitors.
We did a deep dive into our audience data at the beginning of last year, and spent a healthy chunk of time doing UX research. This would prove to be crucial for our 2017 growth.
Our SEO and content quality has improved significantly since 2016, therefore allowing us to reap incredible organic traffic and audience engagement benefits.
Specifically, we've 3x'd our overall and organic traffic in 2017 thanks to our improved content strategy and audience targeting. We'll be continuing to ramp this up in 2018!

Tactical Webinars With Actionable Takeaways

Our webinars are some of the most well attended in the sales and marketing industry, with an average of 500 attendees per webinar and over 3,000 webinar attendees per month.
The Anatomy of a Winning Sales Demo was a record breaking webinar for us in 2017 with nearly 1,000 registrations.
Going International: Sales Hacker London

Last year we did our first international sales conference, with over 500 sales practitioners coming out to enjoy our London event.
The response from Sales Hacker London was so overwhelming that we have confirmed it again for October 2018!
Special thanks to Jacco van der Kooij for CRUSHING the opening keynote for us.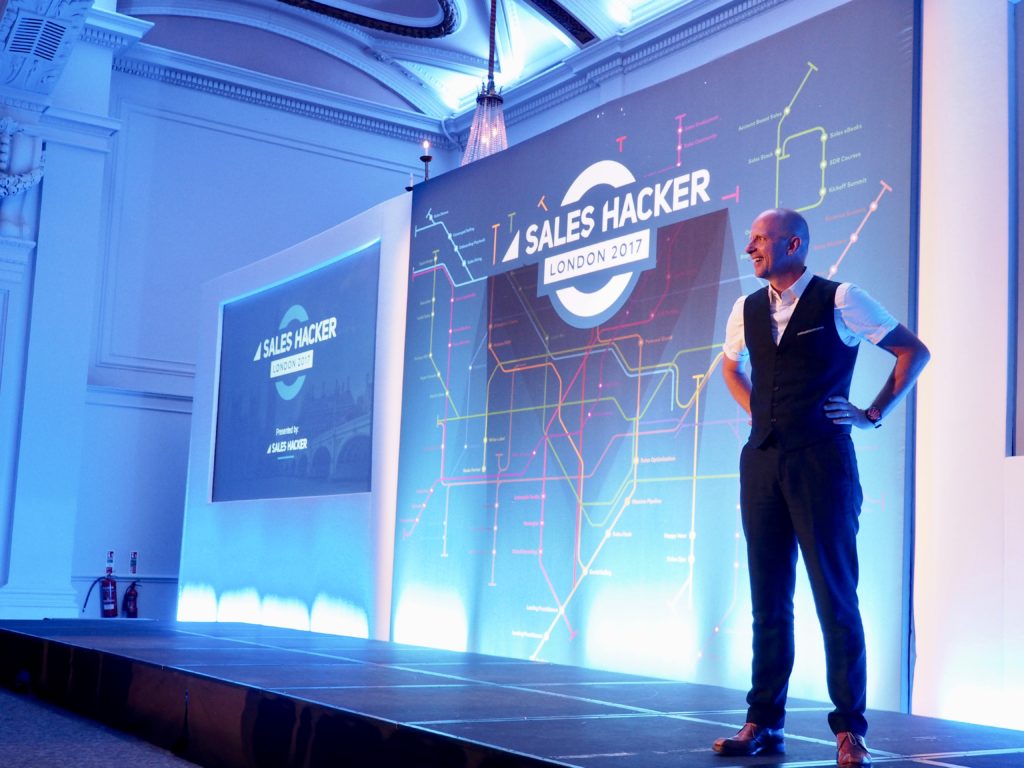 Over 3,000 sales professionals have enjoyed our conferences in 2017 across NYC, SF, London.
We've worked with the biggest companies in the space, and have done partnerships with Salesforce, HubSpot, Marketo, Docusign, LinkedIn, Adobe, and more. We're super thankful to our partners for trusting us with their brands.
Sales Hacker's Core Message & Vision
Originally, we started as "The future of sales." And to a degree, we still are.
We wanted to usher in the adoption of new sales technologies. As the tech changes, so does what works.
That said, in 2018, we're building "The largest community of salespeople backed by budget."
By this we mean salespeople employed at companies that care about investing in sales training, sales technology, or sales recruiting services, to support sales innovation. We want to help growth-focused companies transform their sales orgs for the modern world.
In our business, we support three different end users.
Audience / Attendees
Contributors / Speakers
Sponsors / Partners
Audience/Attendees:
This is our community of salespeople backed by budget as mentioned above. Folks who attend webinars, read blog posts, enjoy conferences, and all of our other offerings so they can do their jobs better and train their teams on the best and most innovative new practices.
Contributors/Speakers:
We provide a platform and a voice for practitioners who are packed with relevant knowledge but don't have an audience to deliver it to. We provide that audience and those eager listeners who can't wait to pick the brains of leaders who have been there, done that.
Sponsors/Partners:
We create a way for vendors selling innovative sales training, technology, and recruiting a way to connect in an honest, authentic, and educational manner with our valuable and engaged audience. In the end, they establish credibility and awareness in the market, generate leads, and create thought leadership. We don't allow sales pitches of any kind within our content.
Our path has evolved as the industry has involved. We don't want to keep pace, we want to be ahead of the pack!
What's Next For Sales Hacker?

In many ways, I feel like we're just getting started.
2017 felt like the first year we had a real business. We suffered some growing pains here and there like scaling content, selling while building, and not giving ourselves enough time to execute on certain initiatives, but what startups haven't?
In 2018, we have plans to tie up those loose ends in our processes, and continue our march forward as we take it to the next level.
Here's what you can expect from us, and where we plan to put our resources over the next year.
Audience Growth, Segmentation, and a Rock Solid Foundation
A huge focus in 2018 is on targeted list growth, segmenting, and ensuring high NPS.
This means we're making it our business to only serve you the content that YOU want to see.
To do this, we've spent significant resources on building the foundation of the site and marketing automation to allow subscribers and readers to discover the content that resonates with their persona. We're still a work in progress here, but be aware of this in 2018.
On top of that, our goal for next year is to a little over double our subscriber base to 150,000.
We'll also be launching a few things in the new year that should spark growth and also build our community and brand leadership.
The Importance of Community Feedback

I mentioned we did growth research at the beginning of 2017. This was a crucial part of re-shaping our strategy. We're going to continue doing this in 2018, especially for content, webinars and conferences.
My advice for doing this is really simple:
Ask your customers what they want, and then give it to them.
Sales Hacker's Exclusive Contributor Network
We love that so many practitioners want to work with us. It's the life blood of our organization. Without the community, we wouldn't have much.
In 2017, we really started getting bombarded with more requests than we could handle, and needed a simplified way to track our inquiries and manage requests.
Not a bad problem to have! But still, we needed a solution. Out of that was born our exclusive contributor network.
Our content averages hundreds of shares and thousands of views. 
Our conferences offer opportunities to speak in front of thousands of sales & marketing leaders.
So with that said, you can now apply to become an official Sales Hacker contributor, and get offered to speak at conferences, on virtual events, webinars, write blog content and much more!
Cracking Down On Content Quality

We knew stepping up content quality across the board was one of the most important initiatives for us in 2017. We thrive on content, and so does our audience, so we made some major overhauls.
I'm proud to say, we've had over a dozen groundbreaking articles in 2017 with hundreds of high-quality backlinks, thousands of social shares and tens of thousands of page views.
From the in-depth audience interviews, we learned that prospecting and outreach driven topics were among the highest desired content.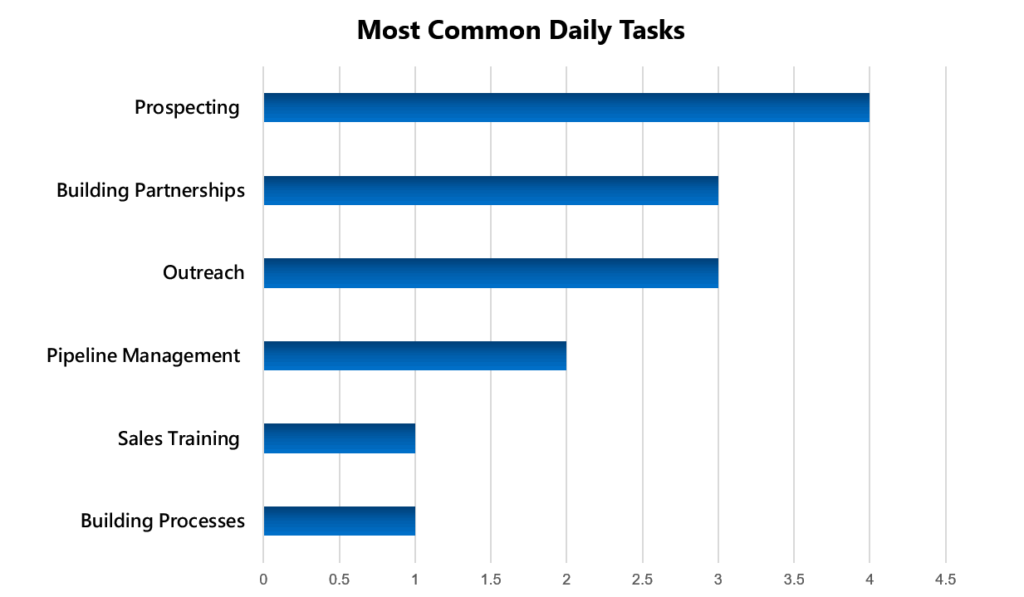 So, we built some really amazing outbound / prospecting driven content last year.
Here's a few top performers:
We also wanted to learn what type of content our audience hated.

Turns out, it's the stuff you might expect. Aside from sales emails. Our hypothesis there was that audiences are sick of the same old fluffy sales email articles, so if we continued to pursue that topic it would need to be 10x content quality.
Then, we learned what our audience really wanted. And of course, we gave it to them.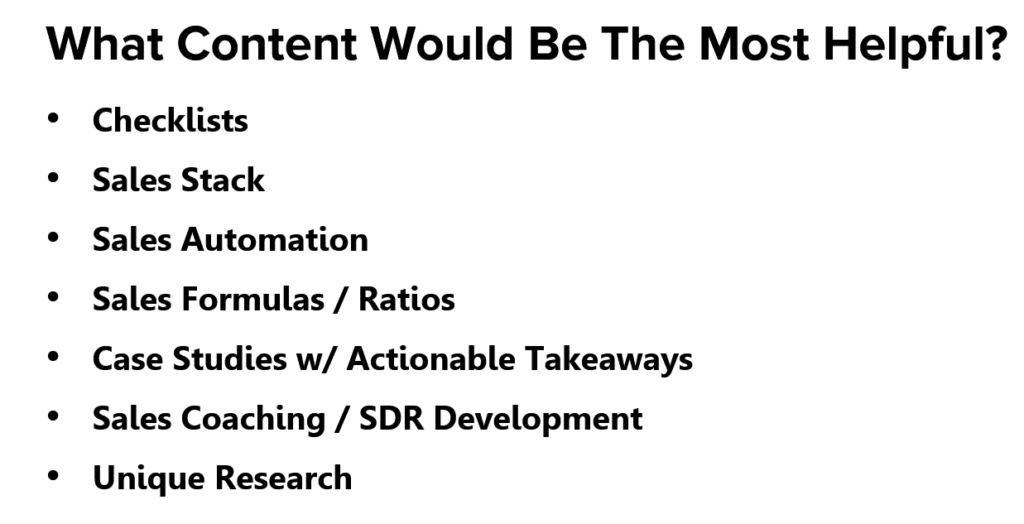 Increased Offsite Thought Leadership
We've been fortunate enough to be able to contribute some amazing guest articles in 2017 that have helped us earn additional buzz.
Here are a few of our favorites:
– When You Have to Fire Good People, HBR.org
– From Local Meetups to Global Community, Sales Hacker Shares Their Secret to Growth, Freshchat
– I'm a CEO and I Play With Puppies at Work, Time.com/money
– The Single Most Important Factor in Entrepreneurial Success, Observer
– Demystifying the Role of Account-Based Marketing, Intercom
– Building a Sales Organization Where Millennials Will Thrive, Quotable
– AMPlify Podcast: What It Takes To Cut Through The Noise
– 7 Problems With Sales & Marketing Alignment (And How To Fix Them), Heinz Marketing
– Max's Big Sales Interview on Pipedrive
Content Strategy 2.0, Sales Hacker Podcast, and More Training & Consulting
Our number one priority for 2018 is targeted audience building, and with that, we're offering more Enterprise / Executive content and services.
With that said, we're partnering with the best in class providers like Winning By Design, J Barrows Sales Training, and many others to deliver more training and consulting services and high-quality executive content.
Check out these tactical guides from our Executive content series so far, in exclusive partnership with Winning By Design.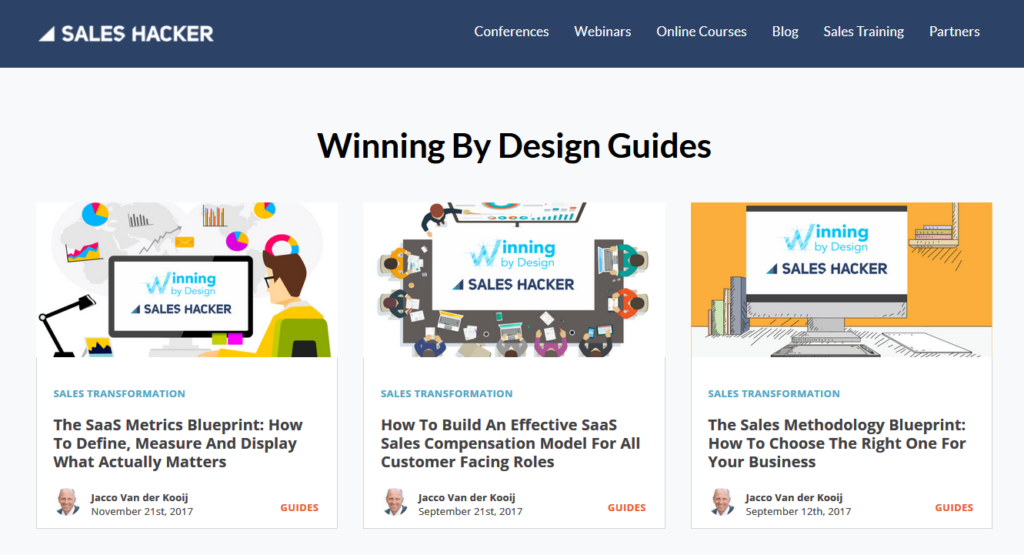 Sales Hacker Podcast
We'll also be launching a podcast, which was something that our community voiced their opinions on almost unanimously in our 2017 engagement survey. However, I was still very against it, but we couldn't deny the data any longer.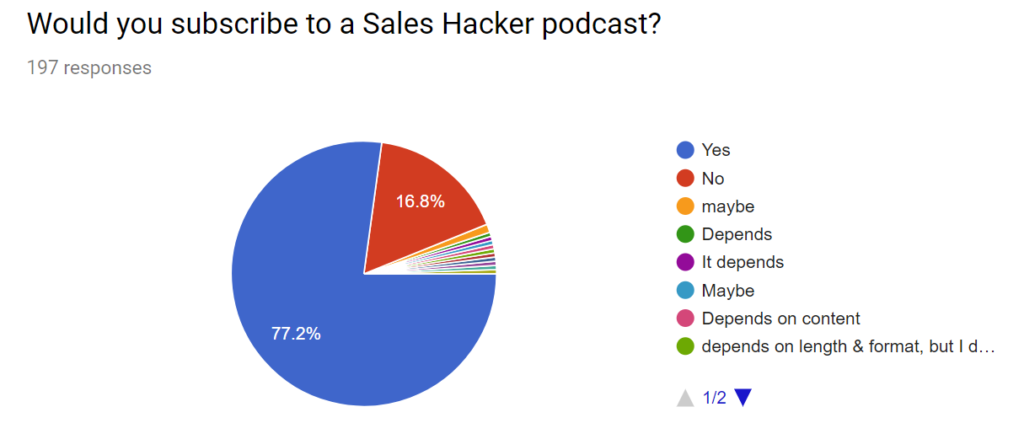 I told the team, the only way we run one is if we could figure out two things:
1. A unique and engaging format that isn't just another Sales podcast.
2. A podcast host who has been there, done that, very recently or is still a VP/C level revenue leader and has done it at virtually all stages of a company.
I think we really nailed both. Stay tuned for more info to come in Q2!
Sales Conferences
With the Revenue Summit right around the corner, this is the perfect time to share some things we've learned about conferences over the past 4 years.
At its core, the top two elements of a successful conference are the learnings and the networking. Always have and always will be!
And despite the ever growing noisy conference space, salespeople believe in-person conferences are still valuable. We believe that too.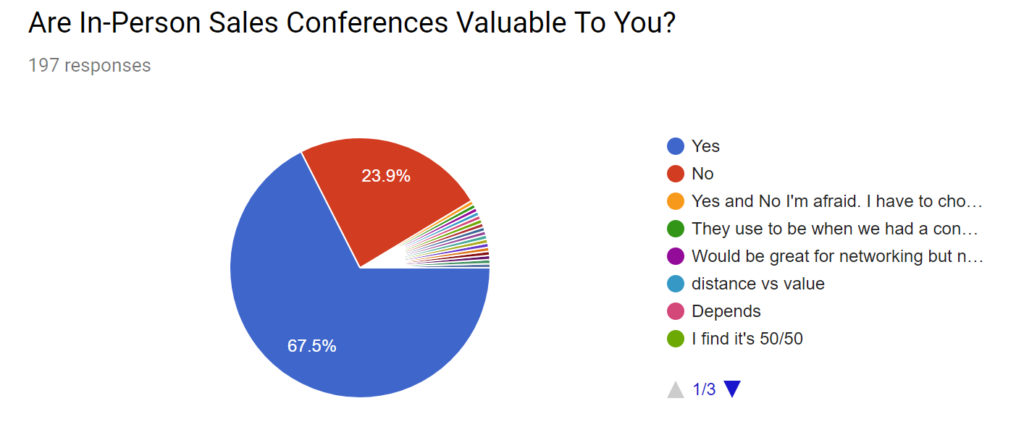 The problem with conferences is that it's tough to differentiate. We just have to have the best, most targeted and actionable content from actual practitioners. That's all we care about. That's our brand and always has been. If you can do that, the right people will come.
Some actionable steps we're taking to make conferences better:
Tightly Connected and Targeted Topics:
The Sales Hacker team knows now more than ever before, what resonates with our audience. We're not just picking any old topics, we're aligning and referring back to top webinars and top blog content based on engagement metrics, to determine the most desired conference topics.
Check out our topics for Revenue Summit 2018. We've spent a lot of time curating this and we expect there to be a ridiculous turnout!
Reduction of Panels:
Panels are cool, don't get me wrong. But people want actionable, step by step walk-through sessions that explain how to actually do something.
Practitioners want to know: Do this, and don't do this – and that's why you'll be successful.
We'll make sure there's a lot more takeaways in 2018.
External Trends I'm Excited About
I'm really excited to continue building on top of the solid foundation the team and community created in 2017.
We wrote an in-depth piece on 2018 sales trends, but there are a few specific things I want to point out here.
I'm pretty geeked about the critical role communities are playing inside of tech companies themselves, and the further evolution of sales.
Take this article from Marc Benioff on Salesforce's dominance over the CRM market, and why they think Microsoft doesn't have a chance. It's all about the community they've built.
Another external trend is the effects of GDPR, and the overall noise in both inbound and outbound. Because of these trends, channels are becoming the best option to get in front of your target customers. Not only do you get the visibility and access, but if often even comes with an endorsement from a trusted partner.
When companies go to calculate their CAC and include everything from digital ad spend to time it takes an SDR to get someone on the phone, they'll realize that channels and communities are by far the best ways to access their target customers in 2018.
Lastly, I really love the changes happening rapidly with AI coming into its own and augmenting sales in new and intriguing ways.
My favorite trending examples are chat bots, conversation intelligence, increased sales & marketing productivity via Slack, and big data analysis.
We're here to help you uncover all of the exciting possibilities available to your org in 2018.
Welp, that's all for our recap and road map. It's been an exciting ride so far, and it's only going to get better.
Want to help out? Share Sales Hacker with friends and colleagues and stay tuned for more exciting initiatives as the year goes on.