12 months ago, Sales Hacker was acquired by Outreach. It was a huge moment for me personally and the Sales Hacker team. It was also the beginning of a new chapter for the entire Sales Hacker community.
For one thing, being owned by a VC-backed, quickly growing, private company meant we could be less dependent on revenue from our sponsors, and focus a little more on you, the community.
For example, this new website you're looking at right now…
We listened to what you told us in our last survey, and used that information to build something we hope you love even more. But more on that later…
Going into the acquisition, Manny Medina (the CEO of Outreach) and I knew how important it would be to let Sales Hacker continue operating independently.
Right away, we made the following promises to you, the Sales Hacker community:
Sales Hacker will remain a stand-alone brand and run independently. Think LinkedIn and Microsoft.
Outreach sales reps will never have direct access to the Sales Hacker database.
The content will continue to be unbiased. We will continue to provide the same level of quality content (or higher) now that we have more resources.
Why The Promises?
Because Sales Hacker is way, way bigger than me, Outreach, or the Sales Hacker team.
It's a community of salespeople, sales leaders, partners, event attendees, listeners, readers, and over 120,000 subscribers — all of whom trust Sales Hacker to be a place they can get no-fluff advice and insights about the best and smartest approaches to modern B2B sales.
That's not something we could change just because I joined Outreach. Besides, Outreach believes the right thing to do is to help us keep paying it forward to the Sales community.
GET THE FULL STORY OF HOW I CREATED SALES HACKER: How Authenticity Grew Sales Hacker from a 4-Person Meet Up to a 30-City International Community
A Look at What's Happened Since We Were Acquired
In the (almost) 12 months since we were acquired by Outreach, there have been a lot of huge Milestones in the Sales Hacker community.
I don't think I could start to list them all, but here are a few of my favorites.
We launched this new website! We are super excited about this, and there's more coming on why and how we did it further along in the article.
We continued to work on diversity and inclusion in sales. We're really proud of the work we do to give a voice to female sales leaders and salespeople, and push our readers to be more inclusive.
In the past year, we saw a few great things happen here:
We added Cynthia Barnes to our roster as our first columnist dedicated to the topic of diversity and inclusion.
We threw our support behind the 35 most influential women in sales, many of whom are doing excellent work above and beyond their day jobs to build female leadership in Sales.
And of course, we're preparing for some big things for Women in Sales Week in July…
We held The 2nd Annual Sales Hacker Top 50 Awards. Two years ago, we decided it would be nice if, for once, the winners of the awards weren't the most famous influencers (or just those people with the biggest LinkedIn following). And we didn't want it to be only about crushing quota, either.
So we created the Sales Hacker Top 50 Awards, where winners are nominated by their peers, customers, bosses, and employees. And we required nominations to provide a good reason — a story about why the nominee made sales about the people, put their necks on the line for a colleague, or went above and beyond to help a customer.
This was our second year, and I expect to see great things from the winners of the 2019 Awards!
Our Podcast hit over 6,500 weekly downloads!

Sam Jacobs does an incredible job sourcing only high-quality guests and has fascinating conversations about career trajectories in sales, team structures, prospecting, scaling… you name it… all at an expert level.
We did more research. With help from people at Bridge Group, Modern Sales Pros, Drift, LeanData, Outreach, and others, we did some original research — something the Sales Hacker community has asked us for.
And we discovered a few pretty surprising things as a result of that research.
Here are a few of the examples:
You can contribute to more research, too! Take this 5-minute survey to help us and the Bridge Group uncover more insights about closer compensation and quotas in 2019.
Our New Website and the Research We Did to Design It
Remember this?
That's what our home page looked like before.
We like to be really transparent. So I'm about to share all the little reasons we changed it, and what's new, including some insights from our last community survey in the fall of 2018.
Here we go…
Easier & Faster to Use
35% of all the people who saw our home page immediately clicked to the blog. Then, they had to search to find what they wanted from there.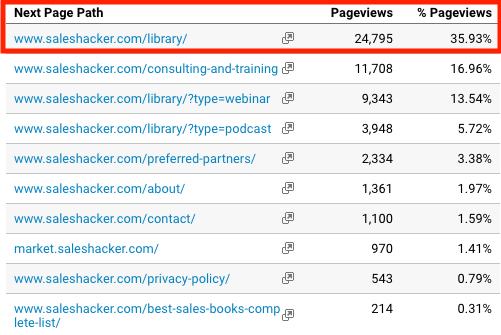 That's too many clicks to get to what you want!
We had a feeling our site needed a design facelift, too. Our Community Survey in 2018 confirmed that: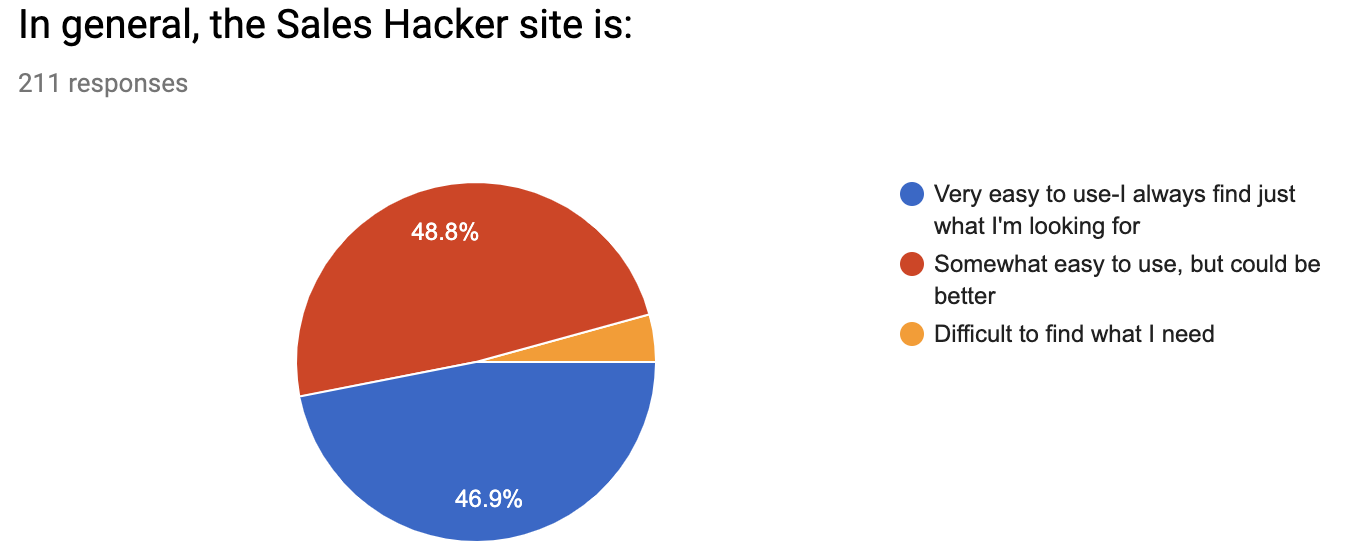 46.9% of you said our website was very easy to use (thanks!), but we knew we could do better.
Now, you'll notice, our homepage has our latest content right there. Come back every day to see what we've got for you.
We built this new site because we want 90% of you (can't please everybody) to love the new site we've built. We hope it makes it easier for you to do what you came here to do.
What's Next For the Sales Hacker Community?
We'll continue to keep our main focus on creating no-fluff, expert-level content for all customer-facing roles. Every week, we'll publish 4+ blog articles, produce two webinars, and put out two podcast episodes.
There are a ton of things we've been working hard on that we're really proud to be rolling out over the next few weeks.
To start, let's look at the things you asked us to do MORE of in our last Community Survey: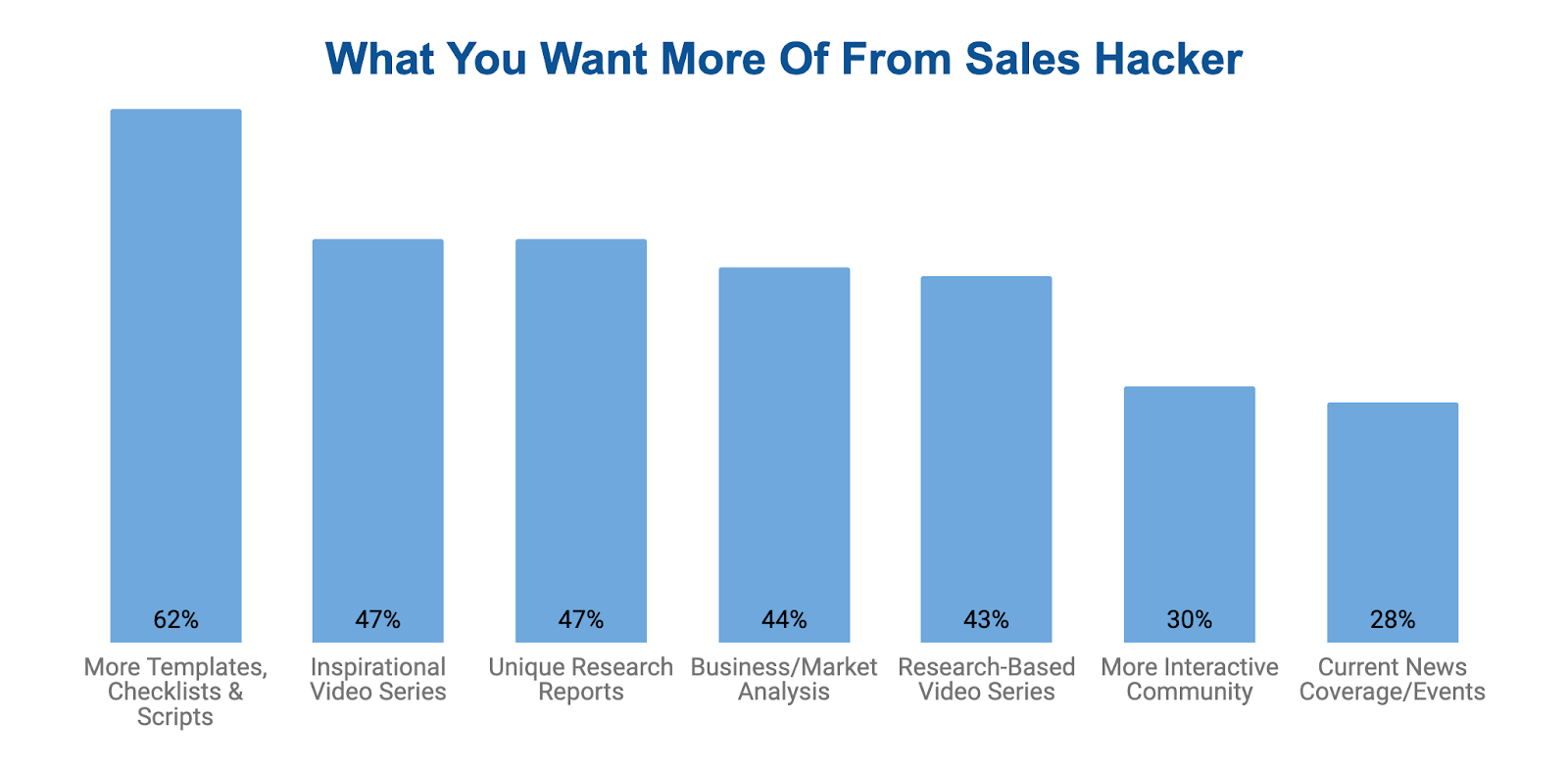 62% Wanted More Scripts, Templates & Checklists (Things You Can Steal)
Check the left column for "Templates" and you'll find what you asked for — all the templates, scripts, checklists, and frameworks we have to offer.
We'll always keep these updated, and there's more coming. If you have a great template you'd like to share with us, let us know.
About 50% Wanted a Video Series
Well, 47% wanted an inspirational video series (think TED Talks) and 43% wanted a research-based video series.
Ask and you shall receive. We've got a video series coming! It's part inspirational, part research and best-practices. The best of both worlds.
As always, we decided we only wanted to create a video series if we could do something nobody else has ever done. It took a little time, but it's on its way, and should be here within weeks.
Here's a behind-the-scenes sneak peek: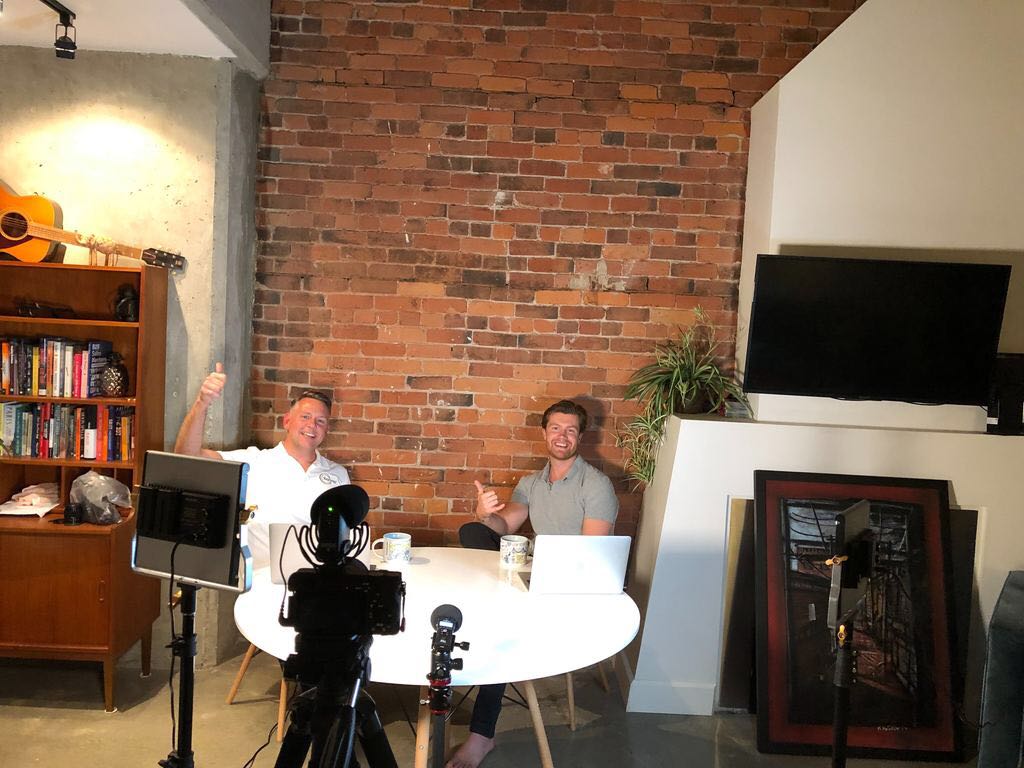 If you don't already, you'll want to subscribe to our YouTube Channel, so you can get alerted when we release new episodes.
47% Wanted More Unique Research Reports
Earlier, I mentioned a few reports we did in the last 12 months, and we plan to do more of these! We'll aim for once per quarter, so we can repeat and update 4 solid reports each year.
Our Head of Content, Kathryn Aragon, is really excited about this one in particular. Keep an eye out for our newsletter from her, and let her know what kind of research you'd like to see.
30% Asked for a More Interactive Community
We get it: The comments section on a blog isn't what it used to be, and having a conversation in a crowded LinkedIn feed can be tricky.
This is something we're working hard on. Colin Campbell, our Director of Marketing, is heading this up, so reach out to him on LinkedIn and let him know what you'd like to see from a Sales Hacker Community or Forum.
60% Of You Asked for Online, On-Demand Training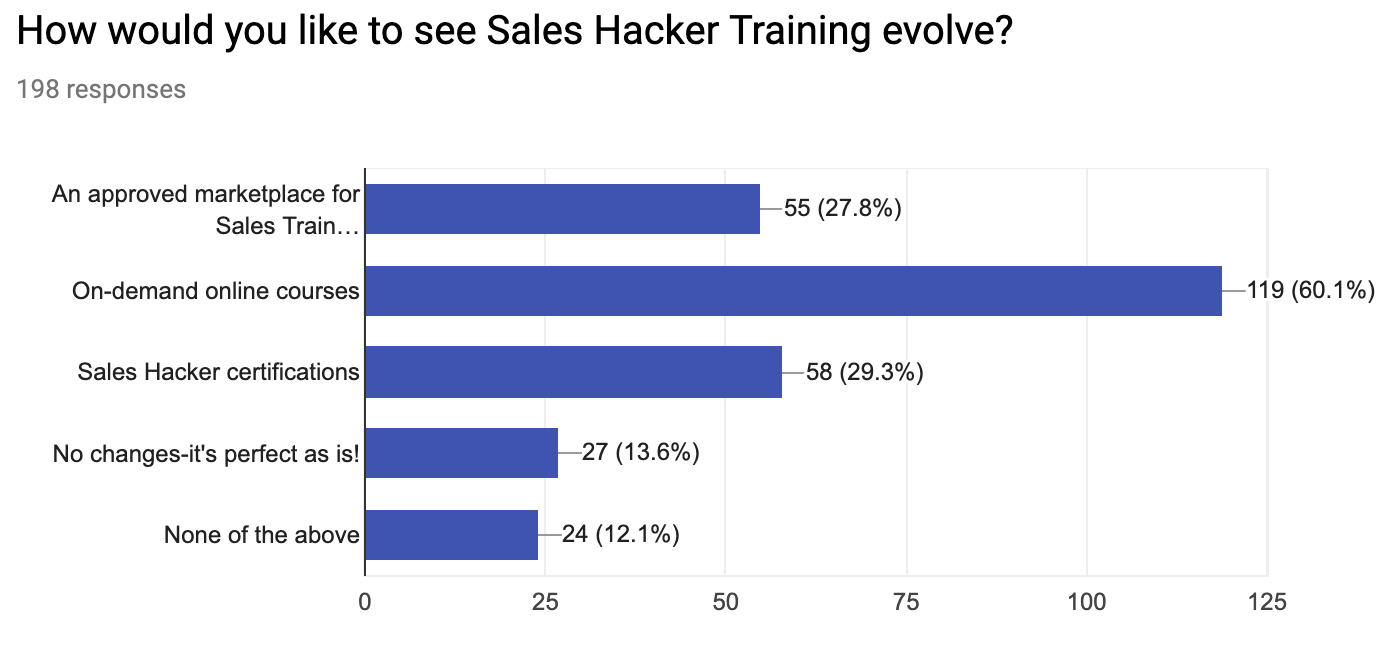 Truth be told, we won't build online training ourselves — at least not this year.
Instead, we'll do you one better. We're building exclusive relationships with only the top coaches and trainers in Sales, Sales Management, Sales Development, Negotiation — you name it.
You can find free, super educational content from them over in the sidebar under "Sales Training." Over time, you'll also find exclusive discount codes, free on-demand classes and promotions, and more.
Other Things We Learned About the Sales Hacker Community
1) Not all of you are salespeople: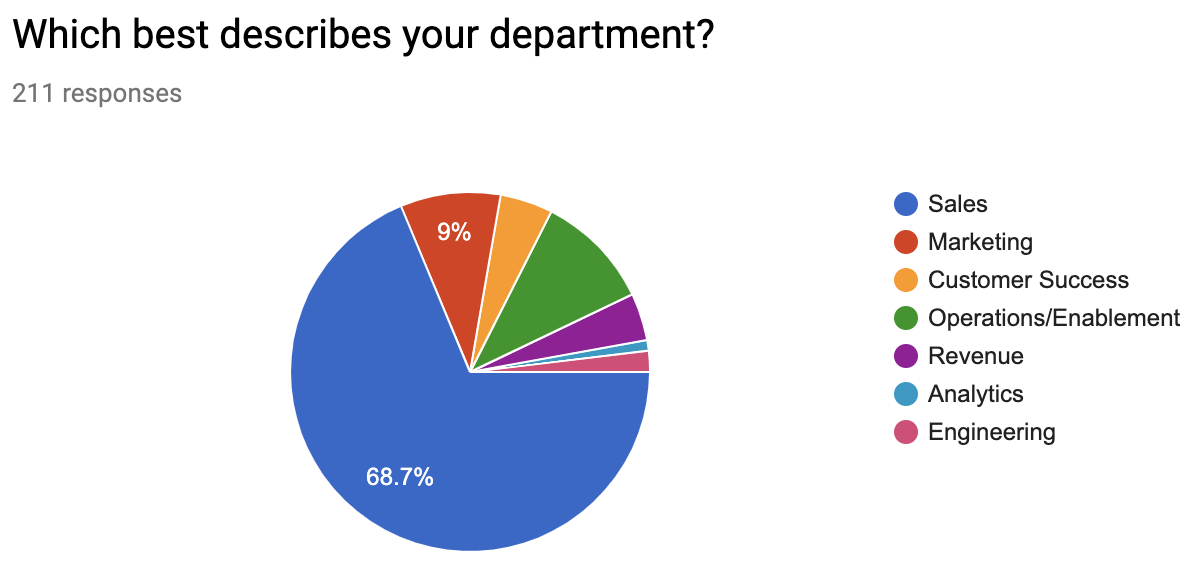 So we're spending time creating content just for enablement, operations, and customer success people, too.
We want to help grow the careers of everybody who is customer-facing AND the people that directly support those roles. Check out this webinar from Taft Love, for a Sales Ops-specific example.
2) There's a big variety of seniority in the community: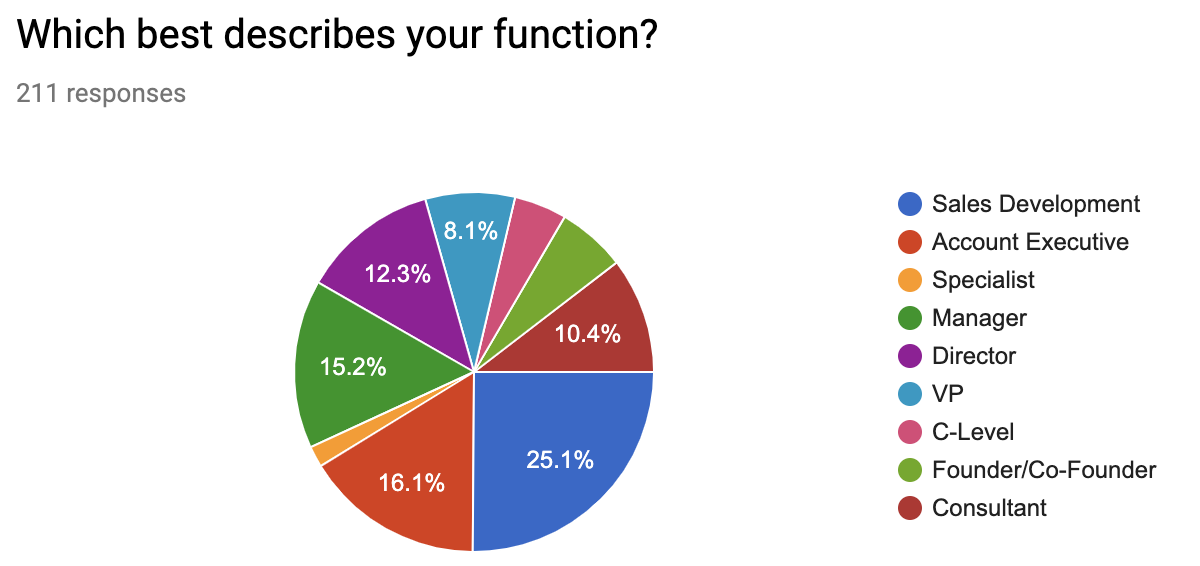 All that diversity means we need to work hard so each of you has an easier time finding what you're interested in. Not what some other person thought would be useful.
We've added a few key things to help with this, all found in the left navigation:
Content categories are now easier to find and navigate through
Content types are easier to find
Massively improved site search, powered by Algolia (coming soon).
We've Got a Lot Going On
It might sound like we're doing a lot right now, and I guess we are. But we feel like we're only able to do so much because so many amazing people have paid it forward.
That's what Sales Hacker is all about. Sales experts who walk the walk and are doing something different, coming together to share that knowledge with no expectations of return. Paying it forward!
Thanks goes to our amazing partners and contributors for helping us pay it forward to the sales community over the years!