Everything you need to know about being an account executive, including how much account executives earn, what it's like to be an account executive, and pro tips for getting a job as an account executive.
Table of contents
What does an account executive do?
An account executive (AE) is a salesperson. They are usually responsible for serving the needs of existing customers and closing sales deals to create new customers. They typically have a revenue target, and are paid commissions when they sell their company's products and services.
In SaaS sales, an AE usually works with a Sales Development Representative (SDR), who develops initial interest and sets up the first sales meeting. The AE is then responsible for holding a discovery call, giving the prospect a product demo, and closing the deal.
How much does an account executive make?
Sales can be a very lucrative career, but average salaries for AEs varies depending on the industry and location. Glassdoor reports that the average salary for an AE is about $60,000 per year, with additional cash compensation (commissions) of $29,000.

Image credit: Glassdoor
An account executive working at a large software company in Boston may be able to make upwards of $350,000 per year, while an AE working at a smaller manufacturing firm in North Carolina may make $80,000 per year.
Related: Stop Being Poor: 3 Questions You MUST Ask About Your Comp Plan
What skills does an account executive need?
The sales profession has changed rapidly in recent years. New sales tools, changing buyer preferences, and the proliferation of AI have made every industry more competitive. Now, more than ever, an AE must cultivate a wide variety of skills to be successful.
Some of the most important fundamental skills and characteristics of a good salesperson are:

Communication skills

Organization

Problem-solving

Negotiation

Determination

Goal-oriented

Presentation skills
Account executives also need to be very hard working. Sales can be a competitive profession, and hard work is one sure way to stay a step ahead of the rest.
Related: The 30+ Sales Skills & Traits You MUST Develop To Become An Unstoppable Rep
What's it like to be an account executive?
Here's a rough overview of what an account executive's calendar might look like in any given week, based on my years of experience in sales.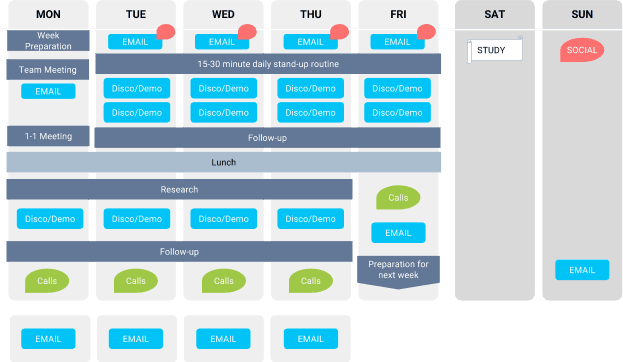 Account executives are most effective when they can work in a rhythm.
As a result, you'll often find that AEs structure their time in chunks so they can focus on different types of tasks at different times of the day or week – whenever it's most efficient.
In the example above, the AE emails only early in the morning or late in the afternoon, so they can use the middle part of their day for sales meetings, preparation, and phone calls.
A day in the life of an account executive
The day-to-day life of an account executive is fast-paced, competitive, and filled with interactions with other people including colleagues, customers, and prospective clients.
While no day as an account executive is the same, here is what a "typical" day might look like:
7:30 am – Email over coffee. While in line for your favorite morning fix, you send some quick responses to emails from customers and prospects, because fast communication is important to close deals.
8:00 am – Standup meeting with the team. Each day, you'll join or run a daily sales huddle, or stand-up call. You and your team use this time to problem-solve and agree on priorities for the day.
8:30 am – Social selling before email. Open your LinkedIn, respond to comments on your posts, check views on your profile, do some quick research, and send out personalized thank you notes and connection requests.
RELATED: The Most Comprehensive Guide to Social Selling You've Ever Seen
9:00 am – Email and research. Take this time to learn about the people you are going to speak with today. Make notes. As an AE you are expected to have lots of conversations. You need to prepare what questions to ask them and pick relevant use-cases for each customer.
9:30 am – Take a break! Take a walk, grab a coffee with a colleague, and chat. You've got a busy day coming up, so prepare yourself!
9:45 am – Hit it hard. Your day picks up the pace from here. Starting now, you'll work hard on discovery calls, product demonstrations, or customizing proposals for prospects.
11:30 am – Follow-up. You take 30 minutes to make sure any deals you are working on are still on track to close. You email prospects, answer their questions, and push to ensure next steps are met on time.
Related: How I Closed 50% By Systematizing My Follow-Up Process
12:00 pm – Refuel! Take some time to recover from the morning's activities, and grab lunch.
1:00 pm – Check in with your manager to see if there are any pressing issues that need to be dealt with. You don't actually need to do this every day, but an unprompted check-in every now and then can make a huge difference.
1:15 pm – Communications check. Scan LinkedIn and email again, to ensure you're communication frequently with any customers and prospects.
2:00 pm – AWESOME hours. The next batch of discovery and demo calls is happening, and you are fueled, ready, and excited.
You usually hold 4-5 discovery calls a day at most, so you also have to customize proposals and follow up.
4:00pm – Call past customers, prospects, and partners. This may include customers you signed from a month ago. You ask if they're happy with the service. When they are, you ask them for referrals to other people who may need your product or service.
4:30 pm – Text your partner or loved one and let them know you are on your way home and that you killed it today. Play with the kids, get some exercise, and have a social life.
Wait! Your day is NOT done yet. As an account executive, you have another important window of opportunity.
8:00 pm – The "Executive Communications Window" is opening up. While on the couch binging your favorite TV series, keep that phone handy. If you have earned it, several of the decision-makers you are working with are getting into their email window and responding.
Now is the time to have a conversation with these busy and extremely valuable people!
Days that need special consideration:
Monday: Skip all social activities on Monday afternoon. There is no need for check-in calls, for example. For many, Monday is a 100% business meeting day. So instead of spending your time calling, this may also be the best day for you to book your own internal meetings.
Friday afternoon: Don't spend your time on follow-up, since no work will happen over the weekend anyway. Unless it's urgent, you're better off waiting until the Sunday night window.
Sunday evening: There is a great email productivity window on Sunday evening to get through to executives and decision-makers. You may want to do some prep work for the week, too. One hour should do it.
How to get a job as an account executive
Because being an account executive requires excellent communication and organizational skills, your job search is actually great practice for the job itself! When you're applying for an Account Executive position, here are some "do's and don'ts" to consider:
Do:
Prepare and practice answering

common sales interview questions

Present yourself professionally

Be confident and communicate clearly

Follow up with your interviewers quickly

Set next steps after each stage of the application process

Share specific results you've achieved in the past

Ask questions during the interview

Be persistent, but polite
Don't:
Wing it in the interview

Be late for interviews or phone screens

Leave it to your interviewer to follow up with you

Talk only about yourself during the interview
Bonus:
What's the difference between an account executive and an account manager?
Every company has different definitions of each role. Usually, an account manager is only responsible for growing and maintaining existing relationships with customers, while an Account Executive is also responsible for finding new customers. Sometimes, companies use the account executive title to refer to a more senior level of Account Manager.
What is an advertising account executive?
In other industries, like media or marketing agencies, an Account Executive is responsible for bringing on new clients and servicing existing clients. This role is sometimes also called a "full-cycle sales rep" because they do the job of the SDR, AE, and a customer service team – all in one.
---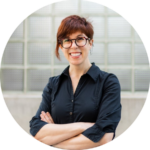 Updated by Kendra Fortmeyer @ Sales Hacker 2023