What Are Sales Development Representatives (SDRs)?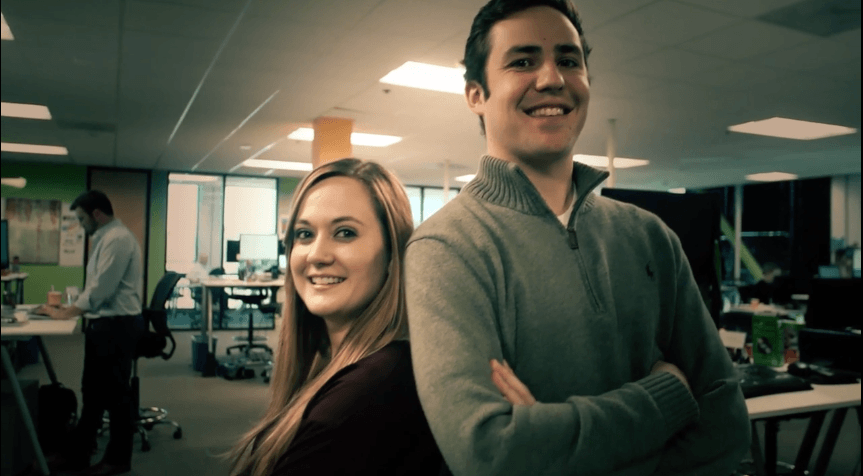 Sales development representatives are responsible for outbound prospecting. They research and reach out to new clients who might be interested in the products the company sells, and introduce those clients to the company. These clients are known as leads.
The world of an SDR revolves around lead generation, rather than closing new deals. SDRs are typically measured by how effectively they move leads through the sales pipeline.
Sales development representatives help with the lead qualification process, which identifies how likely it is that a particular individual is likely to make a purchase. They will usually get as far as setting up the first meeting. This allows account executives, the more senior sales representatives, to focus on closing deals instead of wasting time with prospecting.
Ultimately, sales development reps are educators that leverage insights to assist solving a real problem customers are having.
[Tweet "Successful SDRs are educators who leverage insights to solve a problem customers are having."]
What Skills Does a Sales Development Representative Need?
Sales development representatives spend a lot of time reaching out to people who know little about their business and asking them to take the first step – booking at meeting. That means they get told no a lot.
SDRs need:
Resilience
Organization
Great research skills
Good knowledge of the industry and company
Adaptability
A willingness to learn
Great skills at reaching out and making contact via phone, email and social media
SDRs spend a lot of time trying to get under the skin of prospective clients, asking them what their business needs are and what is causing them difficulty right now.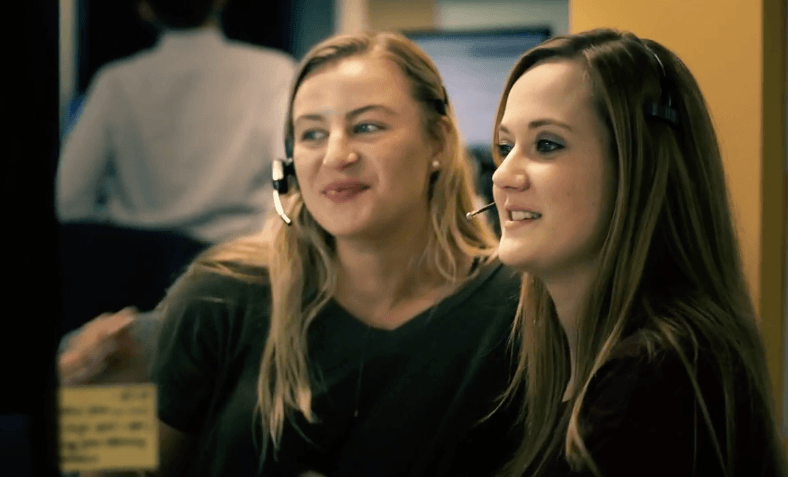 The best way to connect with these new buyers is to have a deep understanding of their challenges. And to understand their business, you may need to speak to them. But for good reasons, many prospects don't want to share their real challenges until you have demonstrated you understand their business.
It's a real chicken-or-the-egg scenario and a challenge that sometimes makes salespeople a little jealous of their colleagues in the marketing department.
In most organizations, salespeople are trained to pitch how amazing their solution is and how much better the customer would be with their product, which ends up sounding like this: "pitch, pitch, pitch, blah, blah, blah."
Related: Stop Being Poor: 3 Questions You MUST Ask About Your Comp Plan
But with the right training and processes, SDRs can build and share insights about the customer's main challenges.
They can then use those insights to provide helpful solutions, ideas, and information to prospects.
SDRs are arguably the most important part of the sales team because they "bring customers out of thin air." Without them, the other members of their team wouldn't have contracts to send, or customers to make successful.
Sales development representatives have to be quick on their feet, excel in having online conversations, master the sales stack, be great content finders, and have a positive outlook not brought down by a bad interaction.
Related: Top 50 Lead Generation Tools in 2023, Ranked & Rated
What Does a Sales Development Representative Earn?
A mid-career sales development representative can expect total compensation, including bonus, or around $45,000, according to Glassdoor. However, they have the potential to increase their total compensation by between 50% and 150% through bonuses, commissions, profit sharing, and other perks.
For more SDR salary information, check out Payscale for U.S. averages.
A Day in the Life of a Sales Development Representative
We recently met up with Nicole and Ned – they are two top sales development reps at GuideSpark. Lucky for us, they were willing to share exactly how they do it.
Check out a video recap of a typical day for Ned and Nicole:

Here's a description of a typical day for Ned and Nicole.
5:30 am – Wake Up O'clock
Whether you snooze nine times, or set four different alarms, days start earlier for sales professionals with customers across time zones. Some get inspired by 8 things to do before 8am. Did you know that many SDRs start their day as early as 6am?
7:00 am – Commute to Work
Taking the bus provides a few hours a week to read, listen to podcasts or scan social media for the latest news that could be interesting to your team or customers.
8:00 am – Arrive at the Office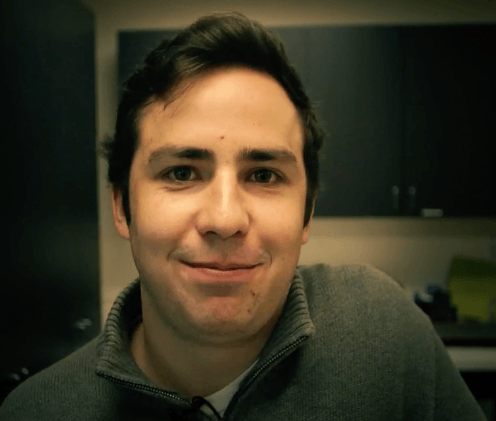 When Ned from GuideSpark arrives at the office he starts off first by checking email, scanning for priority messages, then grabbing a coffee and granola bar from the kitchen.
Over coffee he checks social outlets and uses Buffer to share great articles and insight throughout the day on Twitter and LinkedIn.
If it will take him less than two mins to respond to an email, he gets it done right away. Then he prioritizes questions that need a researched answer to handle later.
Pitfall to avoid: Don't spend too much time on email or social media. Some things can wait.
8:15 am – Standup Meeting with the Team
Ned is partnered with an Account Executive in New York. They collaborate as a team and establish 1-3 key priorities. After agreeing what can wait, they share what worked or what didn't yesterday, and focus on something they're going to improve today.
8:30 am – Research and Respond
Ned is a professional who cares about helping customers, so he's not "spraying and praying" semi-personalized template emails with automation tools. Through research, he finds the most relevant insights based on personas and based on what he has found resonated with similar people in the past.
He checks his LinkedIn profile views for any customers that may have visited his profile. He does some quick research to find uncommon commonalities or interesting aspects of their profile, responds to comments on his posts, and sends thank you's or personalized LinkedIn requests.
Pitfall to avoid: Don't send the default LinkedIn "Add you to my network" – show the customer you care with a quick note on why you're connecting.
9:00 am – Prioritize Your Top Customers
The coffee Ned had earlier has now kicked in, it's time to get on the phone. He uses this time block to call based on tasks scheduled in Salesforce.
Pro Tip: Avoid getting distracted by constantly checking your email during this time slot – that can be a big time sink.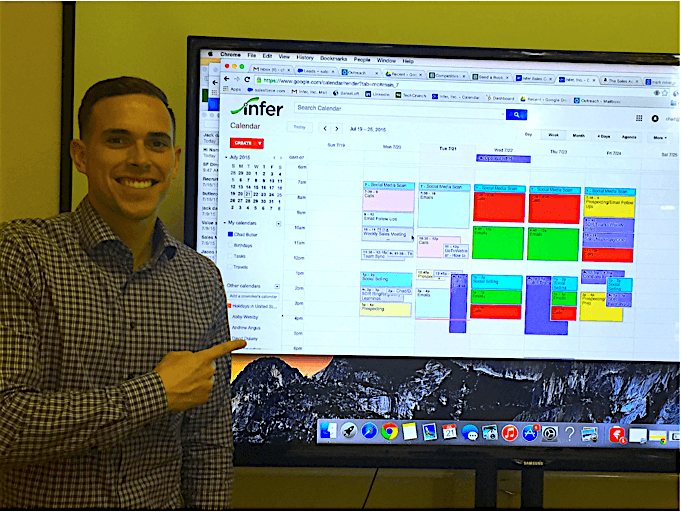 Pro-tip: Organize your calendar with color blocks for emails, calls, and breaks. Here's an example of how Chad from Infer schedules his week to maximize productivity.
9:45 am – Take 15
To maximize sales productivity, Ned divides up his day with scheduled breaks. Get to know your coworkers if they are also taking a break, take a walk, or perfect your coffee making skills.
10:00 am – Hit it HARD.
Next 75 mins, Ned gets after it. He remembers he is NOT selling. He is helping educate customers to solve their problems. He's their "doctor" that did the research for them.
Pro Tip: Do not prescribe your solution before a diagnosis.
Phone calls: Personable and to the point, provoke thought.
Social media: Help through providing customized/relevant insights.
11:15 am – Follow-up Calls with Emails  
Ned won't let it linger. He shares insights, includes a valuable article in all of his emails to truly be helpful to customers. Then schedules follow up emails using tools that delay sending to the next day in your defined sequence.
11:45 am – Break for Lunch
Nicole and Ned grab lunch. Now it's time to do something fun with the team or get a quick workout or run 3.5 miles. On the way back, wolf down the post-workout burrito you earned.
Pitfall to avoid: Do not eat at your desk.
12:45 pm – Stop by Your Manager's Desk to Check-in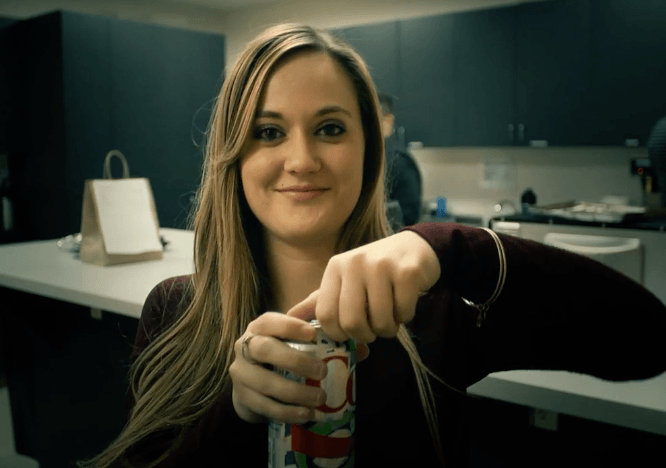 Nicole doesn't do this every day, but doing this every now and then makes a huge difference. She sees if there are any pressing issues that need to be dealt with and if so, she asks how she can help.
She then does more research about her customers to be strategic with her time to focus on the right people.
1:30 pm – Check On Your Social Channels and Emails
Nicole scans her LinkedIn and email. Same as Ned, she deals with urgent issues right away, deletes spam and marks what needs to be done later based on research. She then pops a Diet Coke (or Diet Dr. Pepper…. or Red Bull) in preparation of the 2 pm AWESOMENESS she is about to deliver. Practices her pitch, objection management and it's game time.
2:00 pm – AWESOME Hours
Next batch of qualification calls is happening, she is fueled, ready, and excited. Each call is based on research. She has the customer's LinkedIn profile up, knows which value props will potentially resonate based on their persona, and she is handling common objections like a boss in a customer-centric way.
Pro Tip: Have real conversations. Keep going, don't look back… you are in the zone.  
3:45 pm – Take a Break
The weather is gorgeous. Celebrate a win with your coworkers.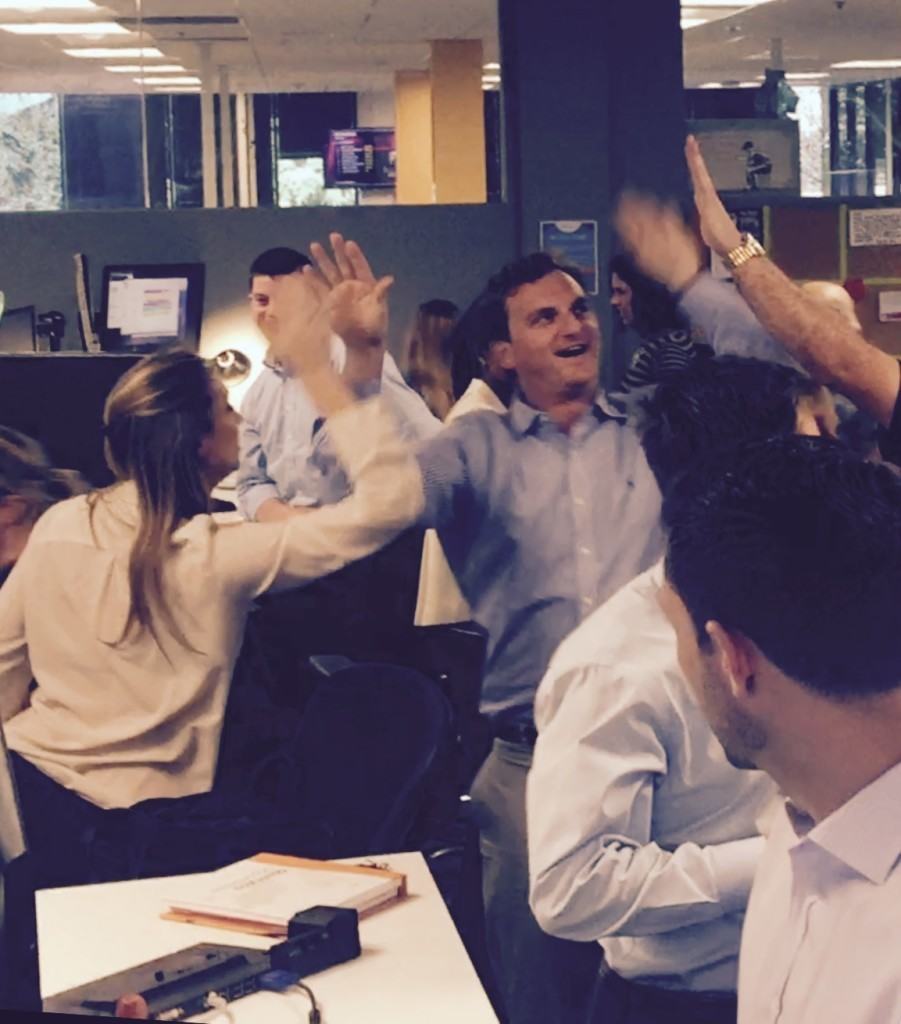 4:00 pm – Wrap Up, Research, Prepare for Tomorrow
Nicole recognizes knowledge is power – and research is the name of the game. Nicole schedules targeted emails in small batches, targeting similar customers using tools as a force multiplier to scale her thoughtful outreach.
Nicole only focuses on prospects she identified that could benefit from her solution. They are "delay sent" to go out tomorrow morning about 30 minutes before she arrives at work so she can prioritize her outreach based on who opened/clicked to prioritize her time based on who is most interested.
Pitfall to Avoid: Do not write emails to "check-in" if they got your last email – or worse a "mass personalized check-in" email.
5:00 pm – Another Day, Another Happy Customer
Exercise, have a social life. Read books and become an expert in your industry and in sales. Attend events to share best practices and make connections.
Wait … the day is NOT done yet… as an SDR there is another important window…
8:30 pm – Executive Communication Window
While on the couch bingeing through your favorite Netflix series, keep that phone handy. If you have earned it, several of the executives you are working with are getting into their email window. They now are responding to your emails!  You don't want to let it wait until next morning as you'd get lost among their daily messages. The average executive gets up to 700 daily.
10:00 pm – Bedtime O'clock
Make sure to get enough sleep. You have a big day tomorrow.
Special considerations
Friday afternoon
No follow-up, any action can be "delay-sent" over the weekend. Unless it is urgent, you're better off waiting until the Sunday night window.
Monday
Skip all social activities on Monday afternoon, check-in calls etc. Just don't bother. Monday is 100% business day, to GSD.
Sunday evening
Great email productivity window on Sunday eve to get through to executives. You may want to do some prep work for the week. One hour should do it.
[Tweet "Sunday eve is a great email productivity window to get through to executives. @justdansmith"]
Note: There is an incredible amount of nuance depending who at what you sell, who your customers are – so take it with a grain of sales.